5 Tips For Running Effective Whiteboarding Sessions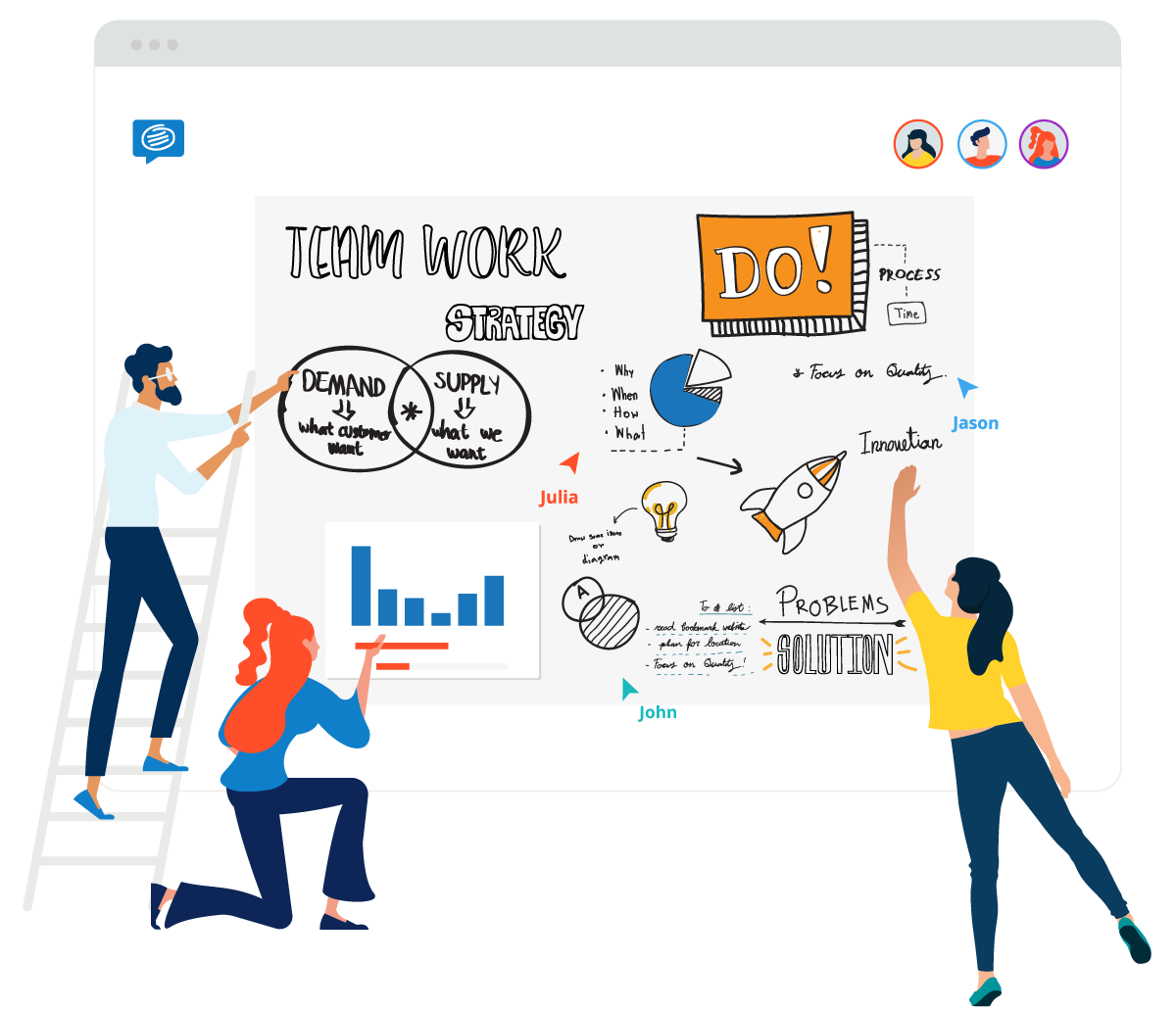 Highlights
What is Whiteboarding?
Whiteboarding is the practice of collaborating with team members on documents within an online whiteboard. By using an online whiteboard during video conferencing, participants can edit, share or comment on electronic documents just as they would on a traditional, physical whiteboard. The most effective way to run an online whiteboarding session is by using a videoconference software such as Zoom or with a digital whiteboard such as Conceptboard.
When to use a whiteboarding session?
Whiteboarding sessions held online provide limitless use cases. In IT, whiteboarding sessions are great for sorting through complex flow charts or designs. In tech job interviews, candidates are often asked to solve problems using a whiteboard. While tutors often find whiteboarding provides a highly participatory classroom setting that keeps students engaged.
An online whiteboard can be a great substitute for a physical whiteboard thanks to an infinite canvas, collaboration features and tools such as digital sticky-notes, shapes & sketching tools. 
Try Conceptboard's collaborative online whiteboard today! 
Of course, whiteboarding sessions are also great for brainstorming as they allow room for creativity. The visual nature makes content easier to absorb and retain, and the use of visuals can help communicate ideas in ways words can't. A recent study from Indiana University actually found that noting things down can help us understand topics in many ways including "idea composition and expression."
So if you're ready to see what whiteboarding can do for you, follow our 5 tips for running effective online whiteboarding sessions.
1. Stay focused
In brainstorming sessions the popular line 'no idea is a bad idea' is certainly true. However if you are running a whiteboarding session that is focused on solving a particular problem, it's important to stay focused. It can help to write the main problem you are trying to solve at the top of the board to keep participants focused on topic.
If some important, but off-topic questions are raised, move them to parking lot on the side, and be sure to follow them up at a later time. A great way of prioritizing your ideas is with the use of the idea prioritization matrix. Use and edit the template for free below.
2. Shake things up
If your team meetings are feeling a bit flat or non-collaborative, a whiteboarding session is a great way to shake things up. The saying "change the way you look at things and the things you look at change" is a great way to think about what online whiteboarding can do for your team.
Create boards like these with your team!
The novelty factor alone of using an online whiteboard will spark interest and get team members interested. The other major benefit of online whiteboarding is the ability for everyone to participate in real time by adding their comments or suggestions onto the board, creating a truly dynamic discussion.
3. Make use of the space
The best online whiteboards, such as Conceptboard, have an unlimited canvas that gives you unrestricted space to work on. This means you can add as much content as you need without having to ever erase anything.
Conceptboard allows you to upload any types of visual files, videos and documents so that you can visualize all elements of a project on the one page. For the cleanest view, go full screen, minimize the top toolbar, and use the keyboard arrow keys to navigate through sections.
4. Encourage collaboration in whiteboarding sessions
One of the biggest benefits of online whiteboards is that all team members can join the discussion in real-time, without having to be the centre of attention. For those more reluctant to voice their opinion, this allows them to share their ideas on the whiteboard without the pressure.
Within Conceptboard, all participants can add their notes on the board, converse via chat, or assign tasks to each other. You can toggle live pointers on and off depending on whether you want activity or focus.
5. Individual screens
It always works best to have all team members log into the session via their own computers. In fully remote teams this is non-negotiable, but in semi-distributed teams, some team members may be in the same office. However, if everyone logs in individually it will allow for 100% equal collaboration opportunities as everyone has access to their own keyboard and mouse. If you are running video-conferencing at the same time, it will also reduce those pesky problems with camera angles and voice distortion in meeting rooms.
Discover visual collaboration
Collaborate seamlessly across teams and timezones with Conceptboard's infinite digital whiteboard
If you're ready to take your communication and online collaboration to the next level, get started with a free Conceptboard board now and you can start collaborating immediately. To find out why Conceptboard is the right tool for your online collaboration, we've compiled a guide on running successful real-time remote collaboration meetings in Conceptboard.
Want to know more about about successful collaboration in the digital world? Read our 10 tips here.