When you're working in the business, it can be hard to find the time to step away and work on the business. But strategic planning is important for every business as it'll help you look at opportunities for growth and improvement. We want to make it as easy for you as possible, so we've created a library full of strategy planning templates you complete with your team.
Best of all, everything is available on our collaborative online whiteboard, so regardless of where your team is located, everyone can share and collaborate in real-time.
Check out our list below of 10 strategy planning templates you can use for everything from starting a new business, conducting a risk analysis, identifying business opportunities, and setting big goals.
Our comprehensive list includes:
1. SWOT analysis template
The SWOT analysis stands for Strengths, Weaknesses, Opportunities, Threats. These four little words have been helping businesses stand out for over 50 years. The major benefit of a SWOT analysis is that it can give you a broad, birds-eye view of your business and your position within your industry. Thus giving you a clear insight on how best to move forward. Kick start your strategy planning session with this classic template!
When to use it? 
Kick start your strategy planning session with this classic template!
Who should use it?
It can be used by solopreneurs through to large teams, anyone who wants to analyze the industry they are looking at entering.
2. Business model canvas
The Business Model canvas is the pre-eminent business strategy tool for anyone wanting to launch a new business. The idea is to consider nine key elements of your business before you get started. They are key partners, key activities, value proposition, customer relationships, customer segments, key resources, distribution channels, cost structure, revenue stream.
When to use it? 
The Business Model canvas is best used when you are looking to launch a new business.
Who should use it?
It should be completed by the business founders.
3. PESTEL analysis
A PESTEL analysis (aka PESTLE) strategy planning template is a tool used to analyze external macro-environmental factors of change in a business environment. It is a vital part of any strategic planning that will ensure you've examined and can plan for any external factors that could affect your company in the Political, Economic, Social, Technological, Environmental and Legal spheres.
When to use it? 
A PESTEL analysis should be conducted before any major issue takes place, not as a crisis management tool. By conducting it in advance, you'll have guidelines in place to deal with potential issues you may face.
Who should use it?
It is best for product teams, with the collaborative session facilitated by the product manager.
4. Ansoff Matrix
The Ansoff Matrix is a product market expansion grid designed to help you identify opportunities to grow or expand your business. It is designed to help product teams weigh up the risk vs reward of four different types of growth strategies:  Market penetration, Market development, product development and diversification.
When to use it? 
The Ansoff Matrix is best used when you are looking to expand in some capacity.
Who should use it?
It is best for product teams, with the collaborative session facilitated by the product manager.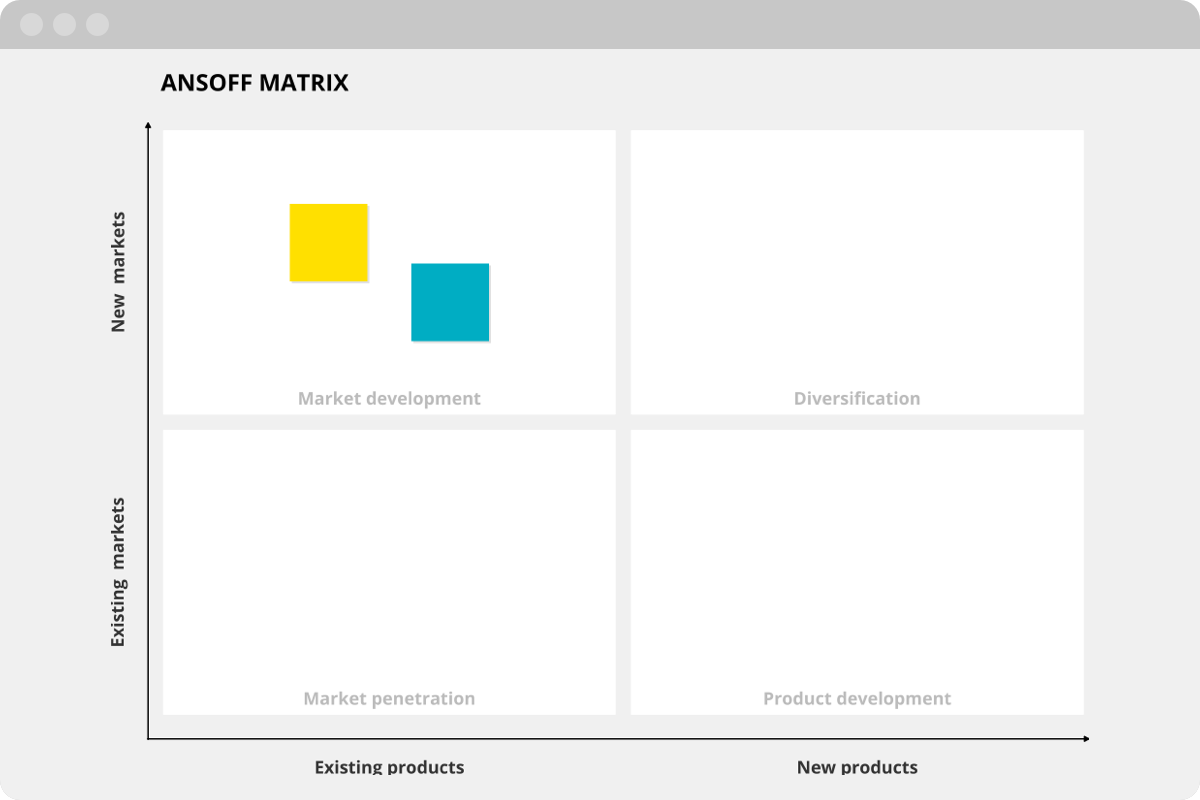 5. BCG matrix
The BCG matrix is a product portfolio management framework designed by BCG to help companies manage their product lines. It does this by plotting the two major determiners of success: growth and market share to help you decide what products should be retained, which ones to prioritize and which ones to discontinue altogether.
When to use it? 
The BCG Matrix is best used to help you get a clearer understanding of which products are performing within a portfolio.
Who should use it?
It is best for portfolio, product or category managers in the FMCG or consumer durables industries.
6. Porter's 5 forces
Michael E. Porter, the man behind Porter's Five Forces Analysis believed that strategy shouldn't be based purely on price, in fact, it was five other factors that ultimately determined price. They are:
Supplier Power: the ability of suppliers to increase their prices.
Buyer Power: the strength of your customers to bring down your prices.
Competitive Rivalry: the strength of your competitors.
The Threat of New Entrants: the existence of barriers to entry.
The Threat of Substitution: the extent to which other different products and services can replace your own.
When to use it? 
Porters 5 forces framework will help you with strategic planning when arriving at key decisions regarding pricing, expansion, growth and product development.
Who should use it?
Best used as a collaborative tool for teams with input from various departments to include various perspectives.
7. OKR planning
OKR (Objectives and Key Results) is a goal-setting framework that works on the idea that setting goals is important to achieving growth.  With the likes of Google and Uber using the method,  it has quickly become the go-to goal setting and tracking method in the business world. Put simply, the Objective tells you where to go; Key Results tell you how to get there. The key differentiator here is that when you set your goals they should be so ambitious that they may even feel unattainable.
When to use it?
OKR planning should be done on a regular basis, ideally quarterly.
Who should use it?
It can be used in product teams to help reach stretch targets, or as individual KPI tracking between a manager and their staff.
8. RISK assessment matrix
A risk assessment matrix is a framework used to plot the probability of certain risks occurring against the impact this would have on your business. In other words, how likely is it that this identified risk will actually happen, and how severely will it affect your business if it does? By providing a simple visualization of potential risks, you can easily see which ones are high priority and which ones can be ignored – for now.
When to use it? 
The best time to use a risk assessment matrix is during the project planning phase. It can also be used during moments of change, such as office renovations, transitions to remote work, or during safety reviews. 
Who should use it?
Project teams can collaborate on a risk matrix, or it can be conducted by the safety warden or management. 
9. Strategy diamond template
The strategy diamond is a simple model for creating a business strategy outline.  The framework shows the way various factors interconnect to deliver profit within the macroeconomy.  The five factors that need to be looked at are:
Arenas: Where will we be active? 
Vehicles: How will we get there? 
Differentiators: How will we win in the marketplace? 
Staging: What will be our speed and sequence of moves? 
Economic logic: How will we make our returns? 
A completed strategy diamond can be extremely useful in turning these ideas into a strategic action plan. 
When to use it? 
The Strategy Diamond template is best used when your team needs to consider a well-rounded strategy before launching a new product or service.
Who should use it?
It is best for product teams, but it's important to invite external team collaborators who can contribute an outsiders' perspective, such as legal, HR or finance.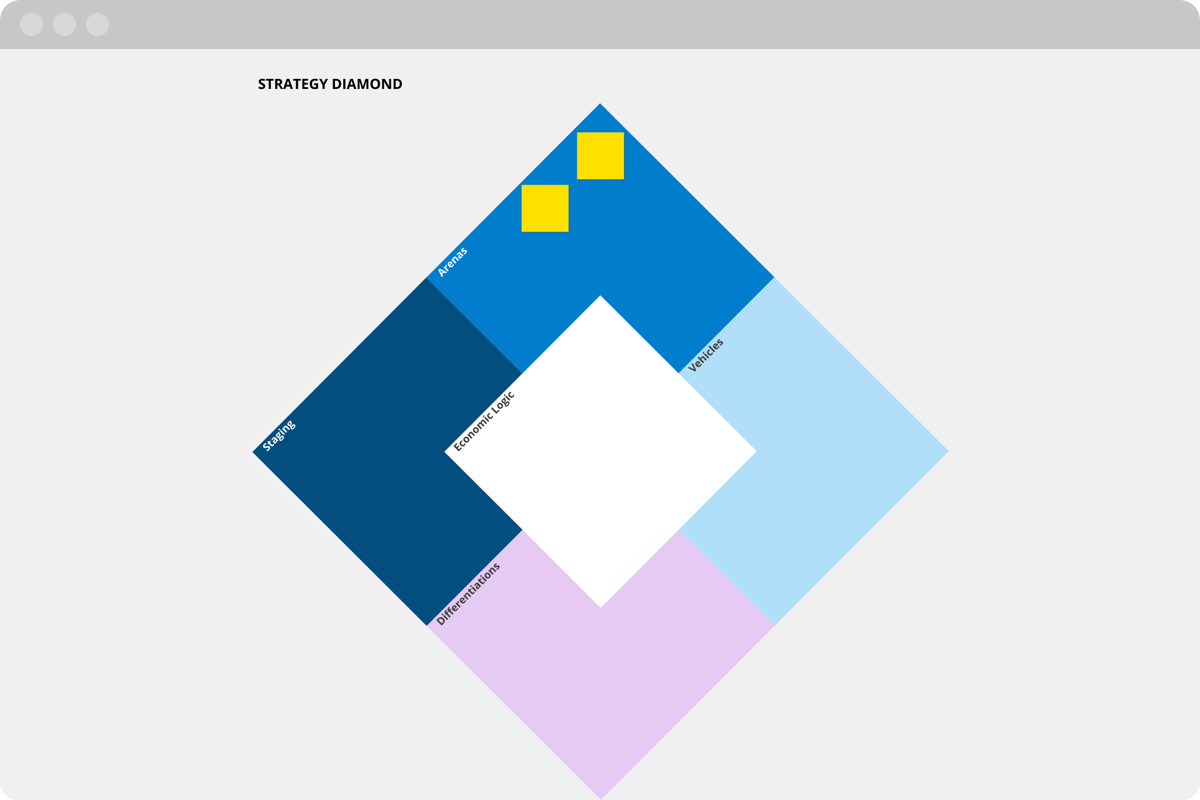 10. Cost benefit analysis template
We would be remiss to not include the mother of all strategy planning templates. Think of it like a pros and cons list for your business. Everything comes at the cost of something else, so it's important to look at the big picture before taking any major steps. Not only will a cost benefit analysis help you make a well-informed decision, it will also help you understand where to focus your resources, costs and time before commencing a project. 
When to use it? 
A Cost-Benefit analysis will be most helpful when weighing up big decisions such as hiring new staff, launching a new product or purchasing a big piece of equipment.
Who should use it?
It is most useful for managers who need to show evidence-based research regarding decisions.
Strategy planning is essential for every business that wants to remain competitive in the crowded marketplace. Even one hour per week with your remote team will open your eyes to so many new opportunities for growth or potential risks you may face down the road. 
Conceptboard helps you map out complex information in a visual way, making it easier to understand and see connections. Best of all, our remote-first whiteboard enables all teams to collaborate with ease. Discover all the templates we offer in our library and try them for free today on Conceptboard!