7 ultimate templates for every stage of the product development process
Highlights
Product Development is the lifeblood of any product driven company regardless of industry or niche. From conception, to design and ultimately execution, a great product helps you stay one step ahead of the competition, unearth new areas of growth and capture a larger market share. 
The centrality of this function in any product company combined with an ever increasing number of stakeholders makes this a highly complex process.  
To help you navigate this complexity, we've broken down the product development process into 7 key stages. For each of these, we introduce a free template that will help you maintain focus on the big picture, visually organize your ideas and communicate them more effectively. These are applicable both to Agile methodologies as well as models such as Waterfall or the Stage-gate process. These stages are as follows:
Brainstorming – Generate new ideas

Specification – Making the right choices

Roadmapping – Building the vision 

Prioritization – Sequencing your tasks

Delivery – Building your product

Testing – Prototype, iterate, rinse, repeat

Continuous improvement – Feedback and review
Brainstorming – Generate new ideas 
The product development process begins with extensive brainstorming sessions. This stage involves all stakeholders and participants engage in 'Blue sky thinking' without being restricted by real-world constraints. The objective of this stage is to spark inspiration. Given the sheer volume of ideas generated in this phase, it is important to have the right tools to manage the brainstorming process. 
The Idea board template is an excellent tool to structure your session and prioritize, refine and organize all your great ideas. Use it for free here!  
Specifications – Making the right choices  
After extensive brainstorming and idea generation, product managers have to glean actionable insights that can translate into products and features. This stage in the Product Development process is perhaps most critical to the product's long-term success. The sheer volume of ideas generated can be overwhelming for product managers. How do you choose the right product and features? 
This simple template helps prioritize from within a list of possible product ideas and organizes them in a convenient spatial layout. Prioritize products with greater product/market fit and shelve low-priority ideas with this simple yet powerful tool.
Roadmapping – The product vision
This stage is all about outlining the larger product vision and ensuring all strategic initiatives are aligned with this 'big picture'. A product roadmap or Timeline is meant to answer important questions such as the 'why' and the 'what' behind the product that is being built. It documents the high-level initiatives as well as the plan for the execution of key tasks. 
This 'guiding document' enables internal stakeholder alignment and serves as a high-level visual summary for external stakeholder communication.  
Prioritization- Sequencing your tasks
Now that you know what product or feature you are building, it's time to get into the weeds of the project management process. While the timeline document is an effective tool for presenting a high-level view of the project, this stage demands a fleshed-out, process flow. Given the complexity of any product development project, prioritizing and sequencing tasks is key to the project's success. 
A Gantt chart is a time-tested method of visually laying out the project, scheduling tasks and outlining dependencies. Gantt charts are an incredibly versatile tool and offer the added benefit of letting you track the progress of a project and task completion in real time. 
Delivery – Building your product
Now that all stakeholders are aligned on the project milestones and responsibilities have been assigned, it's time to get down to business! It falls to the Product Manager to ensure all deliverables adhere to projected timelines. 
The sheer number of moving parts in this stage can make it a project management nightmare. The action priority matrix is a great tool to ensure that urgent does not take priority over important. Keep your eyes on the prize with this nifty template!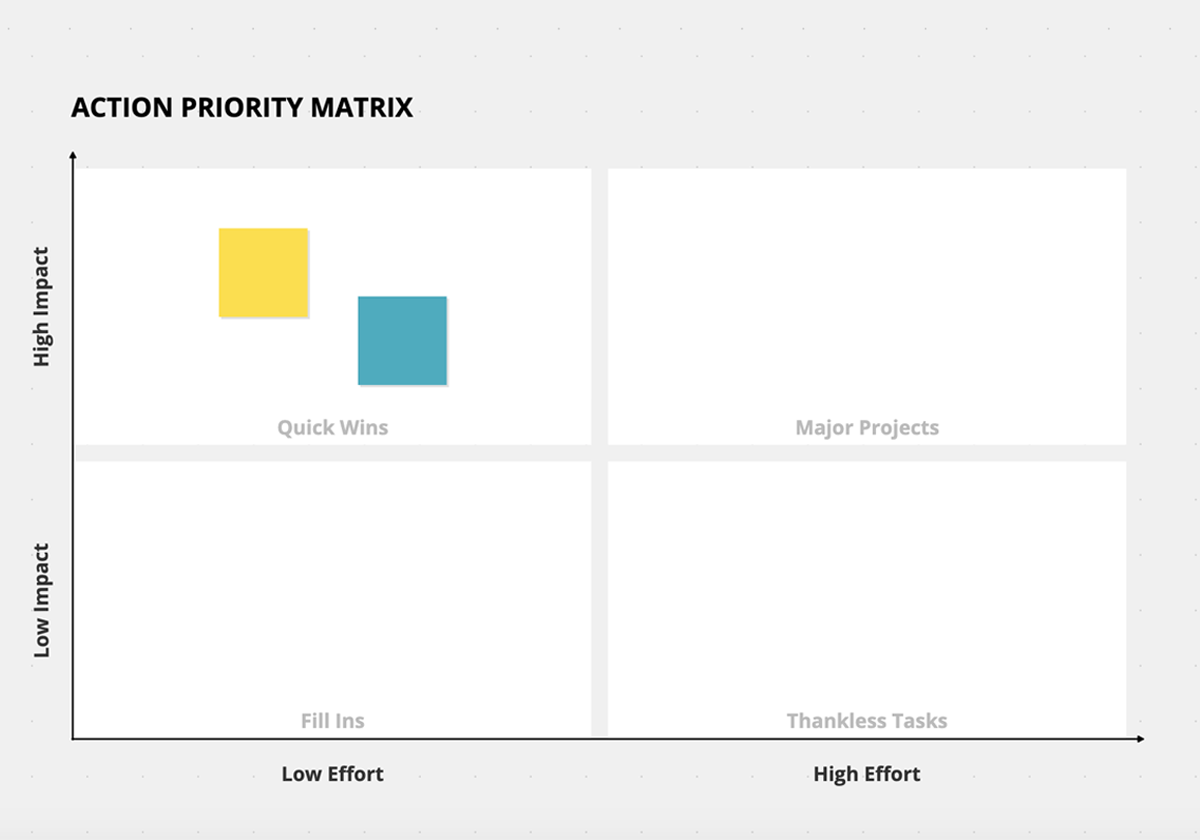 Analyze and test – Iterate, rinse, repeat 
Thanks to the advent of agile methodologies, prototyping and iterations have assumed an outsize importance in the product Development process. User panels help you better understand product-market fit and make last-minute tweaks to the product. A Customer journey map not only captures feedback during test panels, but also helps you garner a deeper understanding of your customer's motivations, needs and pain points.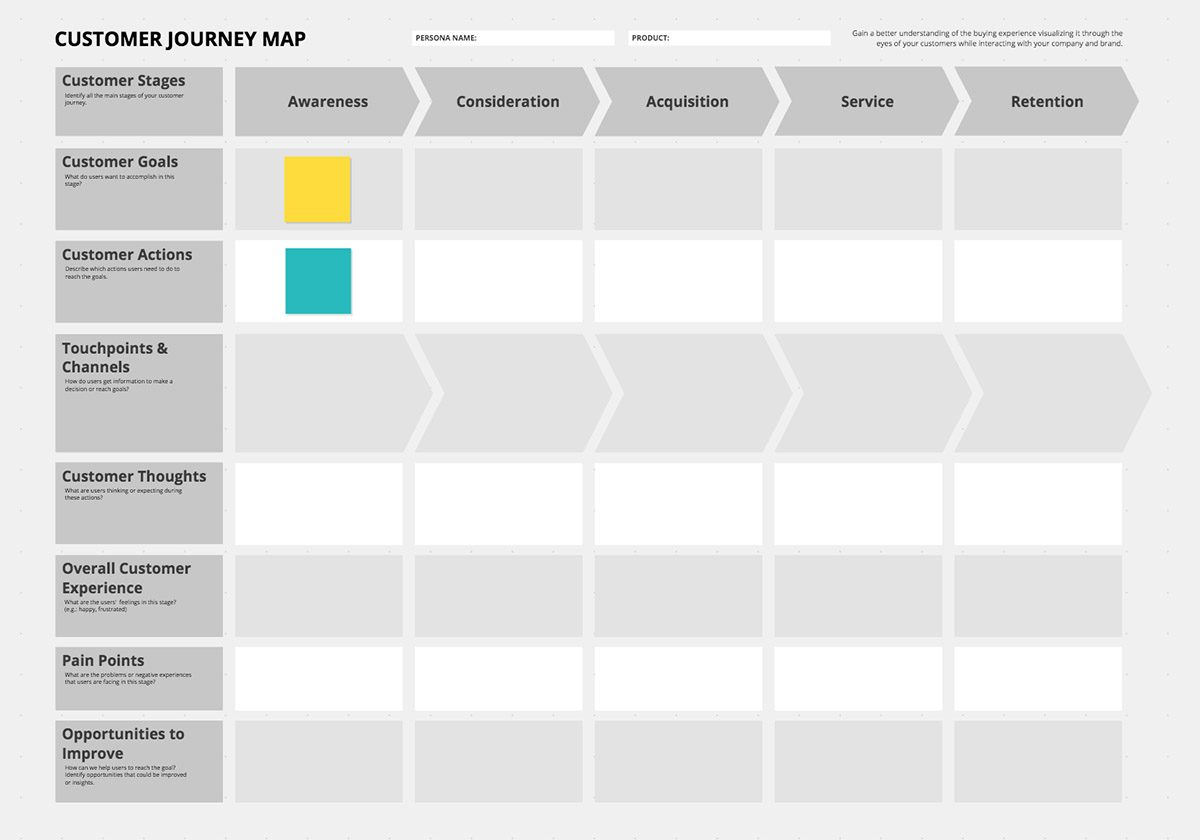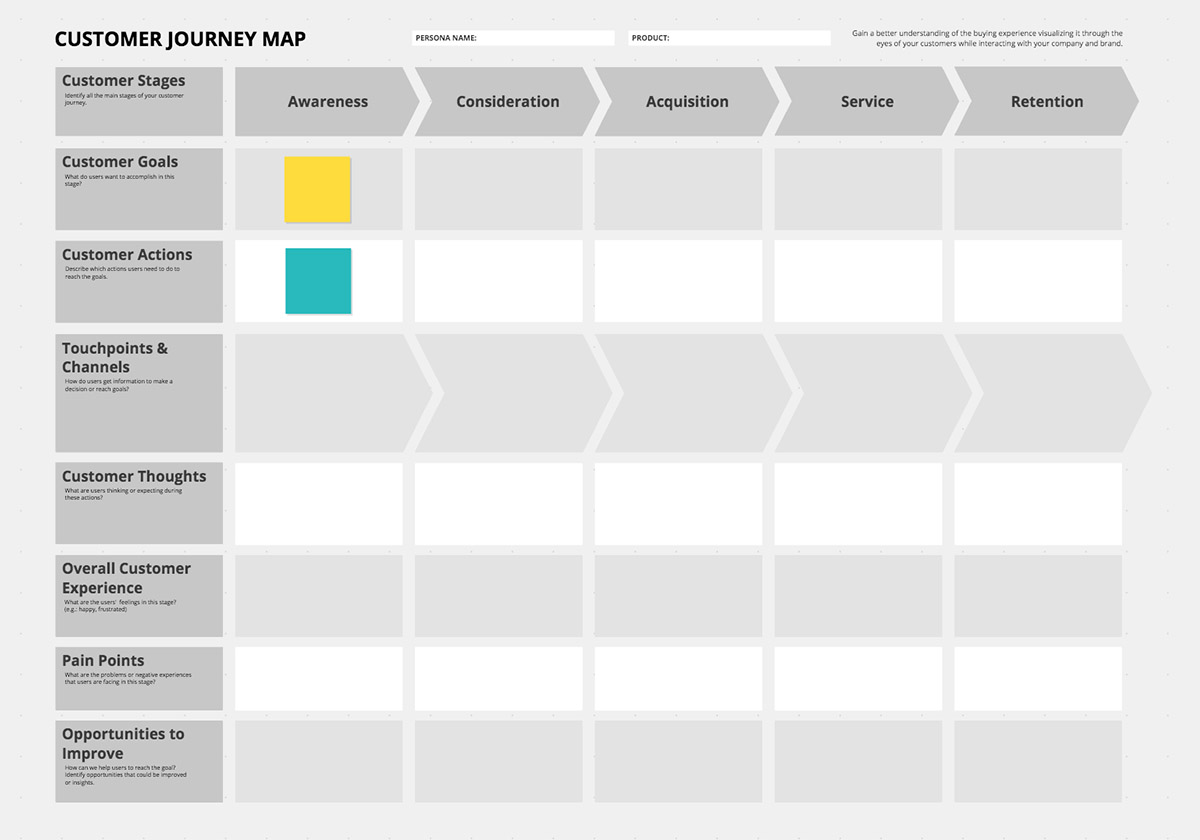 Use this opportunity to understand preferred touchpoints and refine the go-to-market strategy for the product launch.
Continuous improvement – Feedback and review 
While we've outlined the important stages in the product development process, the process itself is by no means linear. Constant user feedback and analysis of usage data should feed into the development at every stage. This is especially true post launch. Once the product has been launched, it is time to revisit the process and understand opportunities for future optimization. 
While it is important to recognize and acknowledge what went right, it is equally important to understand and analyse what went wrong! The 5 whys template helps you get to the root of a specific problem quickly and objectively. Use it here.
While the templates outlined are extremely useful in the product development process useful as a means of organizing, prioritizing and presenting complex information, by no means are they comprehensive. Conceptboard is an online whiteboard that helps you collaborate visually and seamlessly. Discover how to simplify your product development workstream on a daily basis using Conceptboard here. 
Discover visual collaboration
Collaborate seamlessly across teams and timezones with Conceptboard's collaborative digital whiteboard