If you've ever been assigned the job of recording meeting minutes, you most likely dreaded the task. We all know keeping track of what's been discussed is important, but for some reason, no one wants to be the one to do it!
So, we've made it easier for you. Take advantage of our simple, visual, collaborative meeting minutes template (MoM template) you can use for all of your meetings. Create an agenda, highlight action items, record discussions and agreements in the one centralized place.
It's the perfect companion for all those remote meetings.
What are meeting minutes?
Firstly, no 'meeting minutes' doesn't literally mean recording every minute of every meeting. Instead, meeting minutes should just be a place to record the key points, decisions, action items and next steps.
They are also helpful references for anyone who couldn't attend the meeting so they can stay up to date with any decisions. Plus, they can be used to remind team members of any tasks assigned to them.
Meeting minutes template
While the content of meeting minutes is pretty standard, the form of recording minutes is varied. If your team still use Word or Excel documents to record and save meeting minutes, it might be time to take a step into the online world. Using a collaborative, digital meeting minutes template means notes can be taken in real-time during the meeting, driving transparency and avoiding confusion.
Best of all, it's always saved in a centralized space so anyone can access it at anytime.
Best practices for writing meeting minutes
Pre
Encourage everyone to add any agenda items to the board ahead of time so that the meeting can get started promptly.
Decide on a scribe who will record the meeting minutes. It can be a good idea to make this a rotating task each time.
Quickly refresh everyone's mind if there were any follow-up items from the last meeting. If you're reviewing the past week or a recently completed project, consider using one of our retrospective templates.
During
Always record the basic info at the start of the meeting. Then, throughout the meeting, once a decision is made, or a discussion point raised it can be added to the board.
Post
Assign tasks and list any follow up points.
Ensure you share link to the meeting notes as soon as possible after the meeting to all team members. Better yet, add the link to the board to the calendar invitation so it never gets lost!
You can also download the board as PDF to save it offline.
How to structure meeting minutes
Meeting information
Include the key information about the meeting including topics, date, attendees and absentees
Agenda items
Before the meeting, list the key topics that are on the agenda for the meeting. Encourage anyone to add topics they want to discuss into this section.
Discussion, agreement and minutes
As the meeting progresses, add any key discussion points, agreements made and any other key meeting minutes here.
Action Items
If there are any action items, add them here and assign them to a person using @Mention along with a due date.
Other notes
Anything else can be added in this section, such as topics for next meeting, or things to follow up on.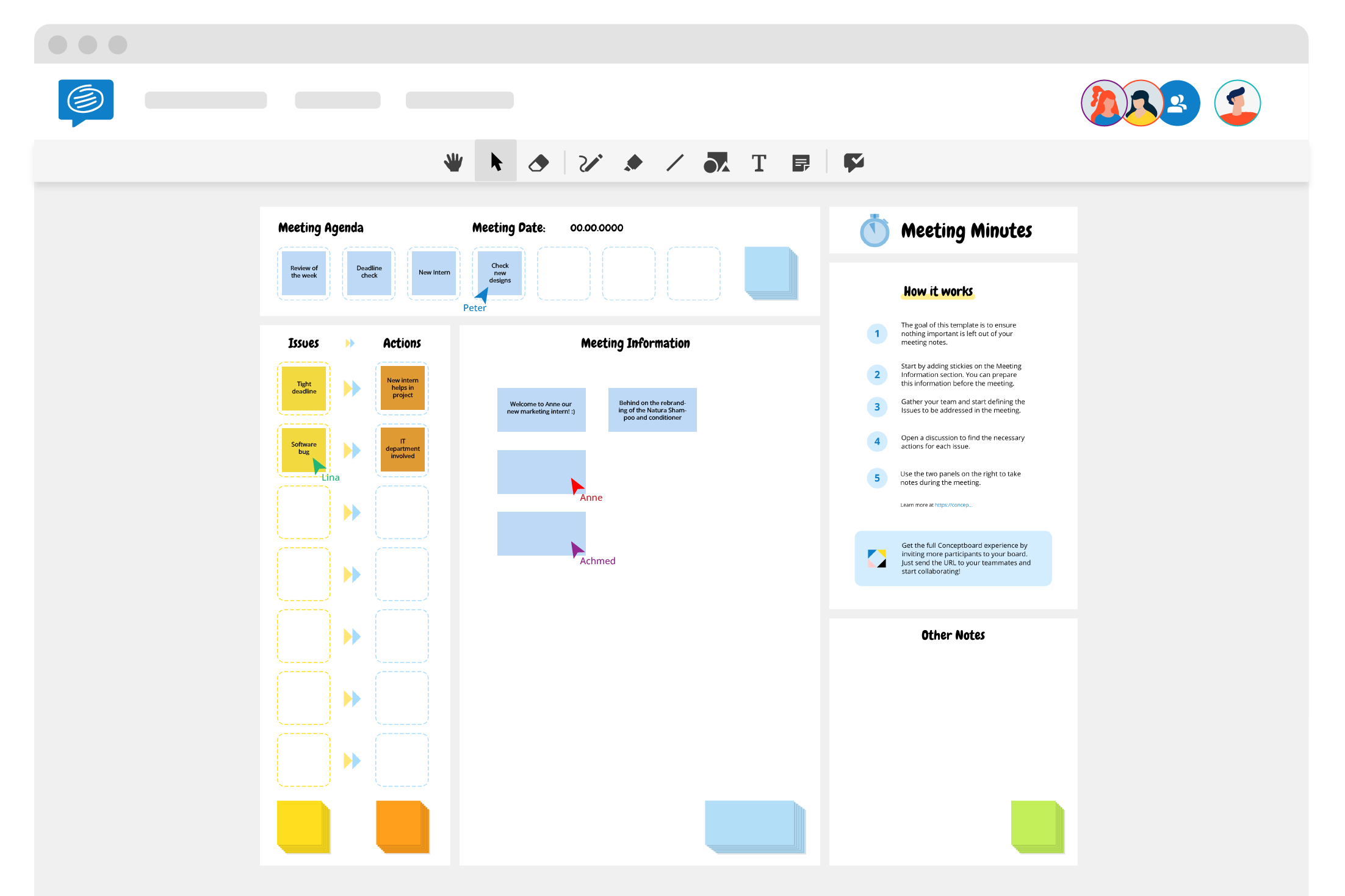 Using an online whiteboard
As many teams have shifted to working remotely, a digital meeting minutes template is essential. Using an online whiteboard to write notes allows it to be an open and collaborative practice that is visible to everyone. Plus, with digital sticky-notes and scribble pens you can record everything with ease. The endless canvas allows you to easily creating a parking lot alongside the template to park ideas and topics that won't fit within the meeting's time frame.
Follow-up
If you have a weekly meeting, you can add multiple meeting minute templates to the one board, to keep everything in the one central location. This enables you to easily track progress and revisit meeting notes. Plus, you can invite team members to collaborate asynchronously and additional questions that can be addressed in the next meeting.
If you want to explore more ways Conceptboard can help improve your remote meetings, read our other articles on 5 more templates to use in your remote meetings and how to drive engagement and participation in your remote meetings.