Best retrospective templates for sprint and project retrospectives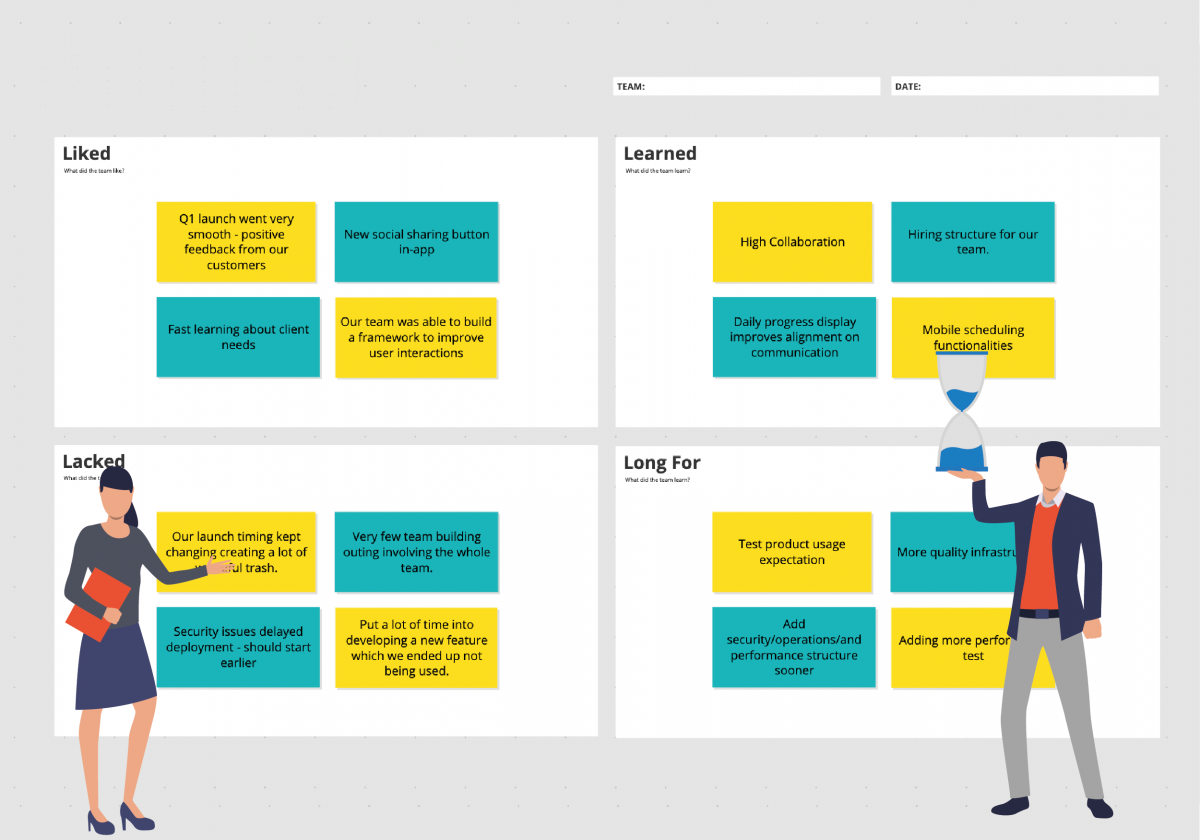 Highlights
What is a retrospective template?
A retrospective is a short meeting for teams to pause and reflect on their recently completed project and assess what worked vs what could be improved. A retrospective template is a simple tool used as the formula for this assessment, designed to ask the right questions to facilitate constant learning, reiterating and growth. 
Retrospectives are collaborative in nature, so using an online collaboration tool like Conceptboard enables co-located and remote teams to gather all essential team members with ease. It's versatility also enables remote agile teams to run scrum ceremonies such as sprint planning and daily standups with ease. Perhaps most importantly, by storing all information in an online board, teams can reflect on their progress by reviewing past templates. 
Retrospective templates for projects and sprints
There are three different types of retrospective use cases performed by teams for different purposes within a project. For additional retrospective ideas that are designed to inject energy and excitement into your retrospective sessions we've rounded up the 11 best retrospective ideas and templates.
Sprint Retrospectives 
A Sprint retrospective occurs in Scrum teams after a Sprint Review but before the next Sprint planning session. The aim here is to gather all team members and develop practices to make the next session more effective. One thing Sprint teams may assess is the definition of 'Done' and if that needs to be altered.
Agile Retrospectives
Teams working in agile software development will benefit the most from agile retrospectives. Quick and easy, they ask just four questions designed to push teams forward and continually improve:
What went well?

What could be improved?

What do we want to try next?

What puzzles us?
Project Retrospectives
Project teams can learn by reflecting on their experience once a project is completely finalised. This is a more in-depth retrospective than the previous two, encompassing all aspects of the project such as goals, timelines, KPIs, budget, roles and responsibilities and major challenges. Conduct this meeting while everything is still top of mind to allow enough time to ensure you really capture all ideas that could lead to improvements.

The Online Whiteboard built for agile teams
Run remote ceremonies, sprints & retrospectives like you were in the same room with Conceptboard
Free Retrospective templates
We've created three useful retrospective templates for you to use. Each has a slightly different framework, but they are all editable and can be adaptable to your teams needs. Regardless of where your team is located, it's essential to have everyone participating in the retrospective meeting. By using an online template, all team members can participate in real time on the one board. Once your retrospective is completed, it can be easily exported and shared with the greater team or management, or presented directly from Conceptboard.
Quick Retrospective Template
The quick retrospective is the best template to use for those regular weekly or monthly retrospectives that are short on time but essential for progress. This template uses a quadrant to ask:
What was good?
What was bad?
Other ideas?
Other actions?
Try it out for free here.
4 L's Retrospective Template
This classic template uses the four L's to assess team performance and take action. 
What did we like?
What did we learn?
What did we lack?
What did we long for?
Try it out for free here.
Start, Stop, Continue retrospective template
Simple, clear and straightforward, this three column template follows the traffic light pattern of Start, Stop and Continue.
Start: What should the team start doing? These are the new techniques, tools, changes or systems that could be implemented.
Stop: What should the team stop doing? Things that aren't working, restricting workflow or holding the team back.
Continue: What should the team continue doing? Identify the things that work well, that team members like and that help push the project forward.
Try it out for free here.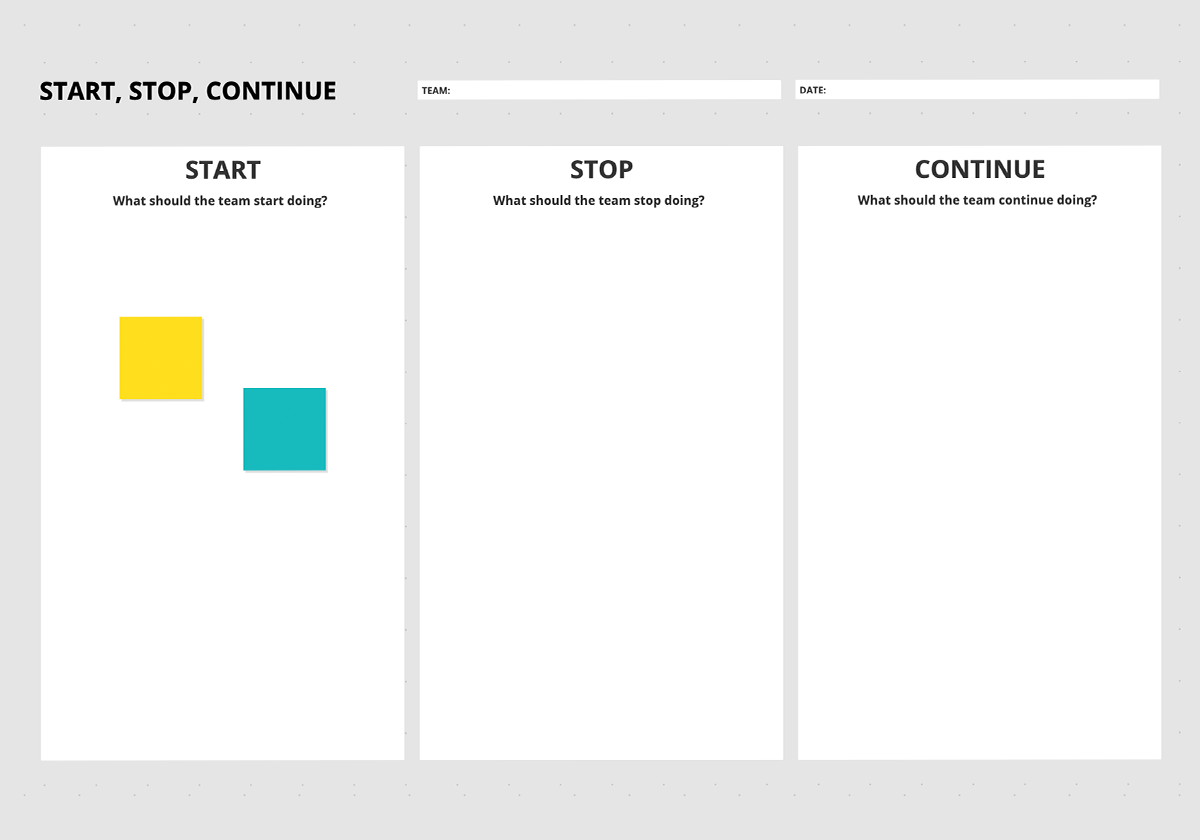 You can also try out additional project retrospective templates such as the lessons learned template or prioritization techniques such as the Moscow method.
Conceptboard is an essential tool for agile teams due to its collaborative nature and flexibility across distributed teams. Check out our range of free templates here that will help you with product backlog planning, product roadmap planning, Kanban project management and many more.