Dieser Artikel ist auch verfügbar in: German
Only those who use their software themselves know what it can do and have the opportunity to improve it. Collaboration on Conceptboard has also become an indispensable part of our everyday work. We are constantly discovering new use cases and finding new, better processes – for example in our Human Resources Department. Nathalie Moeck, Head of HR at Conceptboard, tells you how especially internal onboarding has become much easier thanks to working with an online whiteboard.
New Work Means New HR
In order to be attractive for the best potentials and to gain them, HR Departments have to meet new requirements and change expectations regarding the New Work concept. The motto is: "Work anywhere, anytime", the challenge "best of both worlds". 
At Conceptboard everybody can work 100 % from home, no matter where home is for him or her. Especially since the pandemic, the working world has drastically changed in this aspect. 
Onboarding processes are a particular challenge. Even during their first days or weeks, many of our new colleagues work hybrid or even fully remote. During this time, it is critical to offer the colleagues quick and individual support. It is important to pick them up where they are and to accompany their progress.
Doing all this from a distance is not always easy. During the initial days, the new employees might feel uncomfortable asking questions they cannot ask from desk to desk.  In addition, it was initially difficult for me in HR to combine all the important documents and information in one place for new employees at home and on site.
Our solution: A hybrid online planner with Conceptboard. Besides its intuitive handling, it also offers us data security and data sovereignty, which are essential to the planner's implementation for such topics.
"Printed text documents are not interactive or sustainable. With Conceptboard we and our new colleagues can design the onboarding process individually and can illustrate the important information in a clear and well-structured way." – Nathalie
How to create an interactive Onboarding Process
We like to show the whole process on a board with the Onboarding Journey. Many new hires take this journey, which makes the board the perfect tool for onboarding a group of people.
This board offers us a detailed, yet clear timetable for the onboarding phase. Here you can store all the necessary information new team members need during their first days of work, for example, a meet and greet, training appointments and guides for working at Conceptboard. The easy usability of the boards, including links to important documents, makes it quick and easy to personalize the plans. There is a big advantage, especially in the interaction field. Conceptboard provides remote interaction, so new employees can always leave questions and remarks on the board, adapt the plan, if necessary, and document their progress in particular. This is motivating and fun, too.
A major advantage, however, is the interaction that Conceptboard also enables remotely. New employees can leave questions and remarks on the board at any time, adapt the plan if necessary, and in particular record their progress. This is motivating and fun!

Conceptboard enables close communication with the HR team, which is what good onboarding is all about. – Nathalie
The detailed documentation that takes place automatically as a result also gives other team members a good overview of the onboarding status. Is a training still pending? Is an important new document missing for the respective team? Supervisors, buddies and mentors are always in the picture with the board and can get involved and help shape the process themselves in a short way.
Company Processes at a glance
Using a board to present our processes in a simple way has proven its worth. That's why we provide new colleagues not only with their own onboarding board, but also with other templates that we use.
Our Task Tracker is another helpful tool to become familiar with our way of working and to organize your own tasks early and in a well-structured way.
Important HR topics, but also those of the other departments, are regularly discussed in hybrid all-hands meetings. Using our all-hands meeting board, the individual departments can work in their areas at the same time, exchange ideas and plan in a consistent format. This way, we don't have a lot of individual presentations from the teams, but rather one big picture, which makes it easier for new employees in particular to get an overview of topics that are important at the moment.
Internally, we also rely on Conceptboard when it comes to our interactive Org Chart and our company map. This allows new employees to participate early and playfully, while the hybrid and remote workforce also gets some initial information about new people on board. This is a real icebreaker and promotes exchange. The experience of the past months has shown us that new forms of usage come up regularly.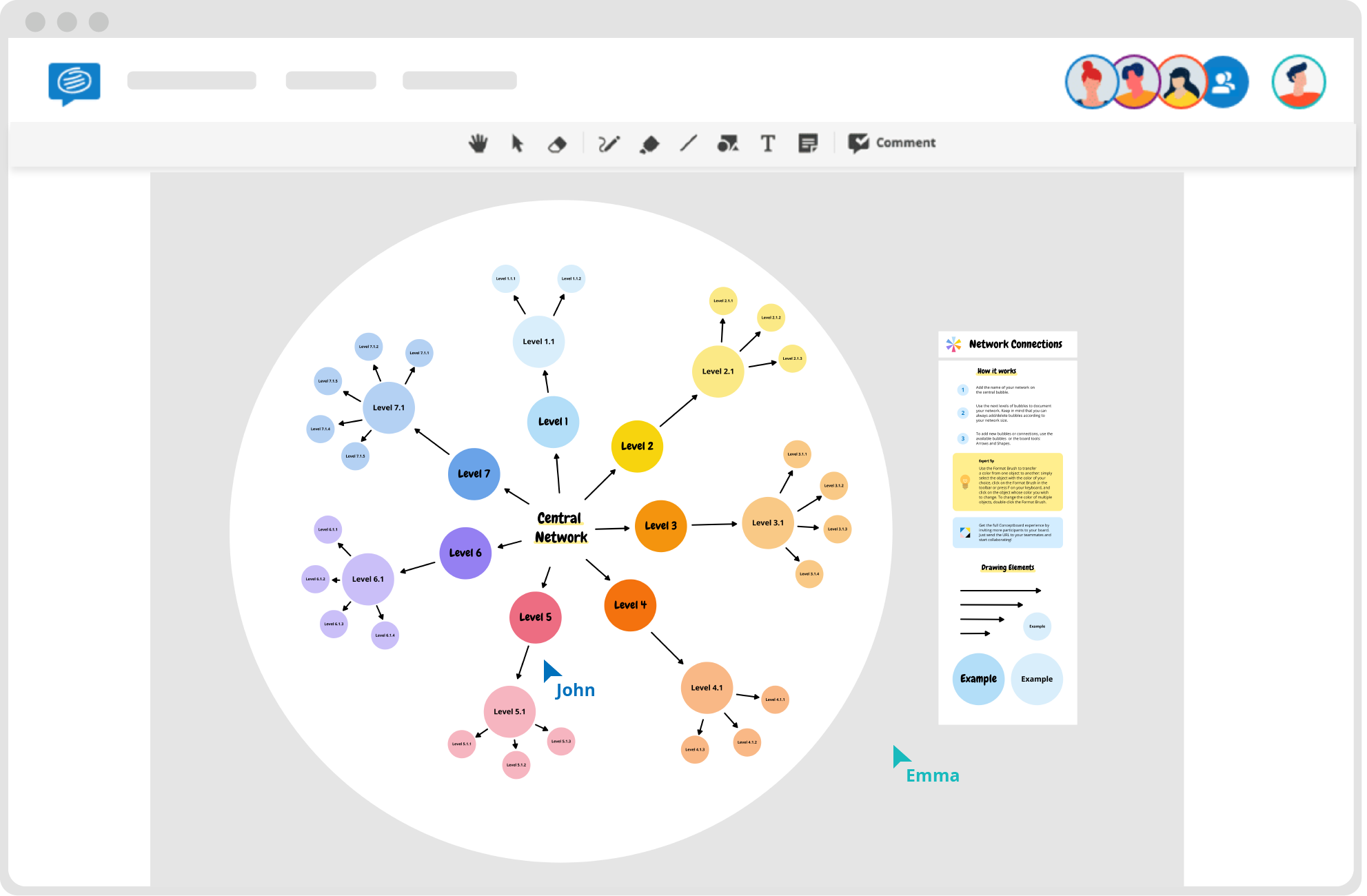 Our new hires give us great feedback on this approach. Certainly, and this is an advantage of such boards, everything evolves with experience. The last few months have shown us that new forms of use are regularly added to the existing ones.
Our employees should feel comfortable and be able to develop. Close and permanent exchange are essential to a quick and profound development. This kind of development was not possible this way before, especially when it comes to hybrid or remote working models. – Nathalie