Building better products: Idea boards at work
Having a pool of ideas in front of you is great for rattling up your creative side. But when all ideas are scattered on shopping lists, the back of restaurant receipts, and bubble gum wrappers, they will not be as useful as they should be. Generating ideas is hard enough, especially in a group setting, but when an organizational system isn't put in place, it can become time consuming and useless.
Including idea boards to your workflow is beneficial because they can fit to any use case and can be used in many different ways. No matter the purpose, they are meant for keeping all ideas in one centralized place so everyone can have access to all necessary information.
What is an Idea Board?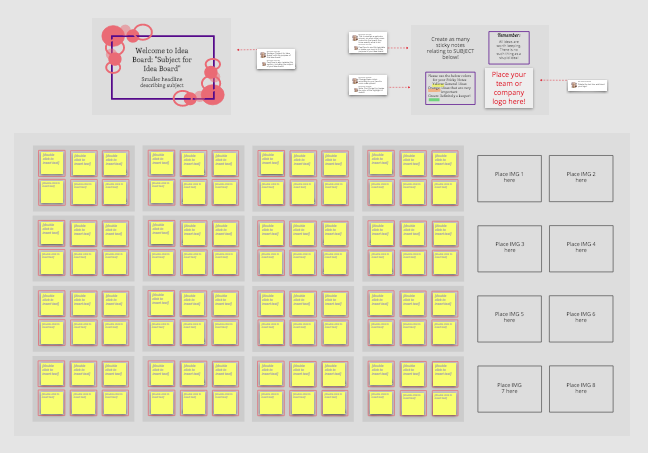 An idea board is a technique to generate a variety of ideas and be able to organize them together in a visual manner. Any content, like post-its or images, are posted on a wall to be processed. Usually as a physical wall, teams use idea boards for brainstorming sessions, problem solving techniques, and decision-making process. Depending on each use case, these idea boards can be used for only a short period or can be constantly edited over a long period of time.
A marketing team can have great purpose to use this as a brainstorming technique. It can keep the content for your next marketing campaign engaging by always having a pool of ideas. Product design teams can put together customer feedback in one idea board and then generate more ideas from those feedbacks! Designer teams can use this technique to show visuals of competitor products and future designs, to be able to pull inspiration from these idea boards. The possibilities are endless as long as you use these idea boards correctly.
Idea Boards in Conceptboard
There is no specific way to create an idea board, they are very broad and can adapt to any situation or use case. Be sure to follow these best practices for the best use of these boards, when creating them in Conceptboard:
Creating your Idea Board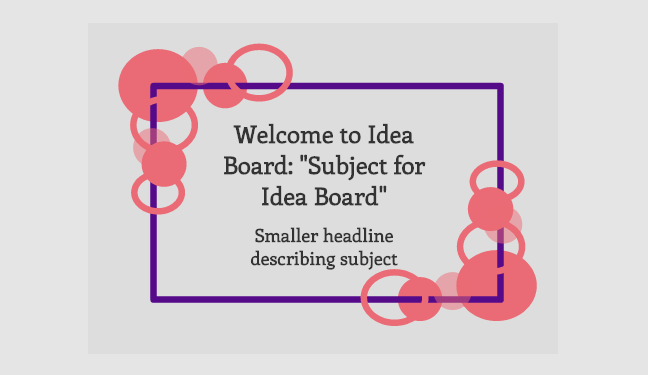 It will not take long for you to create the basic outline for your online idea board. Use the board tools to create an organized pattern for an idea board session with your team. It is always helpful to create a welcome screen with tips and suggestions on how to leave comments or feedback, so your teammates know exactly what to do.
We have created a template for you to use at the bottom of this post!
Adding to your Idea Board
The more ideas on your boards, the easier it will be to find a solution. When you are in the early stages of a productive idea board session, add anything that you come across that relates to the subject at hand to your board!
Adding content into a board is very simple to do in Conceptboard. Insert any image or text from your computer or the web by dragging and dropping directly into your board. You can insert most file formats. Any file types that are not supported can be accessed via the 'Downloads & export' dialog. Or, if you've found a relatable website that you would like your team to see, simply copy the URL link and paste it into the board. This will create an automatic sticky note.
Note: Sticky notes can be changed to the needs of your team. Color code them and change the size of the font to fit what your team prefers.
Sharing your Online Idea Board
Other than plying a physical idea board off the wall, there are very limited ways to be able to show it to others; which in turn will limit the team to that location. This type of workflow tends to be static and not useful in today's rapidly changing work culture. This is why a real-time collaboration tool is needed to easily share all of your idea boards with as many people as you need.
You can invite other users or guests into a board, so they can add their thoughts and ideas, by opening the access boards management dialog. When the group is finished jotting all ideas down, make the board "Read-only" by accessing the boards settings. This mode will still give other users and guests access to the board, but they cannot make changes to it.
It is not a problem to make a physical copy of a board! Export your entire board to save it on your computer or to print it. You can also export specific sections from your board with ease. Remember, all comments and mark-ups will be exported as well, as long as the arrow-head of the comment is over the section.
Keep this idea board for yourself!
Idea boards are flexible for any situation or work process. When used correctly, you can adjust them to the needs of your teams in the innovation process or for inspiration for future projects. If you aren't sure on how to start making your own idea board, use our template as your own! Simply click on the image above to start generating ideas!