Dieser Artikel ist auch verfügbar in: German
Running a sprint retrospective is a great way to establish a culture of transparency and continuous learning in your team. It is a dedicated space for open feedback, reflection and goal setting.
However, if you are finding the format is getting stale and producing the same results every time, it may be time to switch up the format a bit. In this post, we've compiled 11 retrospective templates and ideas for agile sprints and projects that you can try out. Use these to inject some fun and variety into your retrospective sessions!
They are all remote-friendly. So regardless of where your team is located, running your retrospectives on Conceptboard's collaborative online whiteboard is a breeze.
Our selection of the best retrospective templates include:
Uses of a retrospective template
Retrospectives are extremely useful ceremony for taking stock of past performance, gathering feedback and planning for the future. This is true not just for iterative project management methodologies like Agile but also for project project planning and management in general.
Retrospective templates for sprint reviews
A sprint retrospective is a meeting that gives Agile teams the opportunity to focus on how their work could be improved. The goal is to continually improve the development process through reflection. Typically feedback is based around what worked well, and what could be improved.
Typically three hours or less for month-long sprints, it involves the whole Scrum team including the product owner. Using a template to capture this feedback builds transparency while providing structure to the feedback.
Retrospective templates for project reviews
Project reviews are typically more in depth discussions that encompass all aspects of the project such as goals, timelines, KPIs, budget, roles and responsibilities and major challenges. It's important to hold this meeting as soon as possible upon completion of a project.
Advantages of using a retrospective template
Save time by using a collaborative retrospective template after your next project sprint. It lends structure to your feedback session, and will increase productivity by capturing feedback in a simple way that can be easily actioned.
Plus, if you have remote team members in different locations and time zones, using an online template on Conceptboard gives you more flexibility. In addition to digital sticky notes , you can also upload other file types including images, videos, GIFs, PDFs, as well as use our in-built audio and video conferencing functionalities.
1. Starfish retrospective
The Starfish Retrospective can help you identify what each team member got out of a certain project or sprint. This is a great way to build understanding within team members and understand where each others priorities lie.
Best for: Agile sprint retrospectives
2. Lessons Learned
The Lessons Learned template provides a clear, systematic way for teams to document lessons learned, and can become a great project management resource down the track. It promotes positivity as it places equal emphasis on documenting the failures as well as the wins so they can be replicated for future projects.
Best for: Teams at the end of any project
3. Sailboat retrospective
The sailboat retrospective template takes a slightly different approach to retrospectives. It is designed to help teams (the sailboat) navigate to where they want to go (the goal). Thus it's completed before work is finished to help identify risks that may be hindering progress and elements that are helping them move forward.
Best for: Project or Agile sprints
4. Quick retrospective template
The quick retrospective is the best template to use for brief retrospectives that are held regularly and essential for progress. This template is divided into four sections:
What was good?
What was bad?
Other ideas?
Other actions?
Best for: Regular updates when you're short on time.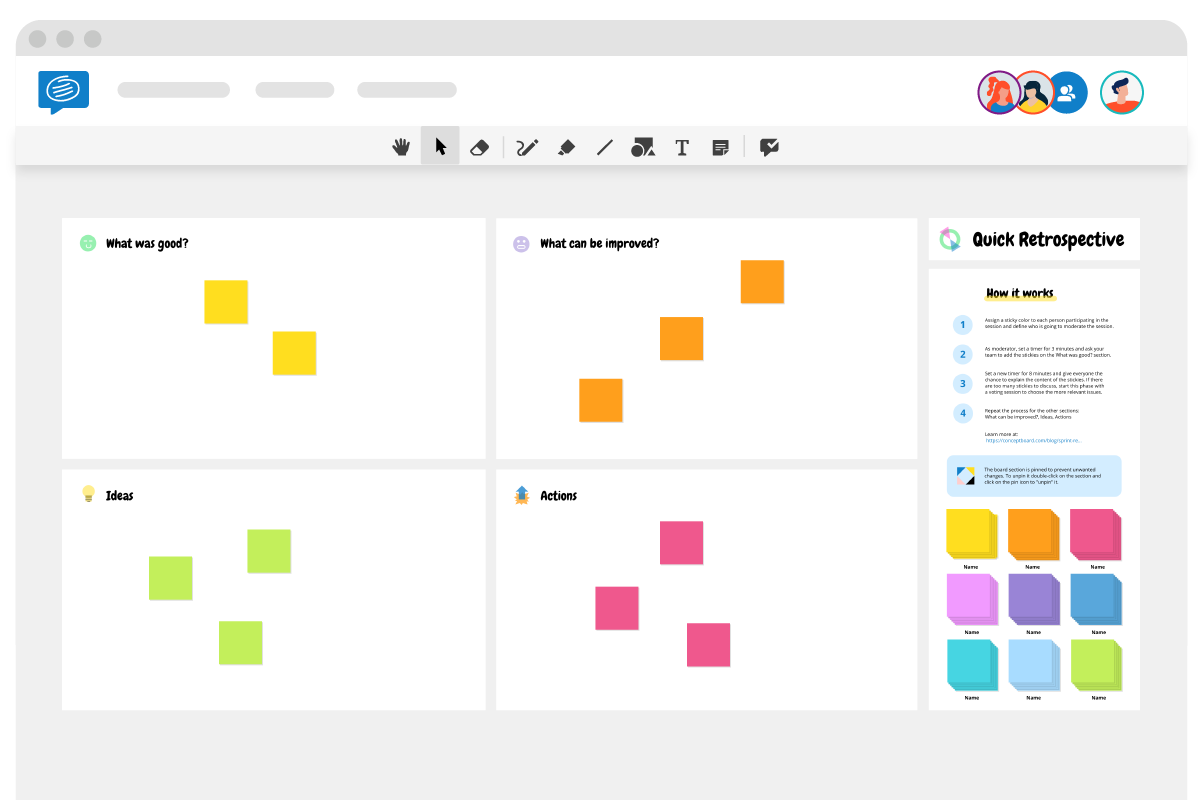 5. The 4 L retrospective template
This classic
4L retrospective
uses the four L's to assess team performance and take action. The template is divided into four quadrants, asking team members to share ideas that relate to:
What did we like?
What did we learn?
What did we lack?
What did we long for?
Best for: Agile sprints, or personal reflections
6. Start, stop, continue
Simple and clear, the Start, Stop, Continue template is one of the simplest retrospectives out there. It is divided into three columns and team members are asked to brainstorm activities and tasks according to the following questions:
Start: What should the team start doing?
Stop: What should the team stop doing?
Continue: What should the team continue doing?
Best for: Project teams, Agile sprints, performance reviews
7. Feedback Grid
During product testing, it's vital that you record all feedback, both positive and negative, so that nothing slips through the cracks. A Feedback Capture Grid is a great way to collect this feedback collaboratively online. The grid is divided into four quadrants, Likes, Criticisms, Questions and Ideas, and can be easily filled-in using digital sticky notes.
Best for: Capturing feedback during product testing phases
8. Mad, Sad, Glad retrospective
Mad, Sad, Glad is another reflective template tailor-made for design thinking. Instead of focusing on the physical accomplishments and roadblocks, it asks team members to reflect on their emotional responses. Can be especially powerful when teams are feeling exhausted or burnt out.
Best for: Agile sprints, when team morale is low.
9. Hot Air Balloon retrospective
Like the Sailboat retrospective, the Hot Air Balloon template is a metaphor that invites teams to imagine they are floating in a hot air balloon and dealing with elements such as winds, weather and weights. It is both a retrospective and futurespective as it asks teams to reflect back on the current sprint as well as look forward all at once.
Best for: Halfway through Agile sprints
10. Rose, Thorn, Bud
More of a reflection technique, the Rose, Thorn, Bud template can be used to identify what's working, what's not and what can be improved. It can be used within teams of all sizes to get a greater understanding of how individual team members are feeling within the broader team. the results should be able to help open up ideas for opportunities to create positive changes.
Best for: Self-reflect on current projects, day-in-a-life artefacts or overall processes.
11. I like, I wish, what if?
I like, I wish, what if is a design thinking technique designed to collect actionable feedback quickly and easily. You can open it up at the end of a project, workshop, meeting or even marketing concept or design to quickly gauge team feedback. By encouraging participants to share their opinions in this fashion it flips negative criticism into positive constructive feedback.
Best for: Collecting quick feedback after a workshop or meeting.