Dieser Artikel ist auch verfügbar in: German
Windmöller & Hölscher KG, a long-standing engineering company with a history spanning over 150 years, understands the importance of deep partnerships and sustainable business relationships.
Founded in 1869 by Gottfried Windmöller and Hermann Hölscher, this medium-sized machinery manufacturer has evolved into the world leader in machines and systems for the production and processing of flexible packaging. The corporation employs 3,200 people globally. 
While many other companies struggled significantly during the pandemic, W&H's traditionally partnership-oriented approach and swift adaptation to the new circumstances concerning "New Work" have paid off.
Strong relationships facilitate the transition to New Work
During the pandemic, Windmöller & Hölscher demonstrated the high value of successful collaboration once again. Both externally, with suppliers and customers, and internally, within the workforce, there was a rapid adaptation to the new realities of "New Work."
With the pandemic, virtual communication via video meetings and calls became crucial. There also was a new demand for digital visual collaboration, like remote workshops.
It quickly became evident that an online whiteboard could provide valuable support for remote workshops and other forms of visual collaboration. This enables employees to exchange work results and collaborate on various tasks regardless of their location.
After initial attempts using the integrated whiteboard function in Microsoft Teams, it became clear that additional requirements were essential for successful digital collaboration. Editing documents, such as PDFs, and utilizing ready-made templates were not adequately possible with MS Whiteboard. 
Through collaboration with other companies and the adoption of "New Work" practices, many employees had the opportunity to test alternative whiteboard providers. This led to the desire for a comprehensive, unified solution for digital collaboration at W&H.
GDPR compliant collaboration with Conceptboard
However, the tested tools did not meet Windmöller & Hölscher's strict data privacy and security requirements. The signal to the IT department that such a tool was needed was acknowledged. A data-compliant solution that could handle large files with consistent performance and is hosted within the EU was required. After thorough research, Conceptboard was chosen.
Conceptboard revolutionizes collaboration at Windmöller & Hölscher
With an initial 20 users, the number of active users increased to 180 in just four months. A positive trend was quickly evident:
Employees rapidly acquired knowledge of using Conceptboard. After onboarding and user training, Conceptboard was quickly and easily adopted by employees.

Key users, internal Conceptboard experts, successfully used the tool in numerous workshops, further spreading its use within the company.

In addition to traditional applications like brainstorming, a variety of ready-made Conceptboard templates are also utilized.
The integration of Conceptboard with MS Teams allows boards to be incorporated into chats and controlled directly through screen sharing.
Conceptboard's transparent hosting and security policies greatly facilitated the decision to adopt the tool. Meeting W&H's security requirements was essential.

The potential of the Visual Collaboration Tool is far from exhausted, as it offers many features that have not yet been fully utilized, such as audio conferences.
When acquiring know-how is not just straightforward but also enjoyable, the company hits the jackpot.
Making collaboration more versatile with Conceptboard
Today, a majority of employees use Conceptboard. "Conceptboard is part of our daily toolkit alongside other tools like MS Teams," says IT Application Manager Joshua Jenkins. Workshops and many hybrid events are conducted using Conceptboard.
A noteworthy example from the IT department is the event "Focus Days," a hybrid workshop format aimed at strengthening communication within Windmöller & Hölscher. The goal of this workshop was to collaboratively find solutions within the IT department to streamline inquiries and enhance communication efficiency between IT and other departments.
Using Conceptboard, all the different channels were initially gathered and grouped on a board with sticky notes. Participants could then vote with virtual dots on which channels were currently used for communication and which should be used for future IT inquiries.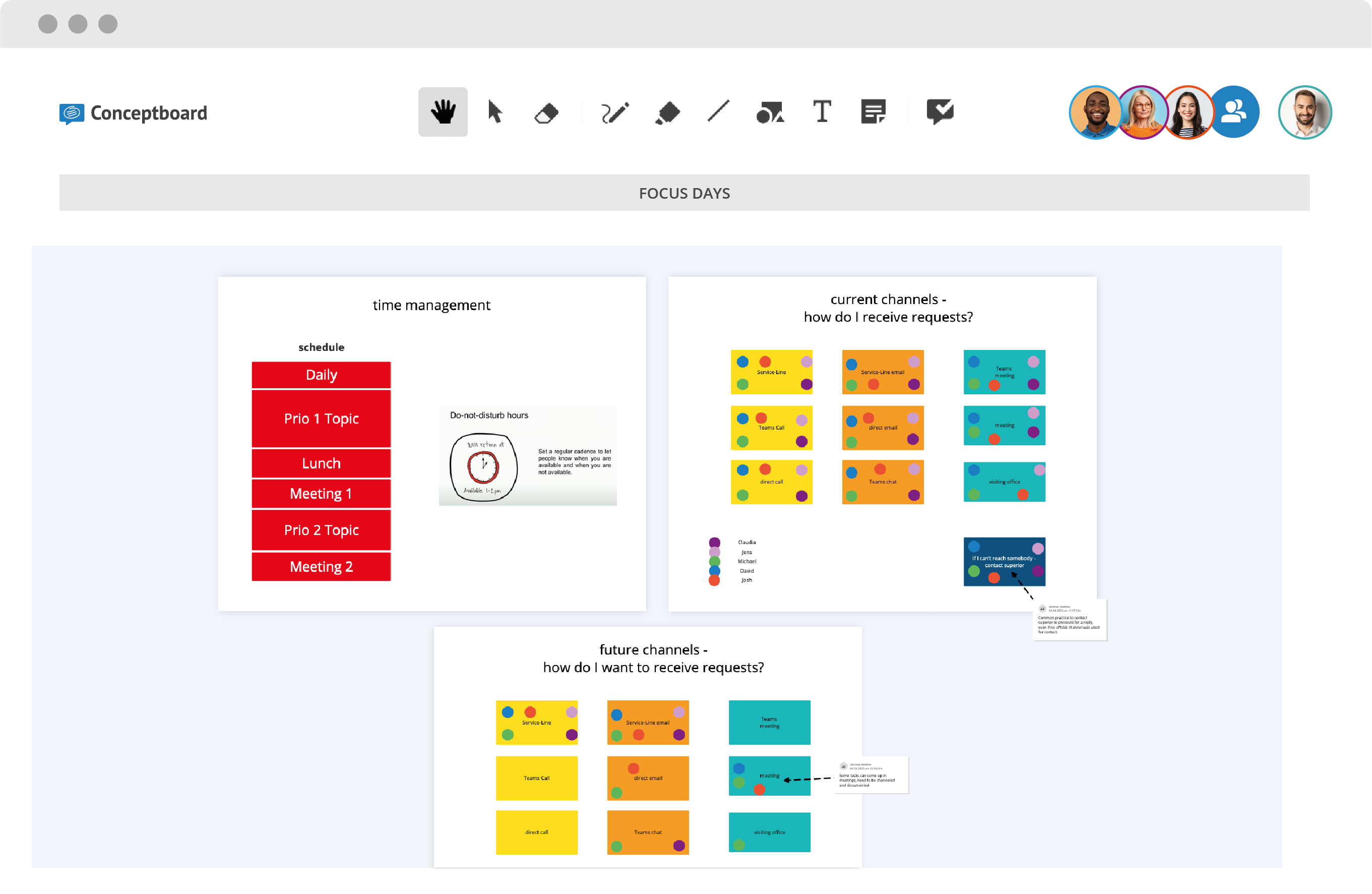 Every participant could contribute to finding solutions, saving a lot of time during the initial discussion of the situation. Based on this foundation, a vision for communication between departments and IT was developed.
"Thanks to Conceptboard, amid the swift transition to digital and hybrid workshop formats, we were able to concentrate on the workshop's content, leading to favorable outcomes. " Joshua Jenkins, IT Application Manager
For team-building activities, Windmöller & Hölscher uses Conceptboard's Icebreaker Templates. Whether remote, hybrid, or in person, employees quickly become more engaged in meetings and get to know each other better. Conceptboard has become an integral part of "Daily Standup" meetings. "With Conceptboard, we've found a way to provide our users with a tool that enables real visual collaboration," says Joshua Jenkins.
Employees are very satisfied. Due to its diverse applications, they can use Conceptboard every day. The tool has found a permanent place in the daily toolkit of many W&H employees and will continue to support virtual, hybrid, and digital collaboration.
Through its collaboration with Conceptboard, Windmöller & Hölscher is well-prepared for the future of collaboration. That's a reassuring feeling. A strong partnership for a successful future.
Windmöller & Hölscher KG has discovered Conceptboard as a new standard in digital collaboration – and has had as much fun as success in exploring new paths. If you too want to discover how Conceptboard can advance your company optimally, please reach out to us here. We look forward to your inquiry!