When infographics exploded into the design world ten years ago, designers quickly adopted them to communicate information in a clear, visual and eye-catching manner, in a way that text can't.
Using a combination of icons, emojis, charts, diagrams, numbers and minimal text in a colorful and visually appealing image, infographics present a simple overview of a topic.
But don't worry, even if you're not a designer, we've put together an editable infographics template you can use for free to spice up presentations, reports or workshops. Just jump on the template, click on the '+' sidebar and choose icons from the menu to access over 8000 amazing icons!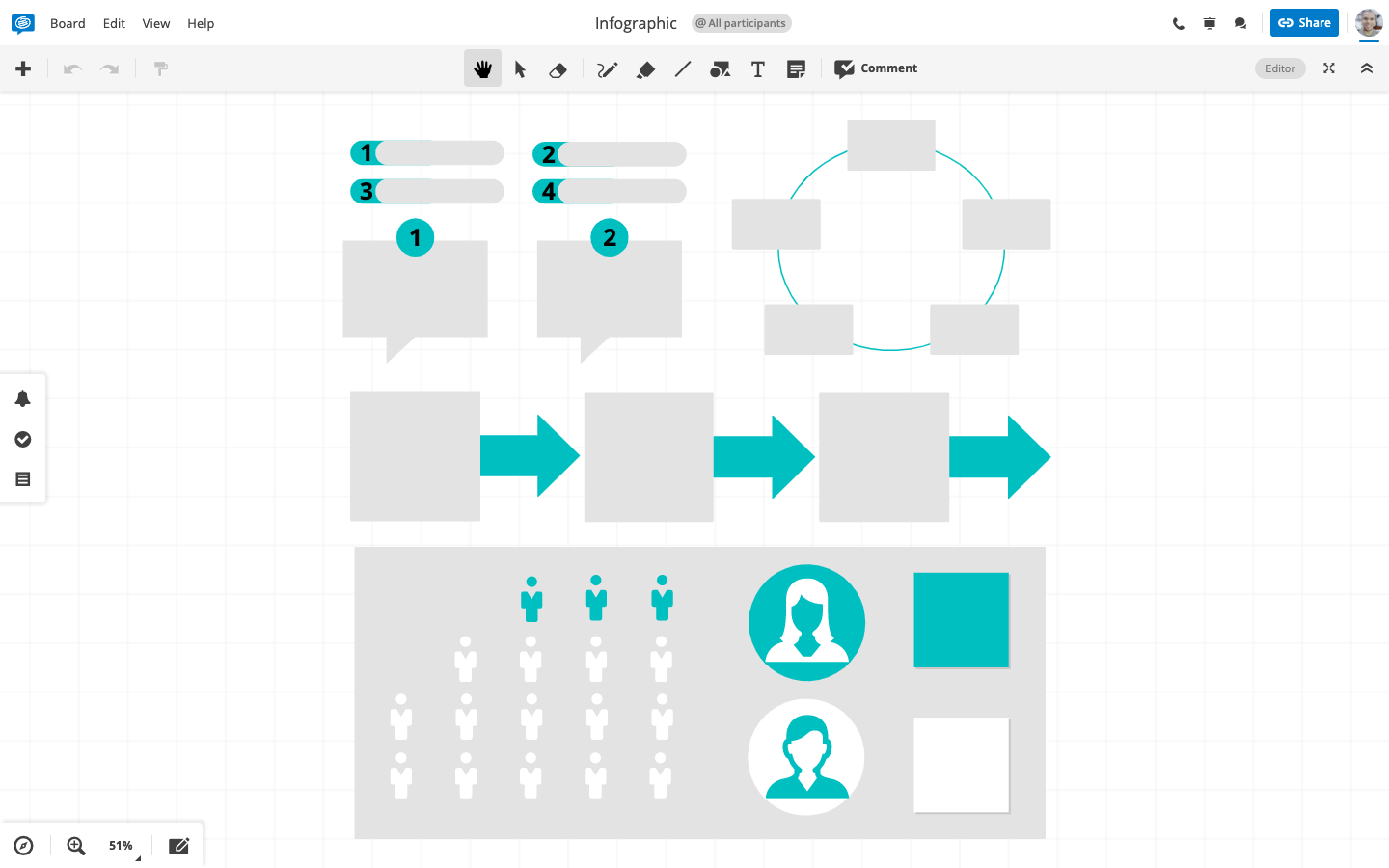 When to use an infographics template
Infographics work best when they are unique, creative, colorful and simple as they grab our attention and invite us to keep reading.
In terms of the practical applications, infographics can be used to portray a variety of information such as:
A complex process

Survey data or statistics

Key findings from a report

To summarize a long article

To cover the key points of an issue or cause

On a sign to grab attention
Marketing teams may find that using an infographic template in a piece of marketing collateral will work better to convey a message than plain text would. 
Agencies and consultants could use infographics to clearly explain projected timelines, budgets and project goals to clients so ensure everyone's on the same page.
The healthcare and wellness industry have adopted infographics to quickly demonstrate key messaging in public spaces, anything from water safety to hand washing hygiene, complex processes to airport safety. Here, the visuals are extremely important as they can communicate the message to people from a variety of language backgrounds without needing to translate the text.
5 steps to creating an infographics template
We've created a free infographics template that you can use to simplify information, such as survey results or customer feedback to share in your presentations, reports or marketing material.
To get started, gather all the relevant facts and figures from your survey. Opening up the free Conceptboard template you will see the various sections to input information. These sections are:
Four subheadings: In the four text boxes at the top you can input four key words, recurring themes or subheadings from the survey.

Two quotes: use these boxes to share relevant testimonials or feedback that your customers have shared to give anecdotal insights.

Five key statistics: In the circular diagram on the right, add five key related findings from the survey.

Process: In the middle section, these three boxes can be used to show the process or flow of customer satisfaction along various touchpoints in the sales cycle. It could also be an area to highlight actions or next steps that can be taken.

Demographic statistics: The final section on the bottom is used to visually represent statistics. You can alter the colors of the icons by doubling clicking and changing the color to match your statistics. Add extra information or customer profile data in the text boxes on the right hand side.
All areas of the infographic template are fully customizable. Simply add extra elements by double-clicking on sections and selecting duplicate, or delete unwanted areas by double-clicking and then selecting delete.
Once you've completed your infographic, you will need to export it or share it in a presentation. Simply click on the Share button on the top right hand side to send a link to the Conceptboard. Or to export it as an image or a PDF, head to the Board menu on the left hand side, and click on Export.
Conceptboard has a huge range of visual communication tools at your disposal to help you spice up your presentations and reports. Check out the full range here.

Discover the power of visual collaboration
Centralize projects and communication on our virtual shared workspace
We also have a number of other free templates you can use to better understand your customers such as the Customer Persona Template and Customer Empathy Map.
As you can see visual communication is very powerful. If you want to learn more about how Conceptboard can help your team communicate better visually, feel free to contact us at any time. We are looking forward to hearing from you.