Dieser Artikel ist auch verfügbar in: German
In response to the challenges posed by the COVID-19 pandemic, the landscape of online workshops in businesses underwent significant transformation globally. Now, companies have realised that collaboration is possible without physical presence, they still need the tools to make collaboration online effective.
To ensure engaging and effective online workshops continue after the Covid-19 pandemic, management and technology consultancy Detecon relies on the innovative collaboration tool Conceptboard. Let Sarah Backofen, Agile Capabilities Consultant at Detecon, guide you through the seamless integration of this tool into the company and how remote workshops are conducted today.
Conducting High-Impact Online Workshops with Conceptboard
The introduction of Conceptboard was a direct response to the hurdles posed by the pandemic. Restrictions on physical presence made conducting client workshops considerably challenging. Detecon's consultants needed an efficient tool to continue offering high-quality consultancy services, even when not physically present. Conceptboard enabled them to conduct workshops with clients online, maintaining the quality of Detecon's consultancy services.
"In the midst of the pandemic, Conceptboard enabled us to effortlessly shift from in-person workshops to online sessions. We not only maintained the quality of our workshops but also generated genuine value and valuable content." – Sarah Backofen, Agile Capabilities Consultant at Detecon
A crucial factor in selecting a collaboration tool, alongside its features, was compliance with data protection regulations. Due to Conceptboard's stringent requirements concerning the storage and processing of sensitive data, the choice fell on the provider from Stuttgart.
Facilitating Smooth Onboarding: Fundamental Training Approach for All Employees
The key to successful implementation of Conceptboard within the consultancy firm lay in providing comprehensive fundamental training to all employees. Every employee had the opportunity to extensively acquaint themselves with the tool and understand its functions. 
To widely distribute training throughout the organisation, Sarah Backofen's team developed a gradual approach, starting with in-depth training for specific chapters within the organisation, followed by sessions for assistants, and eventually extending to all interested employees at Detecon. This established a uniform foundation for Conceptboard usage, enabling employees to navigate the online whiteboard quickly and efficiently. The open training is available in both German and English. Furthermore, Teams channels are available for short-term assistance or inspiration.
Results Achieved with Conceptboard
Effective Online Workshops with Clients: Conceptboard streamlined the process of conducting client workshops virtually, centralising ideas and tasks efficiently. This approach not only saved time and money, but also allowed participation from individuals worldwide without incurring travel costs. 
"With Conceptboard, we save time, money, and achieve excellent results! We conduct almost all our workshops online, making it easier for our clients too." – Sarah Backofen, Agile Capabilities Consultant at Detecon
Seamless Asynchronous Collaboration: Conceptboard facilitates uncomplicated collaboration for large teams scattered across various time zones or with different working hours. This feature allowed continuous contributions to ongoing discussions, fostering the development of ideas and best practices.
Enhanced Internal Processes: Detecon utilises Conceptboard for both complex tasks like event planning and straightforward task management. This creates a structured work environment, improving collaboration and information flow within the company.
Harnessing the Power of Templates for Enhanced Efficiency
To assist employees with the right tools and provide support in the form of templates, a company-specific template for using Conceptboard in online workshops is available. This template includes a rough structure for the workshop and allows individual customisations. This makes Conceptboard's use for remote workshops as straightforward as possible.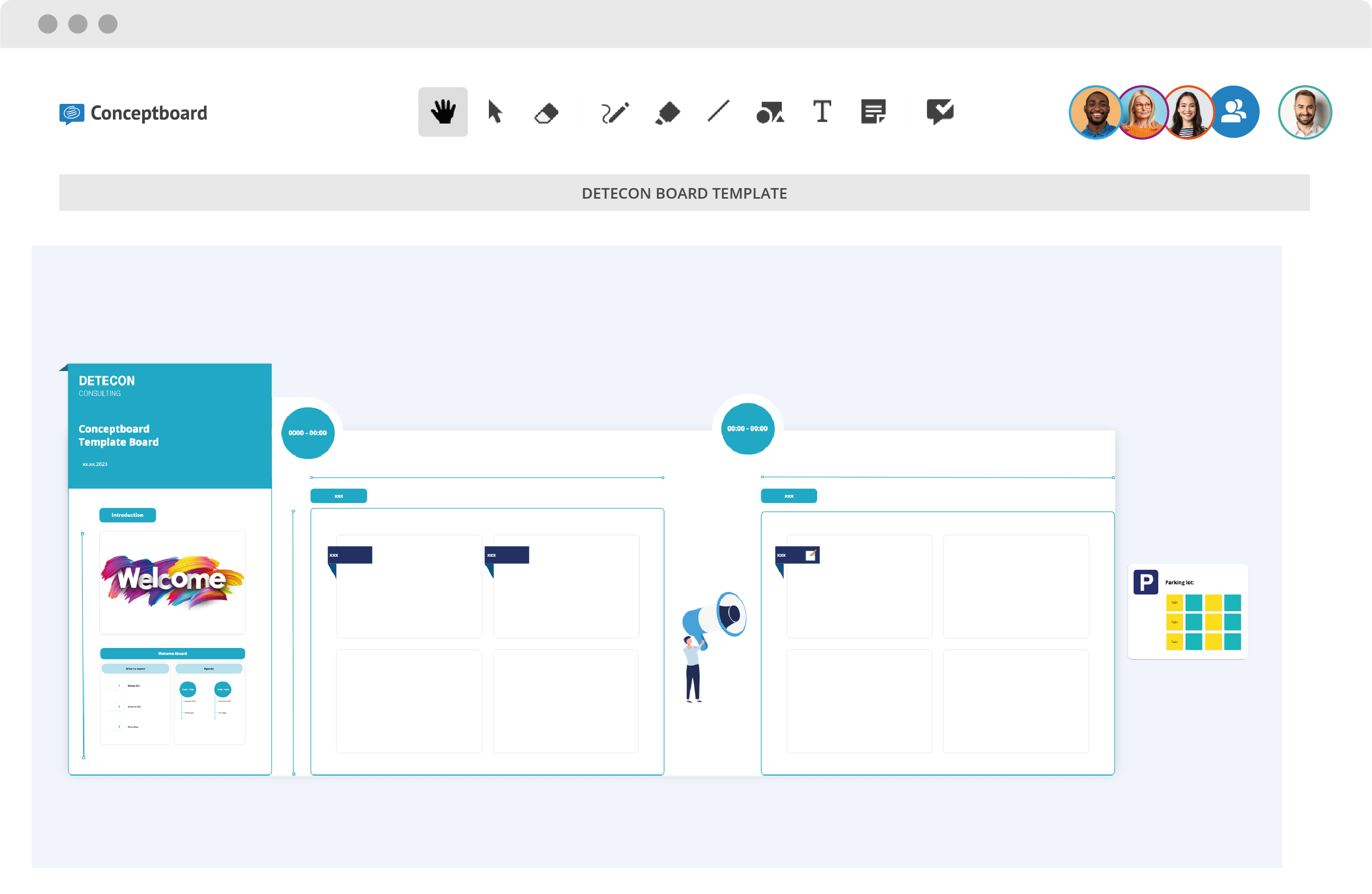 Own template for conducting workshops with Conceptboard
Another template contains all the specific graphics of Detecon. These graphics can be easily customised and reused on other boards. This creates a clear structure, allowing a consistent visual identity in client interactions.
Conceptboard Template of graphics and slides in Detecon's corporate design
"Conceptboard enables us to receive feedback or input from ten different individuals within two minutes – a process that would take at least ten minutes if conducted sequentially. The timer function also proves invaluable in setting time frames." – Sarah Backofen, Agile Capabilities Consultant at Detecon
Elevating External and Internal Collaboration
These new approaches to internal and external collaboration have opened new avenues for Detecon. The collaboration tool enables employees to focus better on their core tasks by offering efficient task management and improved collaboration. Workshops with clients not only run smoother, but also become more successful due to preparation and execution with Conceptboard. 
The introduction of fundamental training for all employees lays a solid foundation for optimal tool usage, showcasing how this new level of collaboration presents exciting prospects for the company. It demonstrates how technology can significantly enhance work processes, paving the way for a future where seamless collaboration knows no boundaries.