Dieser Artikel ist auch verfügbar in: German
About HOK
HOK is a global design, architecture, engineering and planning firm with 23 offices on three continents.
Their number one focus is to deliver solutions that inspire clients and communities.
Many of these initial inspirations happen during the first pitching and visioning phase, and that's why HOK turned to Conceptboard. Our modern, imaginative design reflects HOK's own mindset and design principles.

A great tool for non-linear client presentations
"We first used Conceptboard for pitching a potential client. Part of our reasoning for using it was the interactive quality to it. We felt like it was a way we could show how we could future connect with the client on a 1-1 basis. It showed something a little more dynamic, than what the other teams interviewing were doing. We took the risk, and plan to keep using the tool for the interactive visioning sessions."
Conceptboard's limitless, non-linear workspace allowed them to express their creativity compared to the structure of traditional PowerPoint presentations. At the same time, the dynamic board allowed for easy manoeuvring between various sections, rather than being beholden to shuffling between pages.

Designing asynchronously
With a global team, it can often be a struggle to collaborate or share designs when using individual tools such as InDesign or Illustrator. However, HOK discovered using Conceptboard helps to keep the design process on a constant flow moving forward.
Their designers create intricate designs in Illustrator, then upload the entire file to Conceptboard to share it with the global team. When they wake up in the morning- the board is filled with virtual sticky notes and feedback.
"We can add sticky notes on our boards, people can work on them in their own time, and later we come back and check the comments."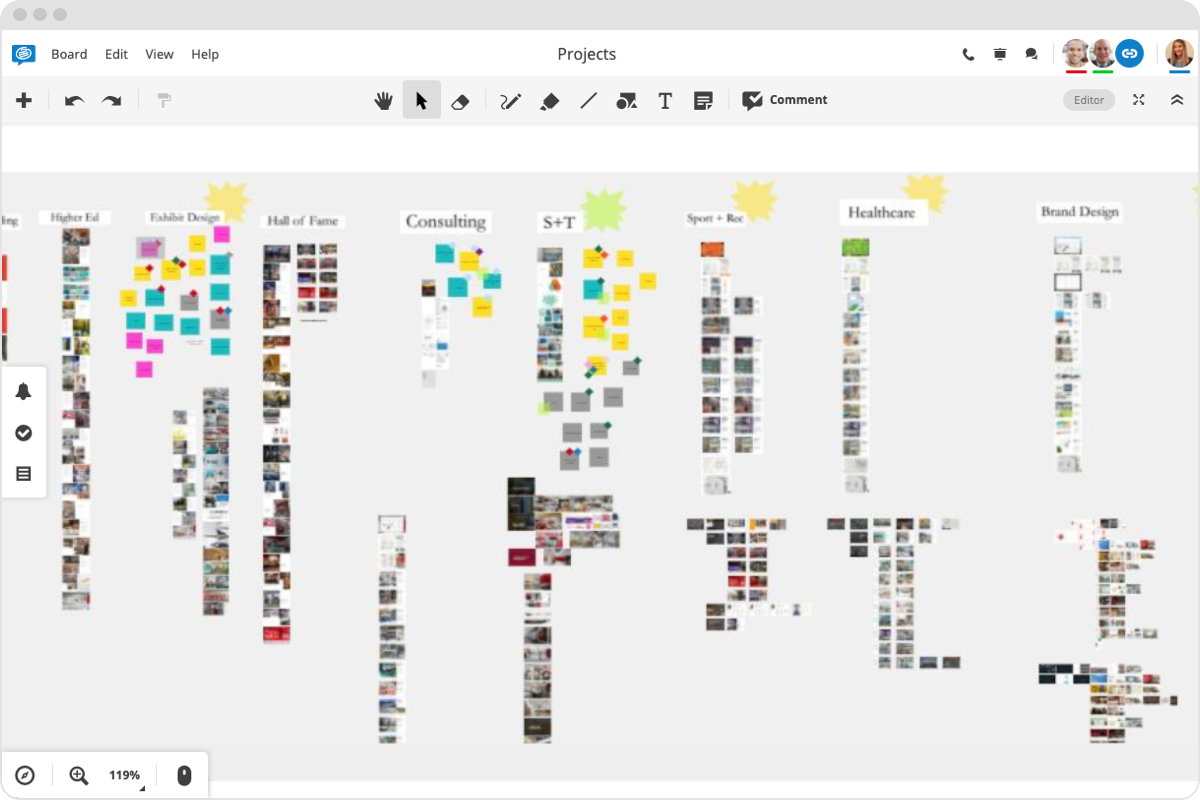 This asynchronous collaboration is immensely important, as reality shows: during the current pandemic, not everybody can be in the office at the same time. Conceptboard will therefore remain the most important tool and integral component for idea generation and collaboration in the team and with customers.
"In the context of a virtual, remote environment this has been really helpful to make us feel more connected in the design process. It's really hard to replicate in-person ideation, especially when you're talking about images and data collection. Conceptboard has been a helpful tool to facilitate that visualization that we're lacking from the in-person pin up board."
As Conceptboard, we are proud to be able to play a part in helping the HOK team continue to create incredible designs which inspire people. We look forward to seeing what you guys come up with next as we emerge into a new reality for both work and workspaces.
Check out HOKs amazing design work on their website.