Virtual Whiteboard for better teamwork and brainstorming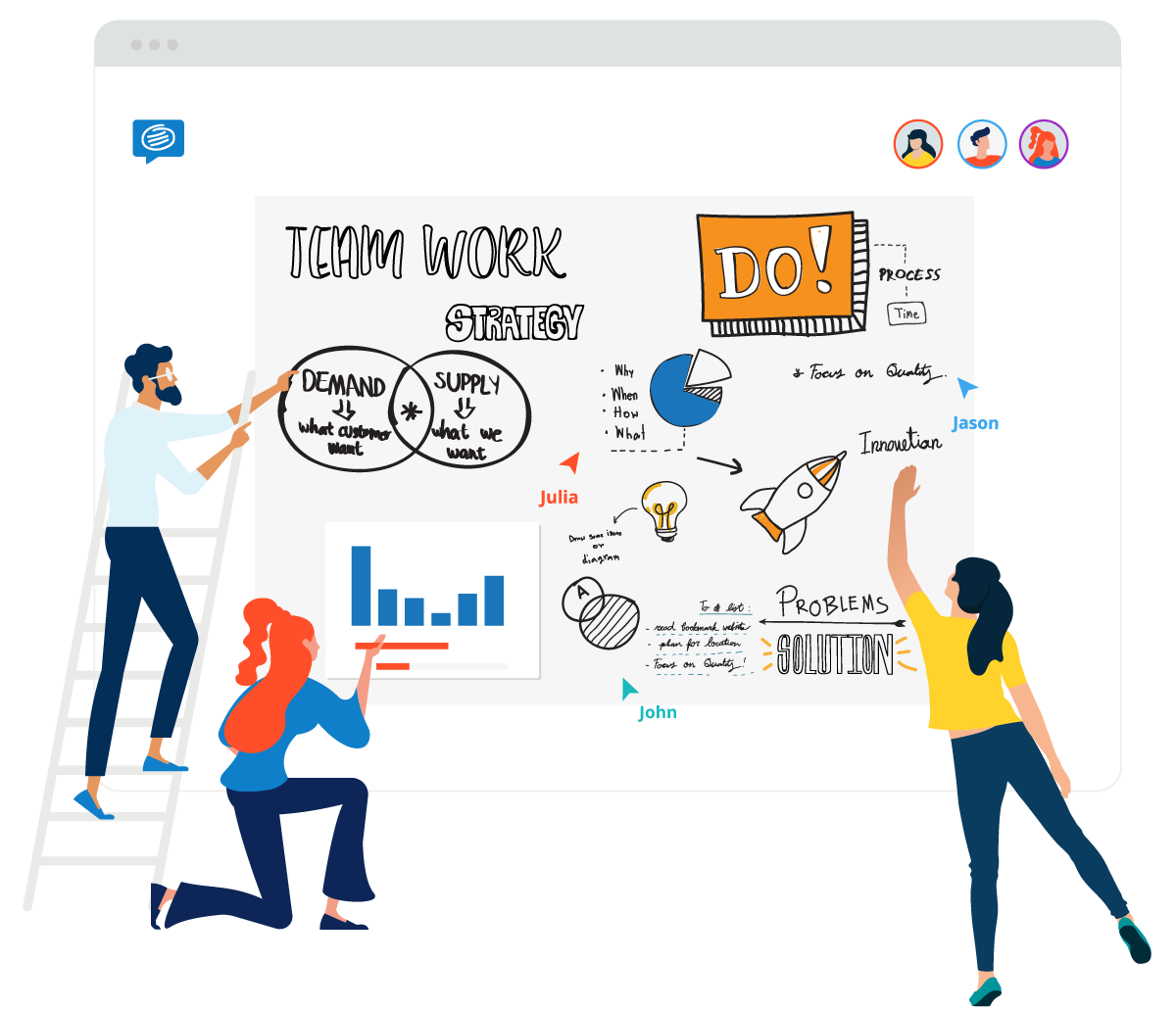 Highlights
What is a virtual whiteboard?
 A virtual whiteboard is a blank space where multiple people can write, share and interact with each other in real-time without needing to be in the same physical location. The virtual whiteboard has become a key piece of technology in remote teams to help with tasks such as brainstorming, problem solving and writing creative briefs.
Brainstorming: Brainstorming plays an extremely critical role in most stages of the Design Thinking methodologies. In recent years, the ability to conduct brainstorming sessions across timezones has acquired an outsize importance. No other tool is more effective for remote brainstorming and ideation.
Problem Solving: In the discovery phase, most teams struggle with transforming research insights into concrete frameworks. The visual nature of a whiteboard comes in handy here.
Visual Projects: Perhaps the strongest application of a virtual whiteboard is to organize and centralize visual projects. Consolidate all your content, feedback and tasks in one central hub.

Advantages of a virtual whiteboard
There are many benefits of using a virtual whiteboard instead of a physical board. It's flexibility means its virtual version has surpassed the physical whiteboard in terms of applications. As a business tool, we've previously looked at the best use cases of a virtual whiteboard, so now let's take a look at the main advantages of a virtual whiteboard over its physical predecessor.
Save time and money: If you can get all your team members collaborating on the same virtual page, there's no need to travel to a physical meeting, saving travel time and reducing travel costs, while also saving the environment. 
Break down hierarchy: When everyone is logged onto a online whiteboard, they all have equal opportunity to express themselves freely freely without worrying about their position in the hierarchy.
Support introverts: Sometimes the quietest voices are the most insightful. Virtual whiteboarding allows introverts to participate in discussions in a way that physical meetings don't. Introverts won't get drowned out by louder voices, but instead they can equally contribute to the discussion via text. The use of toggling moderators can also help promote equal opportunities for all team members to have their say.
Transparency: Eliminate the need for the team leaders to snap photographs of physical boards and then try to share the notes with stakeholders. By using a virtual whiteboard, everything is instantly digitized for future reference.  All participants can access the board down the track, and a link can be shared with stakeholders and other departments to reduce information breakdown.
Remote teams essential tool: Undoubtedly the best digital tool to get all your stakeholders on the same page irrespective of location or timezones. Whether distributed, collocated or remote all participants feel like they're in the same room.
Choosing the best online whiteboard 
There are numerous virtual whiteboards on the market ranging from the very basic page to scribble notes, through to a complete virtual workspace. When it comes to selecting the right virtual whiteboard to suit your needs, these are the main questions to consider:
Does it have an unlimited canvas? Look for a whiteboard that has an unlimited board size so you'll never run out of space for your team projects. This is also essential if you want to use the board to house various iterations of designs, or as a project management tool with an indefinite end. 
Does it offer real time collaboration? If you're going to be using a virtual whiteboard to collaborate in a team setting, real time collaboration is a must-have. This way you can engage in videos chats, moderate boards, share screens or follow cursors at the same time, without any lag. This keeps discussions moving forward and reduces time-wasting and double handling.

What other problems can it solve? In the age of app fatigue, look at what other services your virtual whiteboard offers, so you can reduce the number of total apps needed. For example, does it allow you to upload various file types, share access securely, track progress, and chat within the board? 
Does it have presentation functionality? This will help with double handling, so look for a virtual whiteboard that allows you to export and share boards with external people at various access levels. Then you can use your whiteboard as a presentation tool, eventually rendering Powerpoint obsolete.    

Discover visual collaboration
Collaborate seamlessly across large teams with Conceptboard's cloud-based infinite canvas
Conceptboard is a powerful cloud-based application that boasts of the above features plus a huge range of free
business tool templates
and
integrations
with Trello, Dropbox, Google Drive and more. If you want to give it a try, get started for free
now
.