Fishbone Diagram guide and template
Highlights
What is a Fishbone Diagram?
A Fishbone Diagram (also known as a Ishikawa Diagram, after it's founder Kaoru Ishikawa, a Japanese quality control expert) is a cause and effect analysis tool used to brainstorm potential causes of a problem. It's clear, visual design lends itself to collaborative problem solving.
When conducting a fishbone analysis, teams work together to categorize the factors contributing to a problem to uncover the major issues. This root cause analysis results in a focused map of the main contributing factors, enabling people to address the problems rather than just the symptoms. If you'd like to explore additional brainstorming techniques, we've rounded up 15 brainstorming techniques and templates you can use collaboratively with your team.
Fishbone Diagram Template
Save time by using our ready-to-do Fishbone Diagram template. It's free and easy to use, get started now. Click on the template below and edit as you please.
Usage guide
The first and most important step is to gather your team and anyone who could help shed lights on the problem at hand. In remote teams, collaborating on

Conceptboard

will ensure everyone can participate.

Focus your session on the exact problem by first identifying what, when and how it occurs. Framing it as a 'why' question will help to find answers.

Start thinking about the main categories related to this problem, such as staff, software, marketing, budget, equipment, legal. Allocate these labels to the large category boxes at the top of the fish bones.

Along the fish bones, under each category heading, note down all the contributing causes related to the main problem. To help with brainstorming, analyze the 4P's: Policies, Procedures, People and Plant for each category.

Continue until the root causes of all the problems have been identified. Within your team, analyze the diagram and decide on the next steps to dealing with the root causes.
What is a Fishbone Diagram used for?
As a project management tool, a fishbone diagram is most useful in product development and troubleshooting. 
As one of seven tools within the quality control tool chest, project managers can use this diagram during quality management analyses to ensure projects can move forward unhindered. It's also useful when teams hit a road-block but quantitative data is unable to find the cause. By using a fishbone analysis at this point, teams can come together to brainstorm possible underlying problems as a team. 
Within the medical and healthcare sector, a fishbone analysis can be used to examine an incident report and identify the root cause of the accident so it can be avoided in the future. 
Similarly, in a laboratory setting, a root cause analysis using a fishbone diagram is helpful within risk management to identify causes for concern and improve processes. 
Examples of a fishbone diagram
When it comes to visual tools, we believe showing is better than telling and to that end, we've created a Fishbone Diagram example using our own template for ease of understanding.  The below example illustrates the usage of this template in the field of medical science.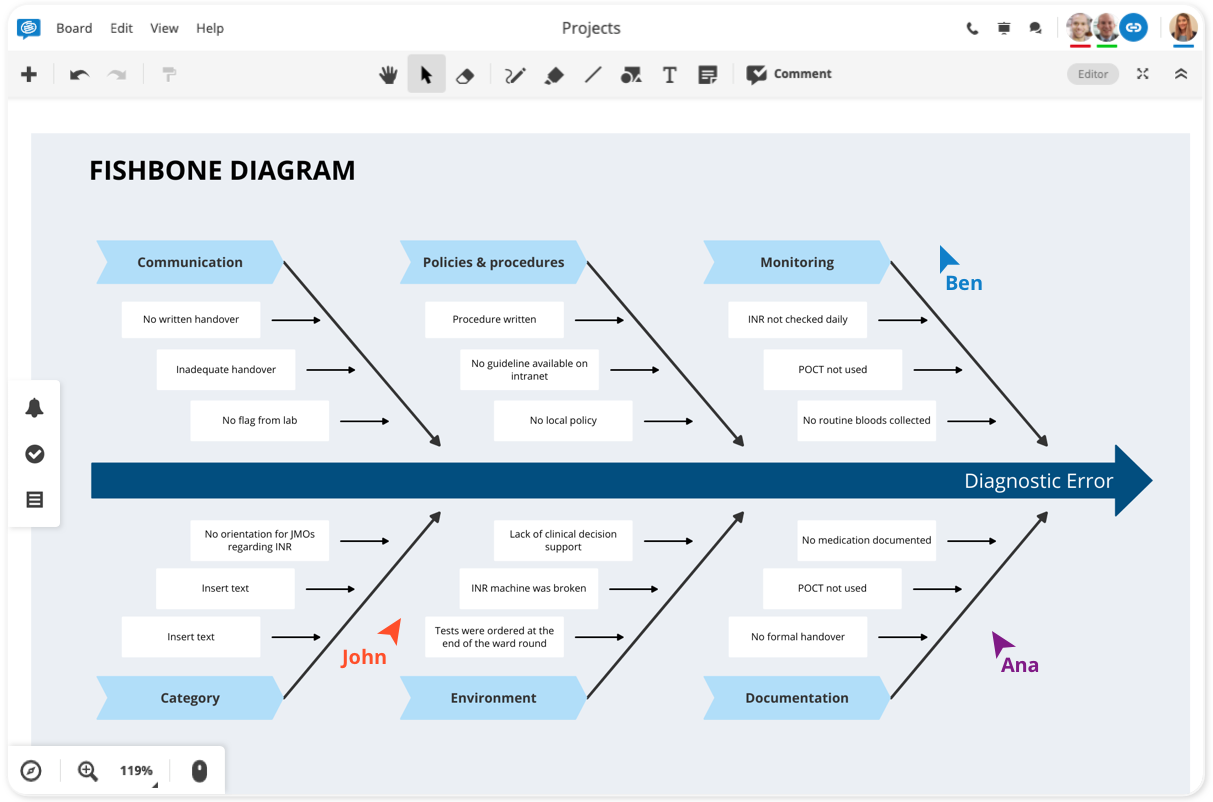 Enable digital transformation
Streamline collaboration workflows across teams and departments with Conceptboard
If you want to further explore problem solving, take a look at Taiichi Ohno's complementary 5 Why's technique, designed to help get to the core of the problem. Or use the Lotus diagram technique or the brainwriting technique to give your brainstorming and ideation a boost!