Dieser Artikel ist auch verfügbar in: German
In recent years, there has been growing awareness of the fashion industry's adverse impact on the environment. While paying lip-service to sustainability has become the norm for companies across the board, few brands truly walk the talk. Perry Ellis International, a global fashion house that represents an impressive portfolio of apparel lifestyle and licensed brands is one of those that goes the extra mile in order to make sustainable practices core to their everyday workflow. 
In this article we shine the spotlight on how Perry Ellis International uses Conceptboard to not only streamline interdepartmental collaboration but also reduce waste and improve profitability.    
A digital transformation with Conceptboard 
While Perry Ellis International today boasts of several processes that leverage cutting edge digital technologies, that wasn't always the case. Like most traditional fashion labels, there was a time when product boards were printed on foam boards, that measured 2 meters in height, and presented to teams. Not only was this process wasteful and time consuming, it also made gathering actionable feedback extremely difficult. 
Thanks to Conceptboard's infinite shared workspace, designers can now import rich content and artworks directly from their design software onto a virtual board. These boards are then used for the presentation process. Comments and feedback are captured in real time on digital post-its and preserved on the boards for future reference.      
Remote vendor management
Once there is approval on designs, these product boards are then sent downstream to Product Development. Content from the boards are used to create "Tech Packages"- visual files that contain detailed product-related information – and then sent to vendors. 
There was once a time when each style was physically printed on paper and then sent over to vendors. An activity that was both resource and cost intensive. Using Conceptboard, detailed Tech Packages can now be shared with remote vendors on virtual boards without any compromise on quality.
At the vendor's end, fabric samples are no longer sent by courier but instead sent over virtually for digital sampling that happens in 3D workrooms.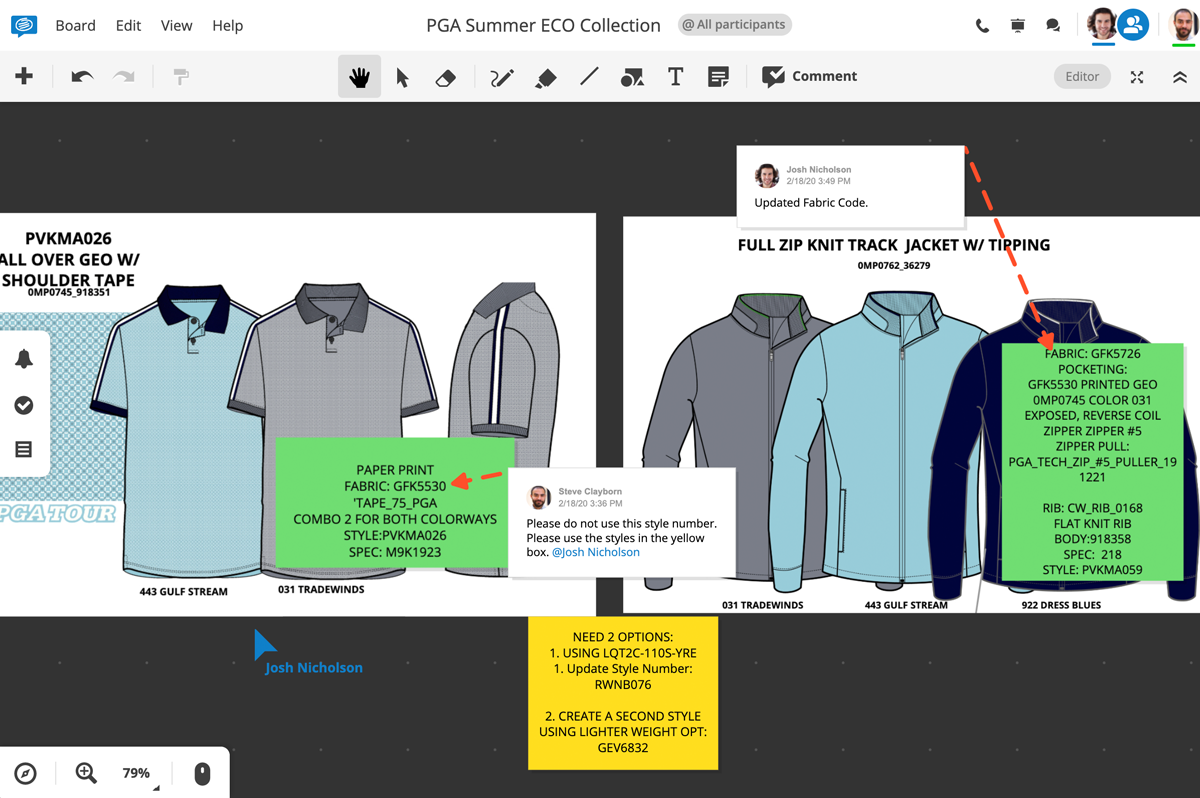 Presentation to retail partners
For most fashion brands, 'fit sessions' are the most important step in the entire product development value chain. Even at this critical juncture Perry Ellis International's commitment to the reduction of ecological impact shines through. 
Physical sessions are eschewed through the adoption of innovative 3D virtualization software that recreates entire garments down to fabric, fit and texture. This obviates the need for stakeholders to travel to be in the same room as well as the creation of throwaway samples. These digital representations that have been stitched together from 'digital patterns' are then presented to retail partners on Conceptboard. 
"We were surprised with how quickly our teams were able to seamlessly adopt Conceptboard into their workflow. Conceptboard makes the entire collaboration process fluid, saving us time and resources so we can be as environmentally sustainable as possible."  – Isaac Korn, Director of Innovation
End-to-end improvement in efficiency
Perry Ellis International's use of Conceptboard for collaboration, feedback consolidation and team presentations have resulted in shorter revision cycles, smoother handoffs and quicker turnarounds. Along with the tangible benefits of time and money saved the biggest benefit is a reduced carbon footprint and consumption of resources. 
"Transformation, We Wear it Well", is the company's corporate social responsibility mantra. The organization continues to enhance their role as a good corporate citizen by taking an overall sustainable approach to conducting business. It's part of their guiding principles to be on the forefront of conservation and environmental preservation. These initiatives will enable the organization to expand their global footprint, embrace their entrepreneurial spirit while they continue to integrate technology and innovation into their long-term business strategy.
Enable digital transformation
Streamline collaboration workflows across teams and departments with Conceptboard
Discover how other companies such as Siemens use Conceptboard to drive organizational change, improve collaboration workflows and increase productivity. Conceptboard is also a great tool to facilitate remote meetings and drive cultural change through the practice of Working Out Loud.