A Fresher, More Intuitive Conceptboard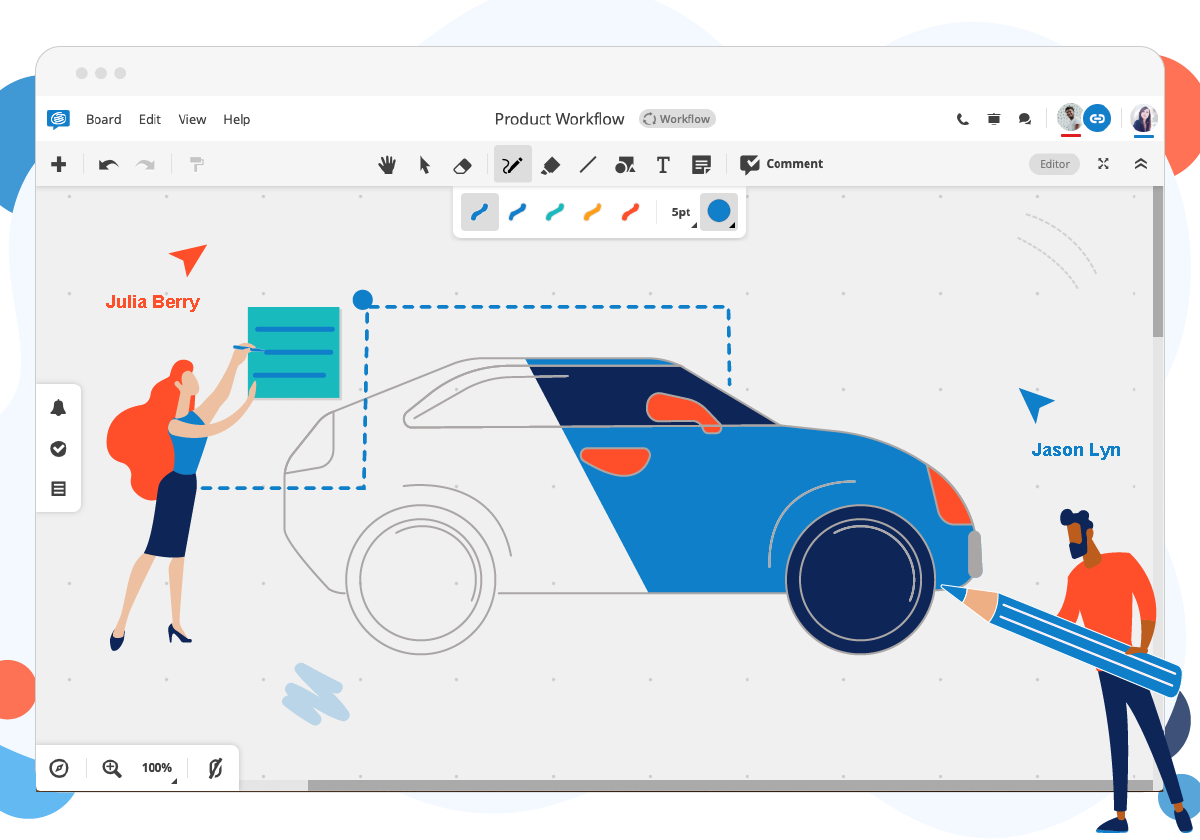 Highlights
We're excited to introduce some major updates in Conceptboard that will give you more control over your personal style. We have been redesigning your board tools and color palettes to make it easier and faster for you to create powerful content, in the style of your choice.
So, what's new?
Bigger Workspace

Beautiful Custom Colors

Easy Color and Style Copying

Customizable Tool Presets

New Avatars
1. Bigger Workspace
Go big or go home! We've been working hard to reduce the page borders to give you more on-screen workspace. You'll notice along the side and the top we've removed unnecessary borders extending the workspace. The effect is remarkable – especially for smaller displays such as tablets and mobile devices. Check it out for yourself!
2. Beautiful Customizable Colors
We've reworked the default color palette, and we know you're going to love it! Find inspiration in our range of colors to suit any project.
There are three new default color palettes available:
Basic Colors

Light Colors

Grayscale
To access these color palettes, simply click on a tool and the drop down menu will showcase all the new colors. At the same time, we've introduced three new customizable color palettes on a personal and team level to save you time and effort. They are:
Board Colors

: This palette will automatically save all the recently used colors on the board so you don't have to keep searching for the right colors every single time.
Corporate Colors

: Keep your corporate identity on-brand with the new corporate palette, available in PRO accounts only. Your company colors can be preloaded and saved as a corporate palette, but you must have your team administrators preload them first and then it's available for all the team members to use.

Personal Colors:

These colors are for your personal use only. Create your personal color palette to access your favorite colors at any time.
3. Easy Color and Style Copying
Your new favorite tool! We are introducing the Format Brush tool, that will allow you to work faster by copying over settings in a single click. To use, simply drag your cursor over the item with the settings you want to copy, next click on the Format Brush tool button in the navigation bar (it looks like a paint brush) and then select a new item with your cursor to paint those settings straight onto another object or text.
4. Customizable Tool Presets
Personalize your board and save time with our new Tool Presets. You can configure the default style on the following tools:
Pen & Highlighter – Set to your preferred color and line width and your presets will be available on every new board

Lines – You can preset your favorite line formats and width, which will save you so much time

Shapes – Preset your shape formats by color, opacity, line style and width as well as text attributes

Sticky notes – Personalized sticky notes are here. You can change the default colors and fonts of individual sticky notes to your preferred style
You will find these tools in the navigation bar. So simply click on the tool you wish to change, create the new settings, and click set as default. And the best part, once created, it will be stored in your account.
5. New Avatars
We've updated the avatar appearance to make it easier for you to see who's accessing a board at any one time. Which is great for large teams.  
All accounts have been automatically updated with all of these new improvements so you can simply login and access all these new features immediately. If you would like to learn more about the new features, please head over to our help center or have a look at our release notes.
And check out our Product Development use case to see how you can improve and accelerate productivity across departments better. We hope you like the new updates. Tell us what you think by leaving a comment below. As always, happy collaborating!