Fact: Human beings are visual creatures. Most of us are also visual learners and process visual information faster than any other stimuli. Sadly the way we communicate and collaborate at work does not reflect this reality. We still choose endless email threads and innumerable file revisions over tools that leverage our visual abilities, such as icons or images. We are here to tell you there's a better way to centralize communication and collaborate. Turbocharge your teamwork with Conceptboard and the power of visual collaboration.
Give free rein to visual expression with our latest feature update: A brand new icon library. With this feature you can now choose from more than 8000 icons to add extra pizzazz to your boards and sketches. Grabbing eyeballs, crossing the language barrier and getting your point across was never easier!
Discover our library of 8000+ icons
You don't have to be a designer to communicate visually. Conceptboard now offers a variety of icons available in your virtual workspace. Create process charts, diagrams and frameworks with only a few clicks. Simply use universally recognized icons to convey complex information.
Icons are accessible from within each and every board. You can search them or choose from one of the icon categories.You can  also change the colors and choose a style that matches your specific use case. Make your icons match your current color theme or the corporate colors of your company.
To give you some inspiration, we have used our newest feature to create some templates. You can adjust them to your needs or be inspired and get started right away:
Process charts
Business processes can be complex. Charting out a process visually is the easiest way to provide a bird's eye view of workflows. The use of visuals and icons enables easy understanding across departments and functions.
UX and UI Design
Communicating with product managers can be cumbersome for designers. With Conceptboard you can not only streamline this communication but at the same time design the products your customers want to use. All the tools available with Conceptboard together with our recent improvements of alignment make concepting as easy as never before.
Technical Diagrams
Good software for collaborative technical diagramming is hard to find. Our brand new icon library includes a bunch of icons that enable you to do easy systems or network diagrams with Conceptboard. Use the lines as connectors and visually demonstrate interrelations between elements, information flow or interaction.
Presentations
Visuals are processed 60,000 times faster in the brain than text. Discover a gamut of ways to easily add content, enhance visual appeal and make collaborative presentations across teams and locations with Conceptboard. Like always, use our sections sidebar to specify slides and moderate participants live through your board content. Also, did you know that presentations using visual aids were found to be 43 % more persuasive than unaided presentations.
Infographics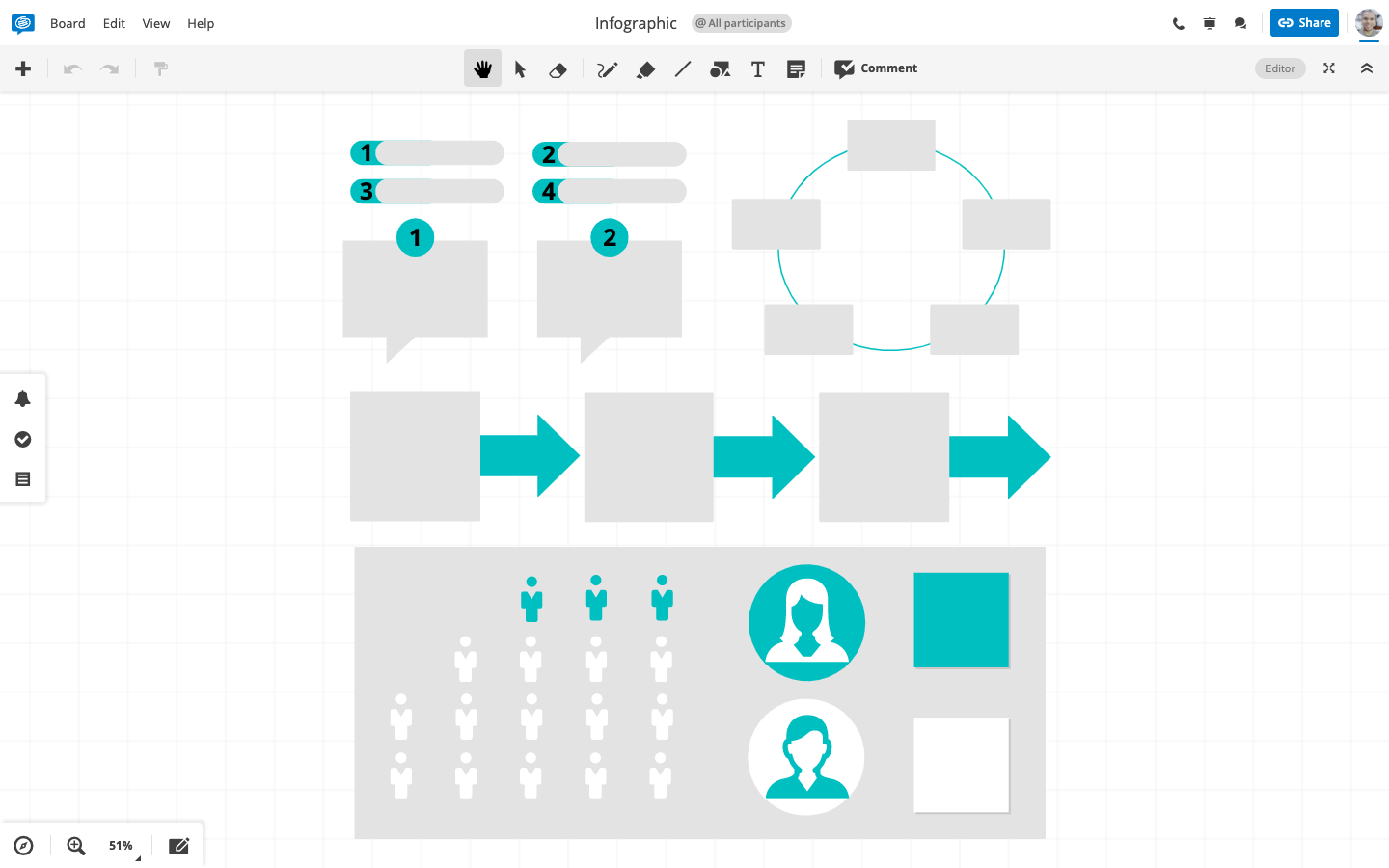 Infographics need no introduction. By some measures, infographics are the easiest way to visually represent complex information and make it easily graspable. Transform your graphs and drive engagement with our visual elements.
Visual Frameworks
The ability to easily create visual frameworks such as Customer Journey Maps is one of the strongest applications of our platform. Choose from one of our existing templates to collaboratively map out your insights, spark creativity and drive a unified vision.
Organizational charts
Are you searching for a free org chart template? We have you covered. Just click on the template and adjust it to your needs.
As you can see visual communication is very powerful. Do you have any experiences with it? Or maybe you have already created a useful template you would like to share with the Conceptboard community? Feel free to contact us at any time at support@conceptboard.com . We are looking forward to your message!
If you wanna go for Conceptboard, try our free 30 day trial!