Conceptboard Spring Release – New features
Highlights
Dear Conceptboard user,
So we made it happen! We hope all our regular users got familiar with the brand new Conceptboard and love the new features. For all who didn't had the time to discover the full range of new possibilities, catch a glimpse to the detailled information of the new features.
The first, and most obvious, change is that we reworked the look of Conceptboard entirely. This reflects the feedback that we received from you, our users. We learned that Conceptboard is a part of your workflow and should support your processes better than it did in the past so many of you told us that you want us to shift our focus to a more business oriented approach. This was our guideline when we worked on the release of this first major upgrade of Conceptboard in 2013.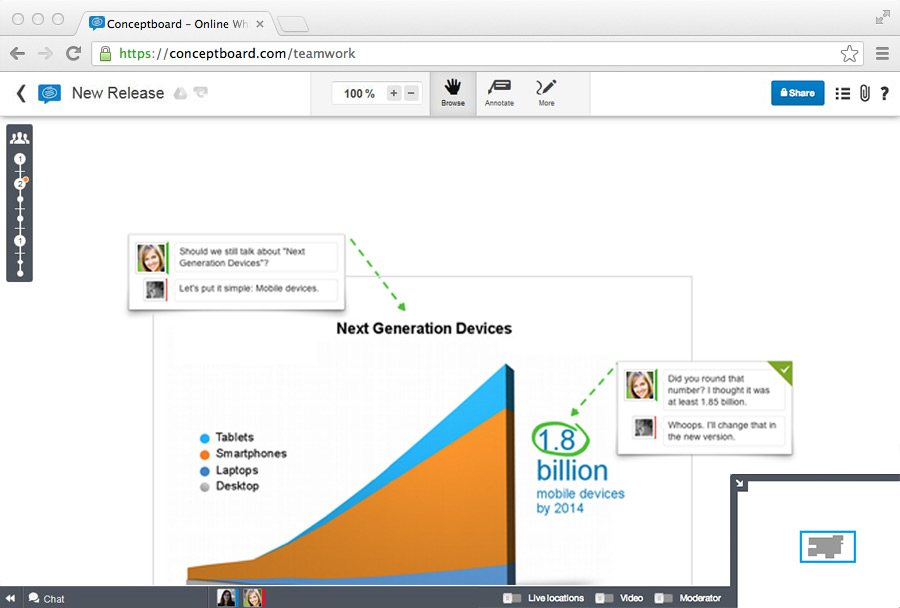 So what is new?
Timeline inside the board: The idea of the timeline feature is to give you a better overview on your project. The most important updates are bundled together to give you a simple view of the current status and latest changes. If a status on an object is set to open or critical, an orange or red bullet will appear in the timeline. This is a major step for controlling your projects, as you now have a consolidated look on all open or critical tasks that can be identified quickly and easily. As soon as something new is added to the board or a status is changed, the timeline will reflect this.
Drag and Drop for pictures: The process of adding pictures to a board became much easier. Now you can simply drag a picture from an HTML website and drop it on the board. You are no longer required to use a screenshot tool or store the picture on your computer before adding it to the board. Watch our video.
Sticky Notes: Put a note on a board and add as much text into it as you like. We also reworked our handling of text, e.g. if you want to add a linefeed, just press "Return" as you know it from your word processor.

 
Eraser for deleting objects. Simply select the eraser tool and delete objects from your board with one click.
New User Interface for the Conference Mode: While the functions for Live-Locations, Videoconferencing and Moderator were hidden in a submenu untill now, in the new version they are easily accessible at the bottom of the user interface. Also the Chat mode got much simpler.
New welcome-dialog for your clients: Makes working together with your customers easier. No more barriers to overcome when working with them on your boards.
Redesigned annotation tool with unique user identifier: Participants can now be easily identified, even if they have the same initials. The full name is displayed next to their initials.
New annotation mode: When creating new comments, the reply button is always displayed below the annotation. In addition, the task status is visible, being located on the right top corner of the annotation. If you want to change the status of the object,  just click on the checkmark and the fly out menu opens.
Redesigned tool selection: From now on you will not have to select a tool over and over again, if you want to do the same thing. A tool and its settings like e.g. colour and line style stays selected after you finished working with it on one object. This will make working with Conceptboard much smoother.
More design options for creating text objects: What is new? Now text-color, -style, -size and -alignment can be set before creating the object, eliminating redundant setup  for similar  objects. This offers you a lot more flexibilty in desgining text objects. In addition it gets easier since you can create similar objects with one setting.
Editing existing objects is much easier with more new options: You can change the width of lines, add arrows to the end or change the line style. All of these features are now accessible through the new toolbar, which is included on the top margin of the conceptboard user interface. This function also works simultaniously on multiple objects, if you selected them together.
Often used functions like group and ungroup, duplicate, bring-to-front and bring-to-back can now be accessed much easier than before. We removed them from the context menu and put them to the toolbar on the top margin of your browser window. There is still a limitation that drawn objects cannot be placed in front of texts and annotations. As a workaround for this you can set the colour of the object to "transparent" , than you can also work with the highlighter on it.
Improved help function with visible tips: An explanation of tools can now be accessed through the help dialog. Several functions were even not documented in the past. E.g. how to switch of the automatic align function or how to create straight lines. Now these explanations can be found dirctly at the tools. Other things, like "panning" by pressed space bar, are explained in the short-cut help dialog
How to mark text in a text box and copy it? Use the "select" mode by clicking on Select and select your text object or click on "edit" in the right corner of your annotation, text bubble or headline. Than the cursor changes over the text and you can mark text and copy it. If the object is not selected, the select curser can be used for moving around objects on your board and arrange them.
We would love to hear from you and are looking forward to your feedback.
Thank you for sharing our vision of a collaborative work environment, and we hope that you will also support us in the future.
Holger