Fresh App Design and New Archiving for Boards and Projects!
Highlights
It's spring time at Conceptboard! We're introducing our brand new app design as well as some great new features – first of all project and board archiving! The new archive feature allows you to remove old or completed work from your boards overview without losing them forever.
Board archiving is available to all our users, while project archive is available to all our professional users. To get you started, we've moved old projects that have not been changed for 6+ months to your archive already. Let's clean up the clutter and get to archiving!
App Design Update
We've updated our app design, making it brighter and nicer, with more space for your content!
New Team Custom Options
Professional teams can add their logo and set the header color and button colors.
Active Projects in Sidebar
See a list of all your active projects in the left sidebar, and create projects from the home or all boards page.
Collaborative board management
Everybody who has edit access to a board is allowed to move it, now! New Drag and Drop makes it easier to clean up your own projects, and reorganize content as needed.
Show/Hide Projects Toggle
We've included a new toggle so you can quickly switch between project view and all boards view. Now organizers and visual users can work together harmoniously!
New Board Activity Alerts
We've added a small blue bell icon to quickly show you which boards have had activity since you've last worked on them.
Sharing StatusAt A Glance
It's easier than ever to see the sharing status of a board: a new icon on the board tile shows the access set for the board: anyone with the link, password-protected, and specific users only.
Easier Project Overview
We've made it easier to see who is in your projects, add project members, see which boards are yours.
Project and Board Archiving
With the new Project and Board archive, users can keep a list of all their active projects in their boards overview, and preserve older content in the archive. Archiving a project or a board makes it read-only and removes it from your boards overview. A list of your active projects is also visible in the sidebar of the app.
You can change your mind
No one can make any changes to boards or projects while they is in the archive, so if you change your mind and want to make some changes, you need to unarchive the project or board first. To do this simply open the project or board settings and choose 'Un-Archive.'
You can search the Archive
The new Archive includes a search bar so you can easily find content in the archive. The search bar in the boards overview will now only search active projects.
Archiving a board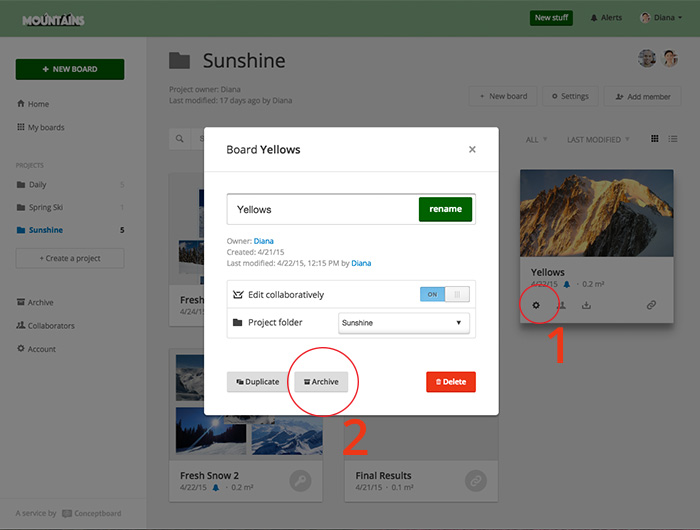 Access the board settings dialog. You can do this in the board by clicking on the board name and choosing 'Board Settings', or from your boards overview by hovering over the board tile and clicking on the settings icon. Choose 'Archive'. The board will be moved into the Archive for all board participants and will become read only.
Archiving a project

Access the project and click on the settings button. Choose 'Archive'. The project and all of its boards will be moved to the archive folder and removed from all participants active view.
Un-Archiving a board/project

Access the Archive and click on the settings button of the project or board by hovering over item. Choose 'Un-Archive'. The project and all of its boards will be moved to the active boards overview for all participants.