Use our Golden Circle template to find your purpose
Highlights
One of the skills that turns good leaders into great leaders is their ability to inspire and motivate others. And the reason they are able to inspire others is because they know their WHY. They have found their purpose in life, and they want to share it with others. Speaker and author Simon Sinek has come up with a framework he calls the Golden Circle to help more people find their purpose and become better leaders.We've created a Golden Circle Template that you can edit and work on collaboratively with your team
 The Golden Circle or the what why how template has been widely adopted by business leaders around the world. Jump onto the free template below or read on for a complete guide to the framework.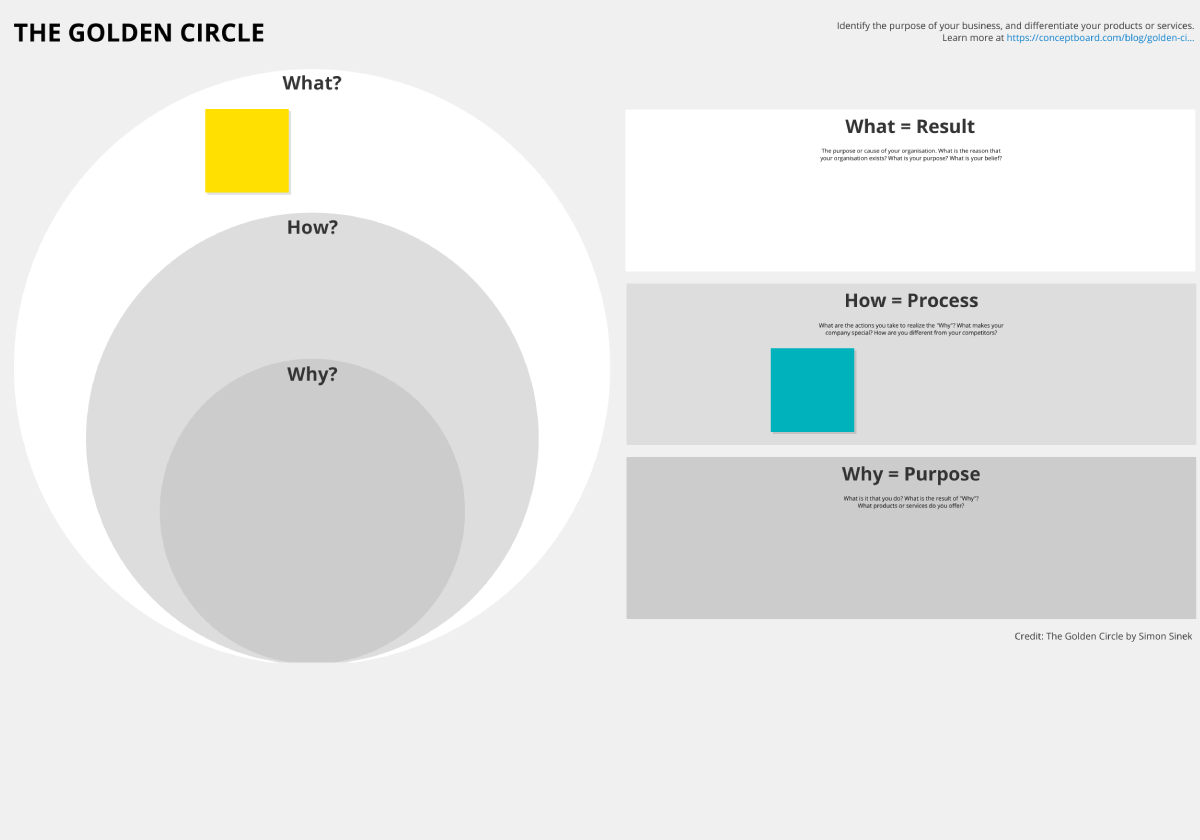 The Structure of the Golden Circle template
One of the skills that turns good leaders into great leaders is their ability to inspire and motivate others. And the reason they are able to inspire others is because they know their WHY. They have found their purpose in life, and they want to share it with others. 
Speaker and author Simon Sinek has come up with a framework he calls The Golden Circle to help more people find their purpose and become better leaders. The Golden Circle has been widely adopted by business leaders around the world, and we've created a Golden Circle Template that you can edit and work on collaboratively with your team. 

Discover visual collaboration
Collaborate seamlessly across teams and timezones with Conceptboard's collaborative online whiteboard
WHY are you in business?
Many companies know what they are selling, without really knowing why (besides making money). The importance of knowing this cannot be understated. Your employees and customers can see what you produce and they can calculate its monetary value and usefulness, but to truly inspire them and turn them into loyal customers, they need to connect to your purpose.
Think about people who love what they do, those who've found their purpose. Their passion is motivating and inspiring and they inspire others to follow them on their journey. When a company has a purpose it leaves a unique imprint on what they are producing, and as a consumer, we can't help but want to support their mission.
If you've ever had a go at composing a Unique Value Proposition, you'll notice similarities between the two ideas. A value proposition is a promise of value to be delivered, and it can turn a prospect into a paying customer. The difference is the Unique Value Proposition is one succinct line of copy, front and centre on your website. Whereas the why, is everywhere. Lying beneath every photo, every product, and every line of copy on your website.
"People don't buy what you do; they buy why you do it. If you talk about what you believe, you will attract those who believe what you believe"
– Simon Sinek
When you are aware of the reason behind your product or service, you can influence people's reasons behind their purchase. They will feel that sticking with you is the right choice for them.
At the same time, internal relationships between your employees will be strengthened when you can share common goals. Even the act of collaborating on identifying your Why will be an opportunity to bring everyone closer.
HOW are you different from the rest?
Now you have answered the why behind your actions, the next step is to answer, HOW. How are you different from your competitors? How do you create a bond with your customers? These are the actions you take to achieve the why.
Taking the time to answer these questions will help you understand the unique platform your business is built upon. This will help shape your branding, help you craft unique messaging and marketing materials that'll prove effective when customers are shopping around. 
This also sets a framework of systems and actions your employees take, by becoming part of a purpose driven mission they can move forward with.
WHAT do you do that matters?
What products or services do you offer? Many companies manufacture cell phones, yet most people refuse to purchase anything other than an iPhone. 
Why is that? It's because Apple produces a product that customers believe in. Simon Sinek explains it's all due to their messaging: "Here's how Apple actually communicates. 'Everything we do, we believe in challenging the status quo. We believe in thinking differently. The way we challenge the status quo is by making our products beautifully designed, simple to use and user friendly." he says. 

Where distributed work happens
Streamline cross-functional collaboration for distributed teams with Conceptboard
How to use the Golden Circle template
The Golden Circle template is a fantastic tool to use to find your business purpose. Once you've found your why you'll feel rejuvenated and inspired to work harder towards your goal. 
The first step is to invite your co-founders, team, or business partners to a collaborative brainstorming session. Send them the link to Conceptboard's Golden Circle template which allows everyone to collaborate in real-time.
Start with your Why. This is the purpose, cause, or belief that guides your business. The reason for going to work every day (and no, it's not to make money!). Try to keep this as business focused as possible, rather than based on individual purposes.
Next, explore the How. These are the ways you operate or the things you do that set you apart or make you special. These might be related to your brand, your staff, your products or operations.
Lastly, it's time to identify your What (it should be the easiest). Note down what exactly it is you do. These are the products or services you sell.
Through this process, you should be able to come up with a strong purpose that will resonate through your services, branding, marketing and staff. For more inspiration, take a look at some other amazing business frameworks such as the Business Model template or the Lean Canvas template. Use our Team Charter template to find the purpose for your team. 
What are you waiting for? Try it for free now!