Lean Canvas Template
Highlights
What is the Lean Canvas
The Lean Canvas is an adaptation of the Business Model Canvas designed specifically for Lean Startups. In its essence, it is a one page document that encapsulates all the critical elements of a business plan. The framework acts as a forcing function to drive brevity while ensuring it provides an overview of the business plan. While the business model canvas is an extremely helpful tool for traditional businesses, it has some shortcomings when it comes to the Lean Startup paradigm. 
Lean Canvas vs. Business Model Canvas
Unlike a traditional business a lean startup is conceived in order to identify a scalable and repeatable business model through rigorous hypothesis testing. It is underpinned by principles such as gathering early market feedback, constant iterations and 'pivoting'. A Business Model Canvas is a more elaborate document that includes 5 year financial projections, market sizing data etc. It is designed to also serve as an execution roadmap. The Lean Canvas on the other hand prioritizes experimentation over execution. Getting the MVP to market takes precedence over a sequential execution of the plan.
Unlike the static Business Model canvas, the Lean canvas is dynamic and evolves with every iteration. Create your own Lean Canvas with the help of our collaborative lean canvas template in the 10 easy steps outlined below. Share with your team or export as PDF.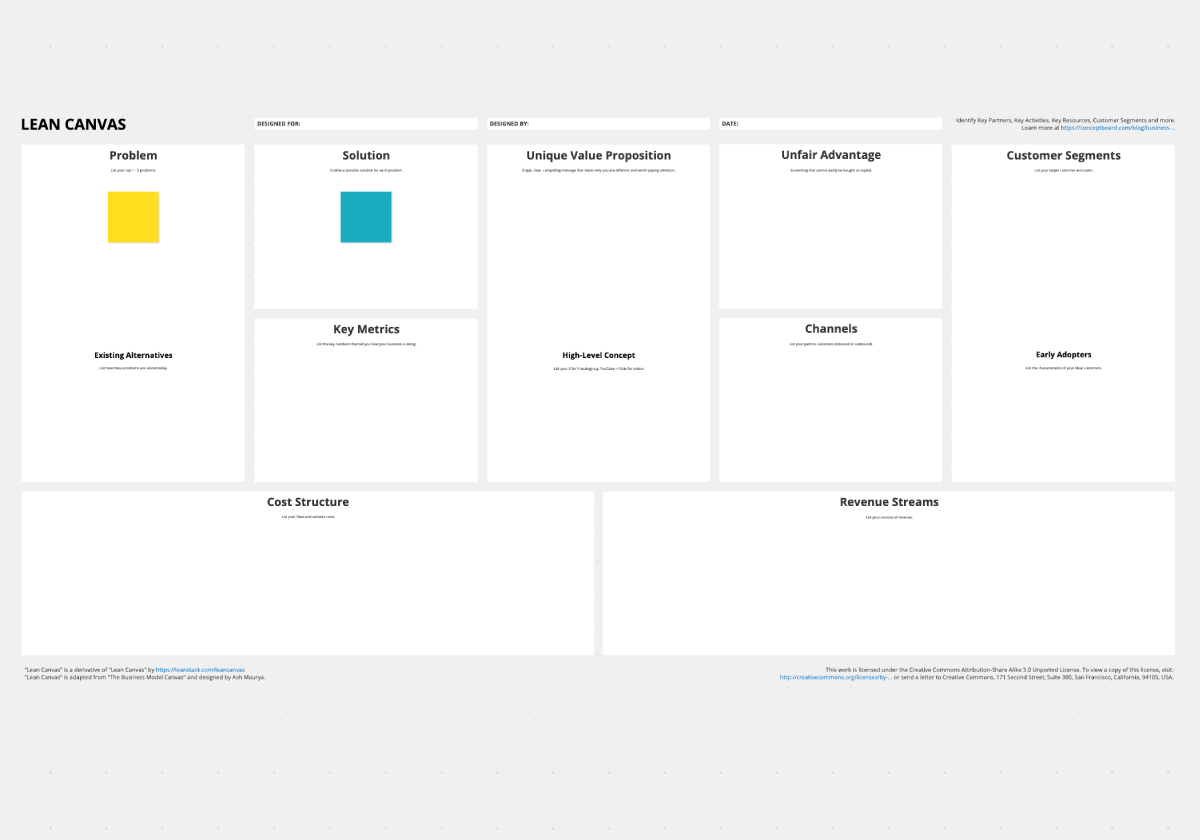 1. Problem
This section outlines the raison d'etre of your lean start-up. What was the initial idea? Was there a customer pain-point you wanted to solve? The founders of Uber, Travis Kalanick and Garrett Camp couldn't get a ride on a cold night in Paris. They wondered how great it would be if they could book a taxi directly from their phone. That's when the idea for Uber was born. Their idea was based on a gap in the market. Write down the top 3 problems you're looking at solving in this section.
2. Existing Alternatives
What are the existing alternatives to the problems outlined? Taking the Uber example further, the founders would've written down 'regular cabs' in this section. While Uber was the pioneer in the space of the shared economy and remote ride hailing, existing alternatives help you better scope out the market.
3. Solutions
How do your proposed solutions ease existing pain points? How does it make the lives of your customers better?  Summarize your product offering in this section. For example, Amazon's solution would read as 'Enable our customers can buy any product under the sun from the comfort of their home, without having to brave crowds in departmental stores at the click of a button'.
4. Metrics
How would you define success for your startup? What are the KPIs you wish to chase?  For a service based start-up these would invariably revolve around growth and adoption. Metrics like Customer Acquisition cost(CAC), Customer Lifetime Value(CLV) are the lifeblood of any early stage startup. These need to be identified at an early stage. 
5. Cost Structure 
Irrespective of whether your startup has received seed funding or if it's bootstrapped, every startup needs to have its finances under control. Both variable and fixed cost components need to be identified and chalked out so you have clear visibility of your runway. It is often said that 75% of all start-ups fail. Most of these failures can be traced back to financial mismanagement. Get your financial projections in order with this section.
Discover visual collaboration
Collaborate seamlessly across teams and timezones with Conceptboard's collaborative online whiteboard
6. Unique value proposition
The underscore here should be on the word 'unique'. It is essential to have a value proposition that differentiates you from your competition and clearly demonstrates how you improve your customer's lives. Use the value proposition canvas to gain a deeper understanding of how to craft a compelling value proposition 
High Level Concept
The high level concept sub-section conveys the value proposition in the most succinct manner possible. Use symbols here if you have to. For eg, 'Tinder=Uber for singles' could encapsulate Tinder's core value. Brevity is key.
7. Unfair Advantage
What's your secret sauce? Why is your offering the next 'killer app'? Maybe it's a new technology. For example, Google's advanced algorithm revolutionized search engines. Stitchfix uses deep data analytics to transform it's e-commerce approach. Allbirds developed a new fabric to make 'the world's most comfortable shoes'. It's about what gives you an edge over the competition.
8. Channels
How do you reach out to your customers? How do your products reach their homes? List out all your key channels. These could be e-commerce or retail or even a pure play home delivery model like in the case of Casper Mattresses. 
9. Revenue Streams
Different businesses have different revenue streams. It could be from the sale of physical products, from rentals like in the case of Wework or a subscription based model as in the case of enterprise software. It could also be a combination of different revenue models. This section elaborates how you generate your all important cash-flow.
10. Customers
We now come to the  beating heart of every business. The customers. Highlight key demographic, psychographic and behavioural attributes of your customer segment(s) here. Go a step further with the help of our customer empathy map and the customer journey map.
An early adopter sub-section fleshes out the profile of your ideal customer. For a lean start-up this customer segment is key to get early user feedback on the MVP and battle test the product offering. 
Discover the power of visual collaboration and manage your agile projects more efficiently with Conceptboard's virtual workspace. Get a free account today!