Here at Conceptboard HQ, we use Microsoft Teams daily to communicate. We also recently launched our integration with Microsoft Teams too, so users can embed Conceptboard boards (new or existing) directly as Tabs inside Channels.
So, we weren't too surprised when we heard that Microsoft Teams usage has grown 50% to 115 million daily active users since the start of the pandemic. "The growth of Teams illustrates how more companies are using collaboration apps with the shift to remote work amid the pandemic," wrote GeekWire.
In saying that, with so many apps and integrations, it's hard to know exactly where to start. So, we've come up with the ten best Microsoft Teams apps that will help you manage your remote work day.
Project Management: Trello
Trello is a web based project management tool that is based on the Kanban card system. Kanban has become a popular agile project management tool and is designed to help visualize work, limit work-in-progress, and maximize efficiency.
You can easily add Trello as a Tab to see your team's Trello boards, lists and cards. To add a Trello tab to a channel, select the channel, then click on the "+" sign to the right of the existing tabs. In the popup, select Trello from the list of apps, then click "Log in with Trello".

Documentation: Wiki
Wiki is a live word processor for drafting documents, note taking and chatting in the one place. It's completely free and it's already built into every channel. We use it to take meeting notes and share processes. To add a whole new Wiki tab, select Add a tab next to the other tab names in the channel. Select Wiki from the tab gallery, then name the tab and start writing.

Visual collaboration: Conceptboard
It would be remiss to include a list of the best Microsoft Teams apps without including Conceptboard. Conceptboard's collaborative online whiteboard allows teams of all sizes to centralize projects and communication on infinite visual boards. Importantly, it's a great way to brainstorm visually, create designs and present ideas when words simply won't do.

Collaborative decision making: Polly
Polly is a tool for enabling democracy at work. It allows you to quickly and easily poll everyone in the team to ensure you're making the right decisions. So whether you want to know the best time for a team meeting or whether your team is happy with a new policy, get the answers quickly and easily with a Polly poll.

Scrum ceremonies: ScrumGenius
If your agile team works across different timezones, ScrumGenius can help managers conduct asynchronous ceremonies. ScrumGenius automates standups, surveys, meetings, and daily reporting across timezones. Best of all, you can set it up to run automatic check-ins, so you can easily track the progress of projects and goals, identify blockers and conduct one-on-ones. The weekly reports are then posted as an update in the team channel for everyone to see.

Show appreciation: Hi-5
When you're not working in-person, giving someone a pat on the back for a job well done becomes challenging. That's where Hi-5 comes in. It gives you five virtual high five's to hand out each week to someone who's deserves recognition. Plus, the scoreboard will add some friendly team rivalry as well as extra motivation. Pulse surveys allow you to survey and track employee engagement, company culture or any other internal company metric.

Meetings & Conferences: Cisco Webex
The Cisco Webex Meetings integration lets you add a link for your Webex video conference or Personal Room meeting directly into your team channel. With the Webex tab, you can schedule a Webex meeting and invite channel members. That way, it appears in their upcoming meetings lists and in their Microsoft Office 365 calendars.

Event Management: Remind
Remind is the tool for the more forgetful among us. If you find you're constantly missing meetings, updates or birthdays, give Remind a try. It lets you easily set personal reminders, group chat reminders or channel reminders. You just need to use the @mention tool to set them up. Eg:
@Remind send out team meeting notes every Tuesday at 9am
@Remind "Server maintenance" on Mar 31 at 8pm

Time management: Timeclock365
Take a hand off approach to employee time management with Timeclock365. Based on the old punch card systems, the app lets employees punch in and punch out to automatically track their work hours. Additionally, features such as GPS location tracker and Biometric recognition add an extra level of insights for those managing a large team of remote staff.

Email management: Mailclark
Mailclark allows you to collectively manage your external communications from email providers such as Office 365 and Gmail as well as social media messages on Facebook and Twitter directly in Microsoft Teams. This allows the whole team to see and respond to customer emails, and Mailclark's machine learning helps allocate find the right teammate to bring down response times.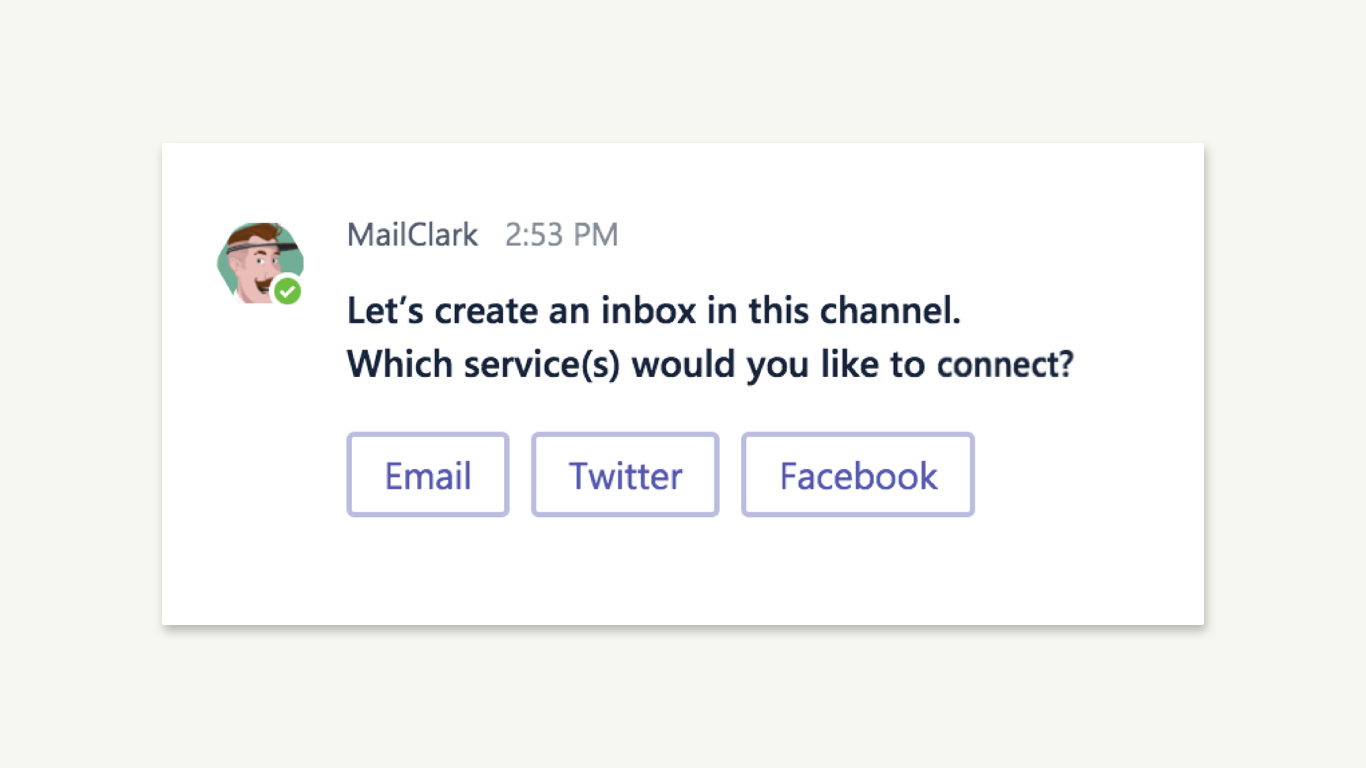 These ten best Microsoft Teams apps apps are just a few of our favorite integrations and apps available within MS Teams.
If you want to learn more about ways to improve your teams remote work, check out recent blog articles: Microsoft Teams best practices for remote teams, How to foster a culture of innovation in distributed teams, or try our free virtual Watercooler template.