Five of the best applications of an online whiteboard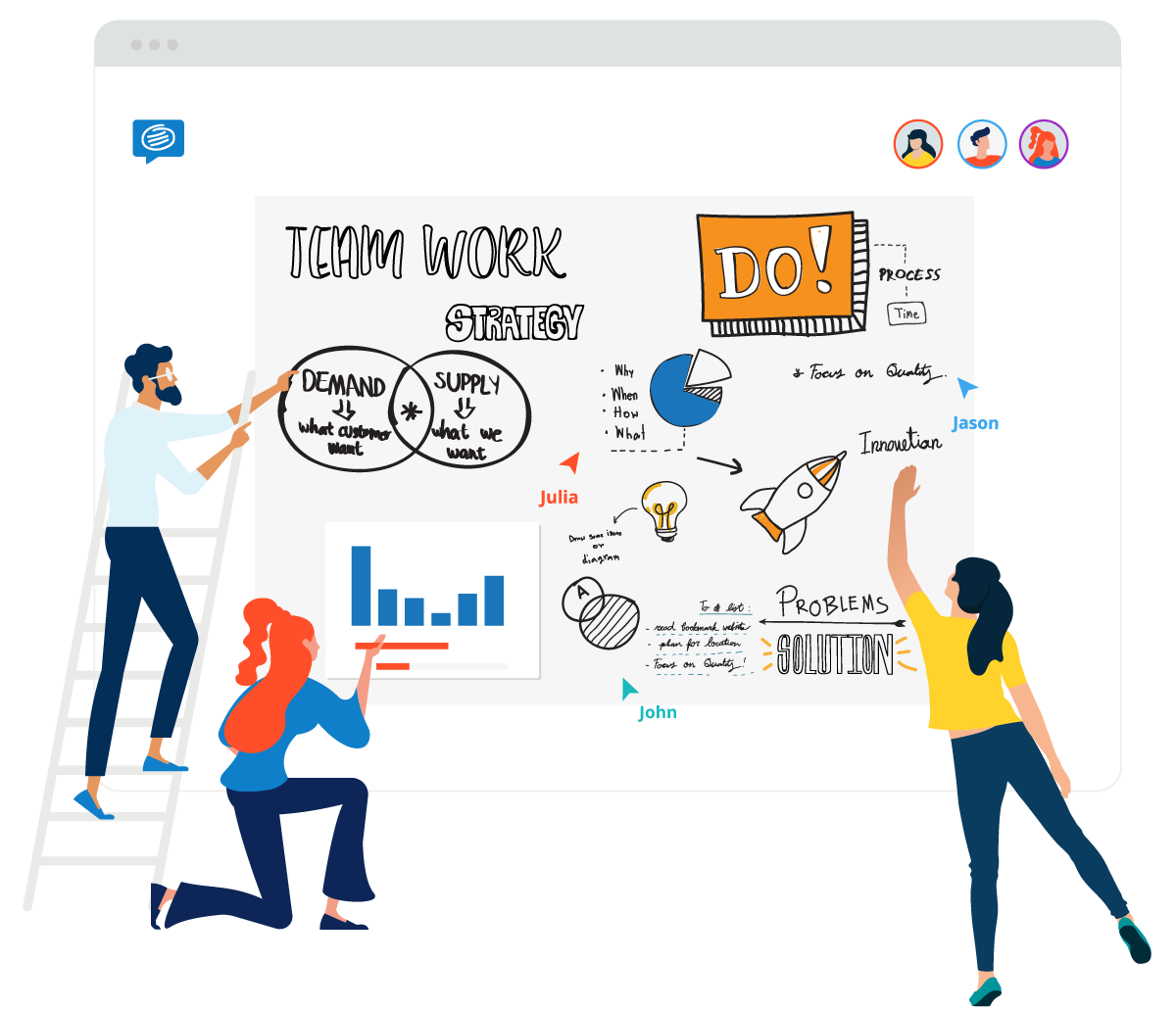 Highlights
An online whiteboard is a blank space where multiple people can write, share and interact with each other in real-time without needing to be in the same physical location. In comparison to the unpopular hybrid board that can transfer physical text to an online document, the online whiteboard exists purely digitally. A Conceptboard online whiteboard doesn't need any software installation or hefty downloads – it's all stored online. This means it's limitless in terms of where and when it can be used, and by whom. 
One of the key trends of whiteboarding adoption has been in the tutoring space. Distance learners and savvy tutors began adopting online whiteboards to make their sessions more engaging and replicate real life classrooms.
Similarly, as remote working has become more prominent, the need for a collaborative space to jot down ideas on online sticky-notes and share visual elements has seen the online whiteboard become a key piece of technology in distributed teams. Tasks such as brainstorming, idea generation, and creative briefs are all conducive to whiteboarding.
And thirdly, IT project managers are finding whiteboards useful in adopting agile frameworks for  tasks such as project management, flow-charting and software development.
So we decided to look into these three popular applications for digital whiteboarding and share our tips for each of them.


Brainstorming
Since the 1950's, brainstorming has been an important part of a team's creative process. And just because your whole team isn't in the same room, it shouldn't restrict your ability to harness the power of a good brainstorming session.
To start a brainstorming session, simply invite all team members to join the board, and provide the main topic of discussion. It can help to create sections for each person to add their ideas so that no one is left out.
Set a timer, around 10 minutes is pretty standard, and then allow everyone to jot down their ideas on the board using text, sticky notes, images or doodling- whatever feels right to them. Conceptboard boards have limitless space, so your team can fill the page with as many ideas as their creativity allows. 
Once time's up, encourage discussion, questions and feedback on the ideas. You could also ask participants to add coloured dots next to the ideas they really love as a way of quickly focusing on popular or stand out ideas.
To end, make sure you divide and allocate tasks using the mention tool to ensure that action happens while motivation and excitement is still fresh.

Discover the power of visual collaboration
Centralize projects and communication on our virtual shared workspace
Best online whiteboard for teaching
Distance learning teachers and tutors are flocking to online whiteboards as they make lessons much easier to follow and prevent students from getting lost during the study session. Plus, both student and teacher can login at the same time, and see each others updates in real-time. Combined with a video or voice call software such as Skype or Zoom, it's an easy way to ensure your students are really learning!
As a teacher, create a Conceptboard account to house all your different virtual projects within one central location. You can use different boards for different topics, and manage everything from within Conceptboard. Load up existing templates or worksheets in formats such as image files or PDFs so your student can work on them directly within the board. This eliminates the need for emailing files, downloading, printing, scanning and all those other time-consuming elements of file sharing.
Notes from the class are stored digitally and can be kept and shared with other students or referred back to later. Best of all, once you've created one lesson plan, and uploaded the material it's stored in your Conceptboard account forever. A central resource you can keep going back to for future lessons, saving you time and effort!
Plus, thanks to online whiteboarding, the classroom is becoming borderless. Teachers can reach students in poor countries, politically unstable regions or places where students may not feel safe or be allowed to go to school. Combined with initiatives such as Project Loon (Balloon-powered internet) and Facebook free internet which aim to give internet access to everyone, the result is that anyone will be able access education in the future. 

Turbocharge your remote workshops
Discover how Conceptboard makes you feel like you are in the same room
Agile project management
We're noticing more and more customers are using Conceptboard for efficient collaboration within lean and agile teams. Agile is an iterative approach to project management and software development that helps teams deliver value to their customers faster and with fewer headaches. 
Each project iteration that you work on with the agile method is called a Sprint. At the first meeting- Sprint Planning– all participants will lay out goals that need to be accomplished within this first Sprint. Sprints and iterations work well when saved in an online whiteboard as it means they can be managed virtually and visually, making it easy for teams to update and track progress – especially when working remotely. The product owner is responsible for prioritizing tasks from the product backlog and assigning these to a sprint. 
By housing your Sprint planning within an online whiteboard, your team will be able to continually update their developments, and everyone will be able to track progress which will help keep motivation up and ensure goals are achieved. You can use a simple template such as a Kanban Board to get started quickly.
Using an online whiteboard to conduct agile retrospectives is another great addition to your workflow. Participants can add their comments on digital sticky-notes in real-time and these can be saved for future reference. This is great for agile teams that have had to transition to remote work as well as for creating a centralized hub where all discussions can take place.  
For a comprehensive look at some more project management applications of an online whiteboard, we've created seven useful templates that you can get started with right away for everything from Roadmapping, Customer Journeying and Prioritization.
Design Collaboration
One of the best, most useful applications of an online whiteboard is when it comes to working collaboratively on visual projects. This is especially true for cross-functional projects such as product development. Designers can upload files from design softwares in various formats psd, eps, ai  and have other stakeholders jump into the same page as a team. Product managers, owners or engineers can leave comments directly within the design or prototype. Specifications can also be added on sticky-notes and shared with vendors. Non-designers can also participate in the design process with the use of scribbles, shapes, arrows and more.
Conceptboard also makes it easy to collaborate asynchronously. Reply to questions, notify individuals by @mentioning, assign tasks and mark as complete to close the loop.
Remote meetings and workshops
Facilitating workshops is a tough job at the best of times. Waning engagement, off-topic conversations, and technical issues are just some of the problems facilitators face. When you run workshops remotely, you have an extra layer of complication to overcome. At the same time, they enable of allowing more people to attend regardless of location. With the collaborative features of an online whiteboard, virtual workshops can be as productive, engaging and results driven as physical ones.
Sections- Create sections in your board in advance and traverse the board with ease with a single click. It's the easiest way to add structure to your board.
Moderator mode- Conceptboard allows individuals to moderate a session and take all the participants along as your guide them through the board.
Screen share- Easily share your screen from the app and make sure all board participants have a visual on what's on your screen.
Read about all the amazing applications of an online whiteboard on our blog. Access more resources about remote meetings and workshops here.