Feature update: Color text options
Highlights
Every day we're working on ways to make your experience better in Conceptboard. We always tell you that your online boards are flexible and only limited by your imagination.  Several of you have asked, and we've listened, so we're happy to announce you can now change the font colors in any sticky, headline, or text box!
How to change text color in Conceptboard
When you create a text box, sticky, or headline, you will now see the option to change the fill color and text color separately.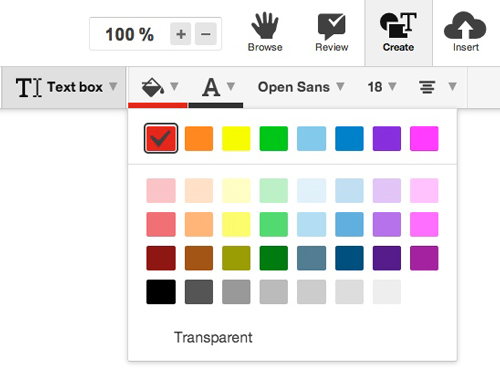 When you have several objects grouped, make sure to switch to one of the text, headline, or sticky modes to change the color. Changing the color for grouped objects changes it for all stickies, headlines, and text boxes grouped together.
Color combination tips
Just a few tips to keep in mind as you select color combinations:
Reading time is lower when there's high contrast between the text and the background.
Finding the right contrast between the background and the text is key. Without it, the background and your message blend together.
The text is difficult to read when there isn't enough of a tone difference, so make sure to pick color combinations that keep your text highly visible.
If you love to use dark backgrounds, pay special attention to the color combinations, as they can complicate text readability as well.
If you want to read more about text readibility on the web, check out Contrast Rebellion and a great short article on color contrast.