How to run productive remote brainstorming sessions in virtual teams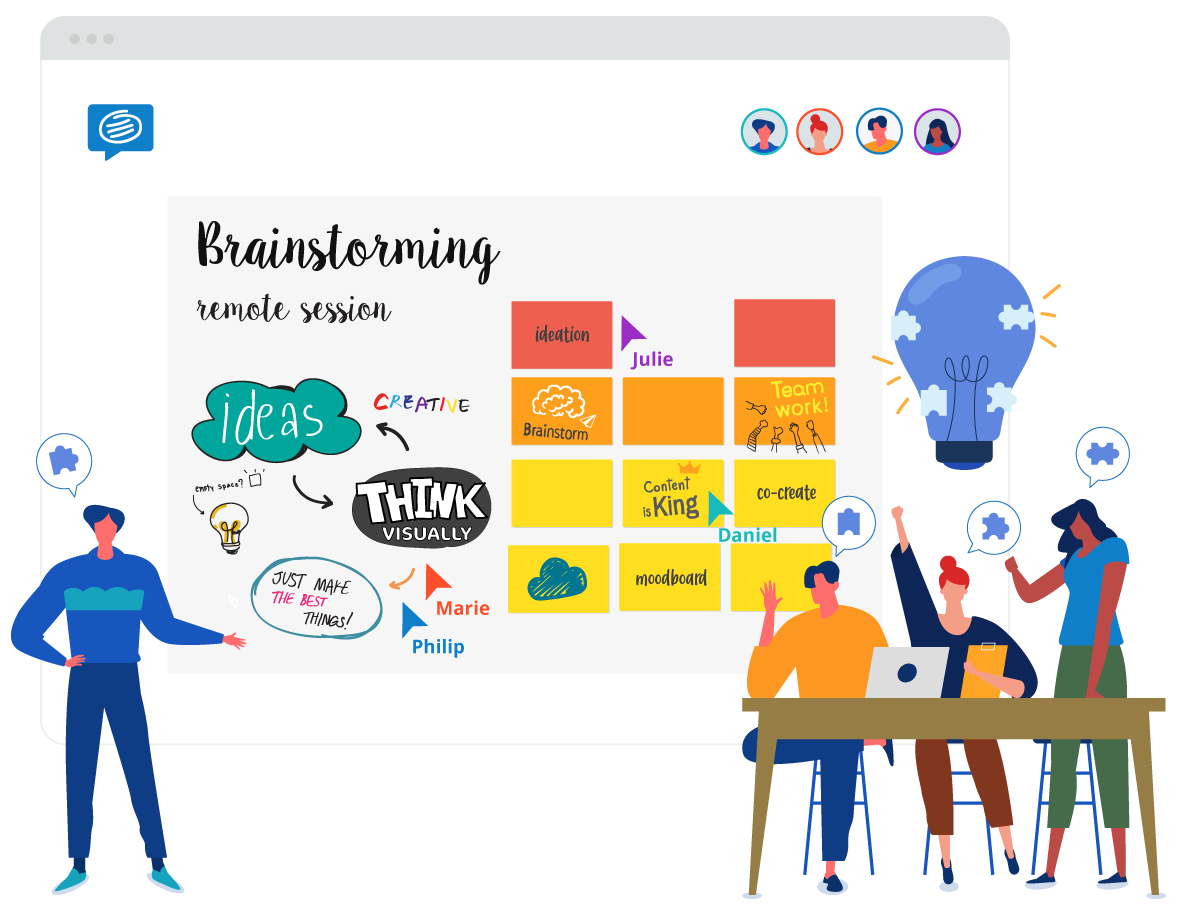 Highlights
Running a brainstorming session right now is a great way to capture new ideas or potential pivots your business could explore. And don't worry if your entire team has just gone remote, Conceptboard makes it easy to run productive brainstorming sessions on our digital whiteboard.
Why is remote brainstorming important to your team right now?
While many people cringe at the word 'brainstorm', when it is used effectively, a good brainstorming session can accomplish many goals. Plus, it's a chance to bring people together and ideate while they are working from home.
Multiple Stakeholders, Many Ideas

– This is a great time to gather a variety of attendees from different departments and with different personalities, you'll be able to generate a large volume of ideas

Permanent record-

One By collating thoughts and ideas in a brainstorming session you'll have a more systematic record of ideas that can be used now or down the track

Plan for growth-

White it's not quite business as usual, life is still going on, so it's important to continue to work on new projects and plan for growth

Team buy-in

-It helps with motivation of team members if they were part of the process from the start 
Advantages of remote brainstorming
A remote brainstorming session shouldn't be seen as a second-best option. In fact, they can actually work better than an in-person brainstorming session for a number of reasons:
The possibility of all members talking at once can be solved by switching on and off speakers via the

Moderator

mode.

All ideas can be shared simultaneously, as everyone can add their ideas on sticky notes in real time 

Conceptboard allows you to upload different content such as images, files, videos, so you can truly contribute anything to the board, not just text.
Our large range of ready-to-use templates allows you to host different styles of brainstorming sessions such as

Mind Mapping

,

Team Charters

,

Venn Diagrams

and

Mood boards

. 

Ask everyone to use a different color or section of board so everyone is encouraged to participate equally.

No one has to stand up in front of a group, so introverts may feel more willing to share ideas on a computer screen.

A limitless board means you'll never run out of space for ideas

Everything is saved on your board, meaning you can refer back to ideas down the track instead of hosting another session.
How an online whiteboard can jumpstart your remote brainstorming
It's pretty hard to hold a brainstorming session without a board to note down thoughts, so in a  remote environment an online whiteboard is the solution. Acting just like a physical whiteboard, all participants can join the board and contribute ideas simultaneously by way of sticky notes, images, text or drawings. It really is the easiest way for remote teams to creatively brainstorm, edit visuals and discuss ideas. As long as there's a WiFi connection, there are no other physical barriers to collaboration, meaning location is no longer such a big deal! 
To boost the mood, run a video call and ask all participants to switch their camera on.  What you'll produce is a highly engaging environment where people can hear, see, and visualize each other's ideas on the online whiteboard. Setting up a video conference in Conceptboard is easy. Simply click the phone icon located on the top right corner of your board and then a conference panel will appear. The panel will show the number of active participants involved in your conference.

Discover visual collaboration
Collaborate seamlessly across teams and timezones with Conceptboard's online collaborative whiteboard
Brainstorming sessions done right for remote teams
By using Conceptboard to manage your brainstorming and idea generations, your team can keep the communication open and flowing. Follow these tips to help achieve a productive brainstorming session.
Set up a board ahead of time
Create sections for each member of your team, so everyone has their own space to add their thoughts and ideas.
 
Creating these assigned sections will give your more introverted teammates a chance to have their thoughts and ideas heard. It will also ensure that time will not be wasted at the start of a session as everyone knows exactly where to include their ideas. An easy way to get organized on idea generation is with the help of an idea board template. No matter how many ideas are created, your boards will stay organized. 
To get started, you can easily share a link to the board with everyone who is relevant to the project at hand. Encourage everyone to come with a tea or coffee, snacks, and a relaxed and open mind to create a creative and calm environment.
Set a timer
Set an initial amount of time for your team to jot down ideas. You choose how long you would like your team to spend generating ideas. A good rule of thumb is to start with ten minutes to give everyone time to collect and then add their thoughts. Don't be afraid to turn on some fun background music to boost the mood!
The shorter the sessions are, the better your team can generate original ideas before getting bored. The chances of false anchoring (focusing on just one or two ideas) will be limited and it will also help with the communication flow as people won't be speaking over each other.
You can repeat idea generation sessions as many times as you need.
Give feedback on ideas
Once time is up, encourage team members to go around the board and read all other ideas. Ask questions by using either the comment box or placing sticky notes next to each section.  This will ensure that all jotted down ideas will be read and discussed. 
Depending on the needs of your team, you can have a voting session where everyone can mark the sticky notes and sections they thought were best by adding a circle or star next to their favourites.
Hint: You can copy the sections with the most votes and paste it in a different location of the same board. That way, you save the original brainstorming session and can see the process as it is being developed. Nothing gets deleted, just more organized. 
Finalize the session
You can repeat the previous steps as many times as you need to generate the best ideas. Make sure to create a final section in the board to centralize all ideas worth keeping for the project. An easy way to prioritize your ideas is with the help of the priority matrix template. Try below for free! 
Don't end the session without action!
Don't give up at the finish line, your team has worked too hard for that! Have an in-depth conversation with your team to discuss what the next steps are. Make sure to @mention and assign tasks to the relevant team members, so they know what their next steps are for the project.
Watch and see how small ideas can turn into powerful statements or new projects. Bringing together coherent thoughts from everyone in the team will help your business grow or pivot during this crisis.
Why not set up a brainstorming session and see what your team can come up with- the possibilities are endless.
If you want some more ideas about remote work, virtual collaboration or brainstorming, check out our blog. If you want to give Conceptboard a try, get started for free now.