Better Visual Collaboration: Redesigned Board Experience
Highlights
We've made lots of changes to the board itself to help improve your workflows and make your sessions more productive.
Board background colors
You can now change the color of the background in your board to match your needs.
Click on the title of the board in the upper left hand corner
Choose 'Background color' option
Select the color
Hint: Can't find the color that you need? Send us your ideas and use-cases!
Pin Items
You are now able to pin uploaded files and sections into your board to prevent accidental movement or deletion. When an item is selected, a 'pin' icon will appear in the upper left corner.
By clicking on the 'pin' icon, the item is pinned and will automatically be added to your board sections outline. You can also find the 'pin' icon in the middle of your headline toolbar when you have an item selected.
 New side navigation panel
We've integrated the board summary, board outline, and minimap into one simple side navigation panel on the left side of the board. There are three tabs in the panel:
Alerts
This is where you are notified when someone @mentions you.
Tasks and Comments
You can filter by:
All tasks and comments
All open tasks
My @mentions
My open tasks
Board Sections Outline
Add a file into your outline by selecting it and clicking the board sections outline icon in the top toolbar
All added items will be added to the bottom of your board sections outline
You can include headlines, sticky notes, uploaded files, and sections
You can create sections within your boards that are automatically added to your outline
Navigating to Sections in your Board
The active section in your board sections outline is marked with a blue dot. Click on it in your outline and it will bring you directly to its location in your board.
You can now create interactive clickable buttons of individual sections for easier navigation while giving presentations or working in a board. Copy the full URL link of the active section in your outline and paste it into a text box or a sticky note in your board, this will create a direct link to that section.
Note: Make sure to copy the full URL including the item number before pasting it into a text box or sticky note. 
Editing your Board Sections Outline
To edit your board sections outline, right click an item listed to access more options. There, you can easily rename, reorganize, and export each item.
To make multiple changes, click on the 'more' icon, this will let you check any of the items in your board sections outline. By clicking to the left of the check box, you can drag any item to rearrange them.
Improved Minimap
With the addition of sections, we've improved the minimap and relocated it to the left side of the board. Instead of solid objects, each item on the board now shows up as an outline, so you can easily see the content you've added to a section. The minimap is independent from the side navigation panel, so you can keep it open when everything else is minimized, just click the compass icon to toggle it on and off.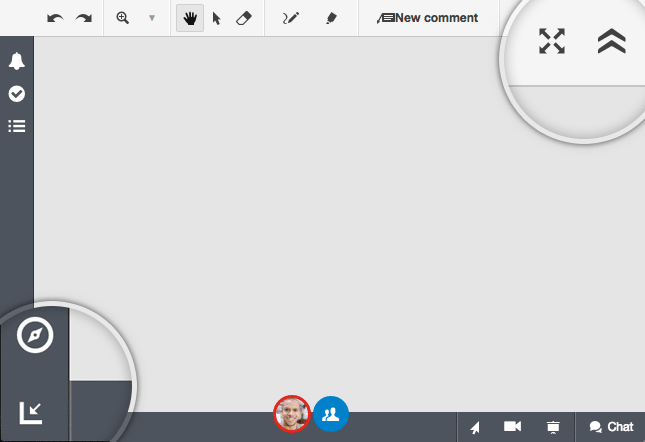 Fullscreen mode and minimizing sidebars
As you work, you can switch to fullscreen mode, and the interface can be hidden away to showcase your thoughts and ideas. No interruptions or distractions, just productive focus. Then, when you need it, you can bring up the navigation and toolbars again. The full screen option is located on the upper right hand corner of your headline toolbar.
Are you concentrated in your own area of the board and the sidebars are in the way?
Not a problem, these can easily be minimized. Clicking on the 'arrow' symbol will hide or show the sidebars.
Improved Moderator mode
We have tweaked the moderator mode to improve presentations. When you are the moderator, every viewer can see your entire view port.
Improved Board Searching
Searching for boards within your Conceptboard is now easier and faster than ever before! From your boards overview page, you can now search any content within:
Text boxes
Sticky notes
Comments
Headlines
Uploaded file names
Board titles
Individual participants
Adding these new features, as part of your daily routine in Conceptboard, will greatly improve your work process. No interruptions or distractions, just productive focus!