An Online Value Proposition Canvas for Teams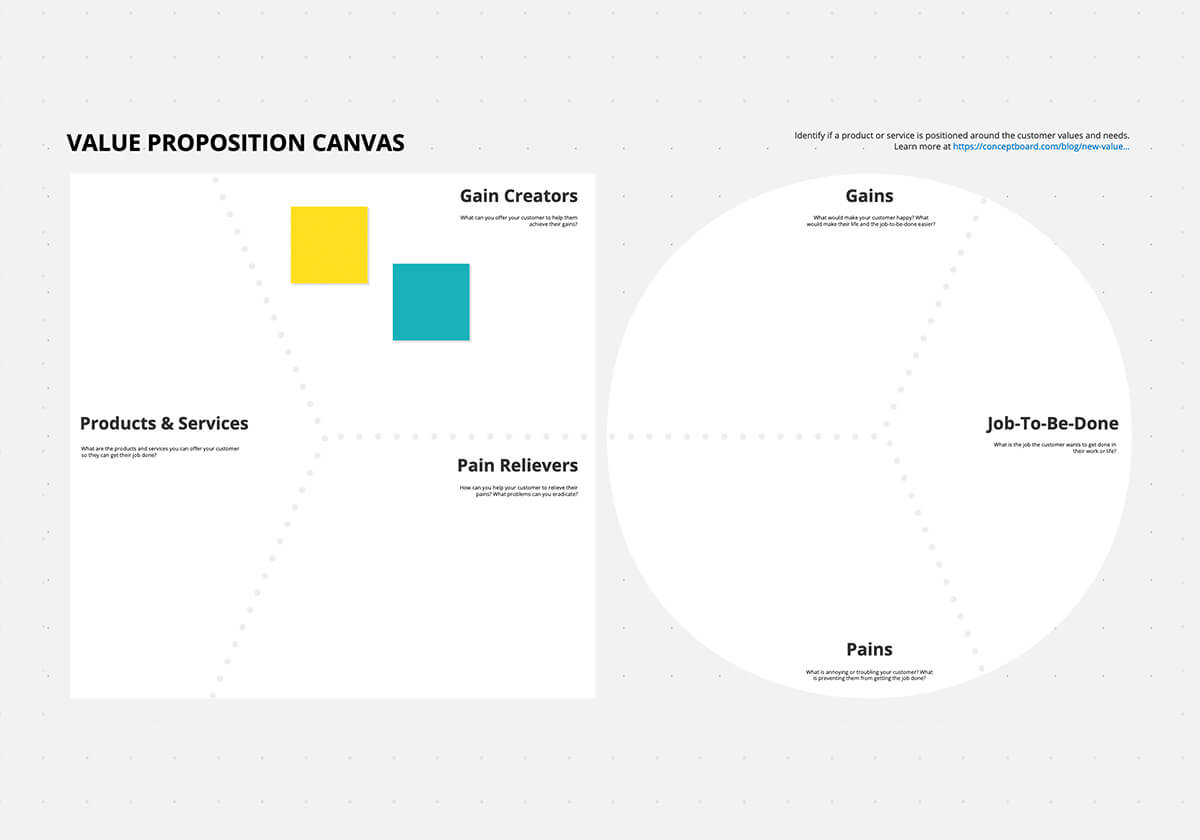 Highlights
What is a value proposition canvas?
The value proposition canvas was originally created by Alex Osterwalder, to show where a product offering overlaps with the customer's needs. The template helps teams get into the shoes of their customers, and discuss marketing campaigns and new product planning in a creative but structured way.
If you're working with many people from different departments it can be tough to get on the same page. The canvas help focus discussions and helps your team quickly figure out the core message or direction for a new campaign.
A canvas for marketing and product teams
Since 2012, several different variations of the value proposition canvas have been created. For marketing teams, a useful version was created by Peter J Thompson. His review of the the original canvas sections was that,
"the product side doesn't guide the user into creative thinking and honest self-evaluation…and the customer side doesn't guide the user into deep empathy for their customers or draw out enough new insights."
Peter created a canvas focused on getting teams to think more deeply about the customer user experience.
Value proposition canvas sections
Here's an overview of the different sections of the template. You can use sticky notes, scribbles, images, and videos to add ideas to the board. Keep the original board in a template project folder, and duplicate a copy of the board whenever you need a fresh version.
Product sections
Features – Describe how your product works and what it does.
Benefits – What does your product do for the customer? How does it make their life better?
Experience – How does using your product make the customer feel?  It's the sum total of the combined features and benefits.  How is this different from the other two sections? Peter writes that "it's more about the emotional reasons why people buy your product. The product experience is the kernel that will help identify the market positioning and brand essence that is usually built out of the value proposition."
Customer sections
Wants – Focus on the emotional needs of the customer. What do they want to be, do, or have?
Needs – The other side of the coin: what job is the customer trying to get done, and what do they need in order to get it done? Focus on figuring out the rational and logical motivators of your customer.
Fears – Fear can be a strong driver of customer behaviour. As Peter explains, "for any product there is a secret "pain of switching". Even if your product is better than the competition, it might not be a big enough improvement to overcome the inertia of the status quo."
Substitutes – What are some of the products or solutions that your customer is already using to solve their problem? You may not consider these direct competitors, but whatever your product does, it must offer a better solution that whatever your customer is already using (or doing) to solve their problem.