New share dialog and more secure passwords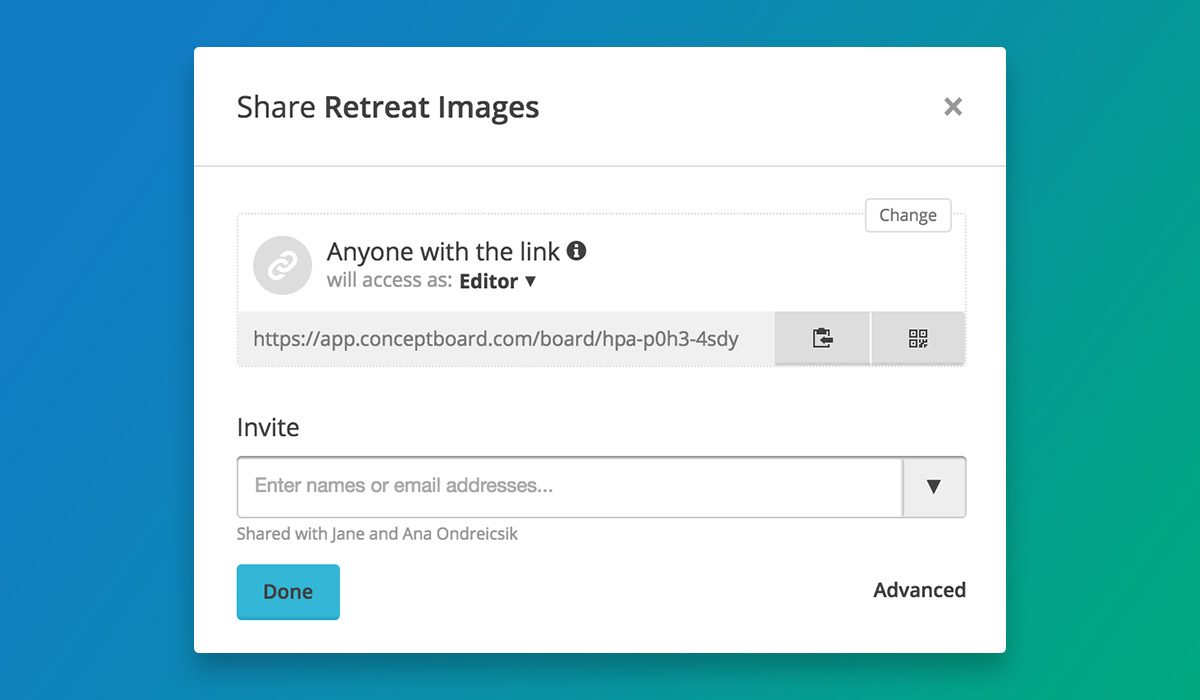 Highlights
We've completely redesigned the board share dialog to make it easier to collaborate and share with your team and external guests.
Board participants can now be found under the "Advanced" button. The same functionalities as before remain – you can remove participants, change their access role, and turn off notifications for yourself for the specific board.
When you want to share the board, start typing in user names or email addresses and hit enter or tab. You can select  multiple names and email addresses, select a board access role, and add a custom message. The custom message will then be saved in the board workflow as an update, automatically creating a bookmark in your board history timeline.
A few tips to keep in mind
Don't forget the default access role
If you invite an email address as an Editor but the user accesses your board as a guest, the default access role applies to them. Make sure to change the default access mode or have them create an account and invite their account with a specific board access role.
Using the Specific Users board access mode
If you use the board access mode "Specific Users" and invite an email address, the user must first create a Conceptboard account, or login with their account (just make sure you're inviting their correct email address).
Revoking guest access (pro users)
If you invite an email address and want to revoke access, make sure to remove their pending email invitation from the board participant list. Then you can change the board access mode either to "Specific Users" to remove guest access, or change it to "Anyone with the password and link". Board participants you specifically invited to the board don't need to enter the password, only guests and users you did not explicitly invite.
Note: the board access mode can only be changed for Pro users, and you must be an Editor on the board to change this setting.
More secure passwords
If you use the board access mode "Anyone with the link and password" you will now have the option to use an auto-generated secure password. You can also add your own password, but it must include the following security measures:
At least 8 characters
At least 1 special characters (? #$%!)
At least 1 number (o-9)
At least 1 uppercase letter
You'll also need a more secure password when you reset your account password or save a new one from your Profile Overview.
If your team is distributed and you rely on online collaboration to get your work done, we hope the new changes to Conceptboard help you work together more easily and securely! As always we appreciate your feedback and thoughts, let us know what you think of the product updates by reaching out to us at support or on Twitter!
Jumpstart your collaboration today!
Discover how Conceptboard accelerates your virtual collaboration and achieve brilliant results.