Part II: Mapping out a Customer Journey the Right Way
Highlights
The Customer Journey Map is a visual chart that tracks the customers experience as they interact with your brand.
As customers expectations of a flawless customer experience grow, and the best way to deliver this is by fully understanding their journey. Couple that with the fact that information channels are ever increasing, and it becomes even more crucial to be able to identify where your customers are being exposed to your brand. That's the exact problem the Customer Journey Map can solve.
In our recent article Improve Customer Experience with a Customer Journey Map we explored the importance of customer journey mapping, but now we're going to dig a little deeper. In Part II we will look closer at where to find the information you need to complete a Customer Journey Map.
If you haven't read the first article, you can go back and read it here before continuing.
What is a Customer Journey Map?
A customer journey map documents the full experience of being a customer, from initial awareness all the way through to post-purchase retention and every side-step, backtrack and hurdle in between. It details the customers' point of view, opinions, experience, and feelings throughout their engagement with your product or service.
The key thing this map should represent is every touchpoint that your customer has with your brand.
Which begs the question, how do you identify every touchpoint?
Gathering information
You might be thinking that this is the easy bit: Customers Google my e-commerce website, click on the item they want, then purchase.
But in fact, the typical journey is not linear, but often fragmented and inconsistent. This is not exclusive to B2C industries, as B2B customers may engage with their customers in slightly different channels, but their journeys are just as perplexing and chaotic. Customers may read something on your website, only to talk to a customer service representative and find out that the information they read is incorrect. With misalignment across the business, customers begin to get frustrated, and they lose trust in the business.
So it's important to really deep dive into the many information channels out there and identify all touchpoints along the customer journey.
Here are some of the different types of channels your customers may experience a touchpoint with your brand:
Owned channels:
Your website
Your e-store
Your customer service department
Your paid advertisements
Your Emails
Physical stores
Products
Earned or Paid channels
Blogs
Review sites
Social Media
Search Engine Optimisation
Forums
Pay-per-click
Display ads
Partnerships
To further explore what the touchpoints are within each channel and how your customers react to them, we can look at the following three sources of information.
Using A Customer Persona
The Customer Persona is a great tool to identify your ideal customer. A customer persona not only helps to define a target group by segmenting, but also defines traits of an individual that are applicable to others in your target group. By identifying key factors such as age, marital status, children, education, income, character traits, needs, expectations, goals, fears, trends, and preferred channels and brands you can imagine your customers better. This can help you identify which media they engage with, what their goals might be when it comes to purchasing habits, and what restrictions they might face, without having that data on hand.
If you'd haven't completed a Customer Persona yet, you can use this great resource.
Using Google Analytics
The most accessible and honest data you can get is from Google Analytics. There are two reports that can give you insights about the customer journey.
Users Flow report (under Audience in the left-hand side menu)
This report shows you where your traffic is coming from, broken down by dimension (Country by default), and then shows you what the users' 1st, 2nd, 3rd interactions were after that.
Behavior Flow report (under behavior in the left-hand side menu)
It looks very similar to Users Flow, but it allows you to track the flow of users through your website with more granular tracking on individual events and web pages.
This data can be incredibly useful when it comes to making your customer journey maps, as it can identify key pieces of information that you otherwise wouldn't have known.
Using User Feedback
Conduct a simple post-purchase satisfaction survey. In this survey, you could ask customers all sorts of questions such as where they first heard about your brand and which advertisements they saw. You could find out how long was their decision making process, and any frustrations they encountered.
Similarly, it is worth going through all your customer service channels and exploring any common complaints, questions or concerns that your customers have already brought up. These channels may include call centre recordings, emails and comments on social media. Collecting this information can be as simple as speaking to customer service staff or setting up a log of common complaints and queries for all front-line staff to contribute to.
Another useful source of information can be found on product review sites, referral blogs that mention your product and forum discussions. These are especially useful as they will tend to be unfiltered, honest comments that your customers are posting purely for the benefit of helping others make decisions.
What to Include In Your Customer Journey Map
Most customer journey maps contain these important points:
Persona: Identify your ideal customer and base the map on this persona.
Stages: Specify which stage your customer is in: Awareness, Consideration, Acquisition, Service or Retention. Their needs and thoughts will very greatly across each stage.
Emotions: Points that illustrate the users' feelings, thoughts and pain points throughout the journey (happiness, frustration, etc)
Touchpoints: The users' interaction throughout their experience; showing exactly what they are doing at the moment and on which channel.
Opportunities to Improve: Conclusions based on making improvements to help users reach their goals.
However, you can also use the template to document other information related to this topic. You could use your template as a place to aggregate information and research about your customer. In this way, when you come to share your map with others or update it, you'll be able to easily refer back to your research and findings.
Measuring & Testing
So now you understand the roadblocks, how do you make improvements and then test them?
Make this one talk about if the customer satisfaction decrease during the Consideration phase (of the Customer Journey Map), this would be the stage to which a brand would need to inspect and fix.
Let's say that once you've completed your Customer Journey Map, it becomes clear that customers are experiencing dissatisfaction during the Consideration phase. This is something that you would want to inspect and improve quickly.
You may decide to implement some UX design changes to your homepage, such as changing the imagery or adding more reviews. You can then use Google Analytics reports to compare views, click thru's and drop-off rates before and after the change.
Another way to track these improvements would be to track click-thru's on any paid ads, or even the use of a special discount code offered on a certain site or channel.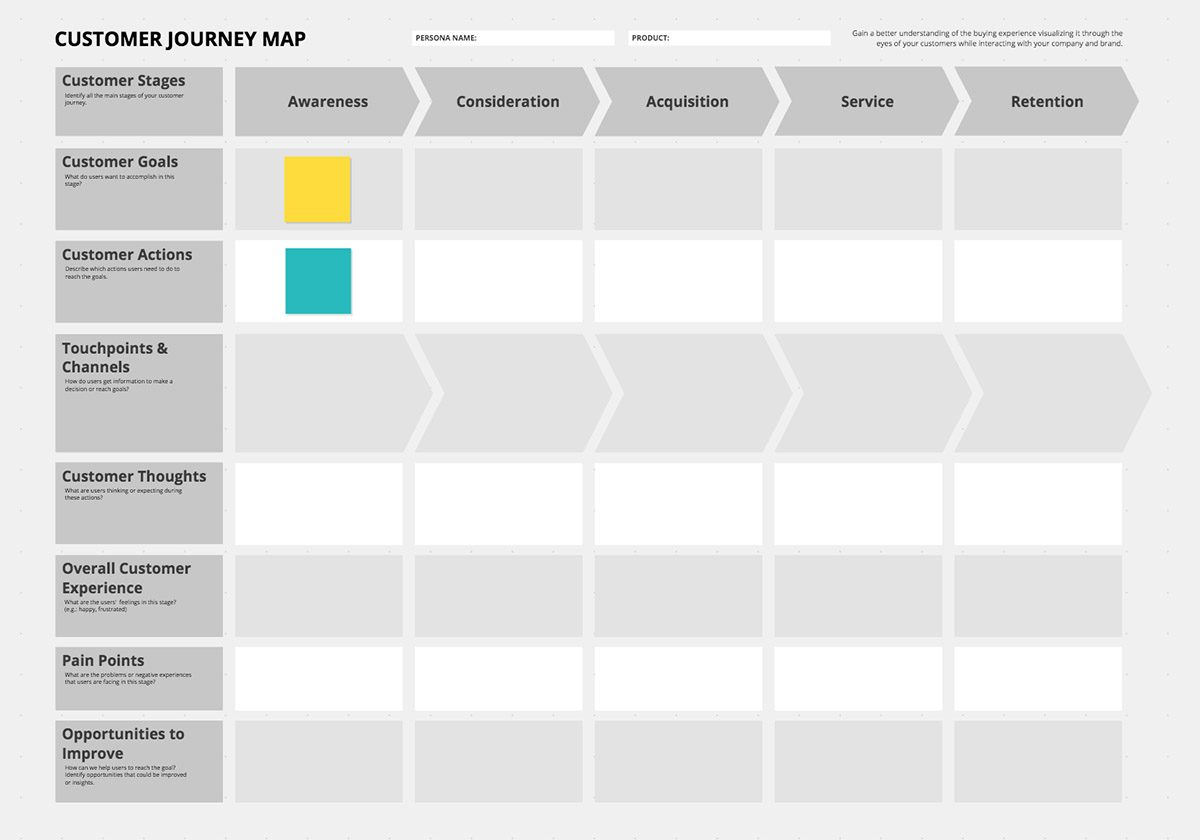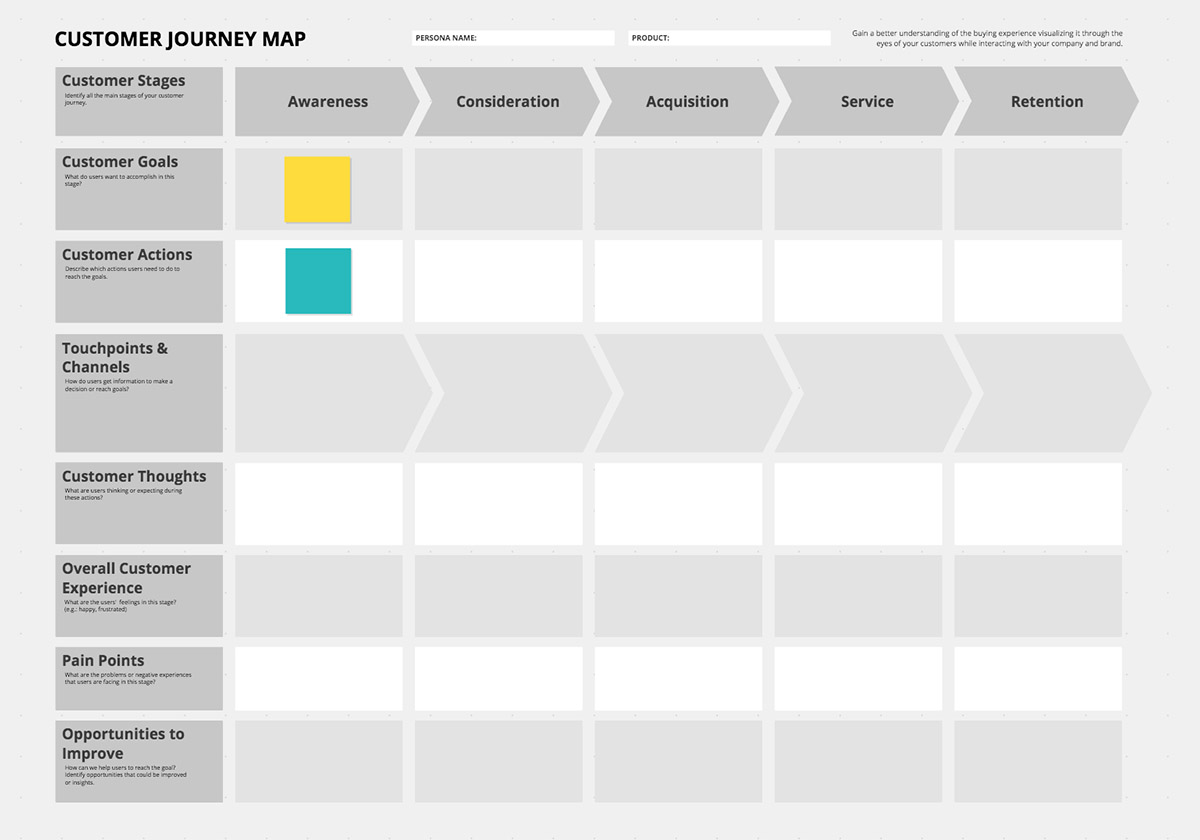 Once you're ready to implement your changes, why not try setting up the workflow according to the KANBAN principles, a project management process loved by Google.