Introducing Board Updates and Approval
Highlights
Content review and approval is vital for our customers. With the introduction of Board Updates and Approvals, the review and approval process is streamlined to help you complete your projects on time.
You can now request the final sign-off after collaborating and iterating with your team, all in Conceptboard. Starting an approval process with multiple participants is fast and easy, let's take a closer look!
Board Updates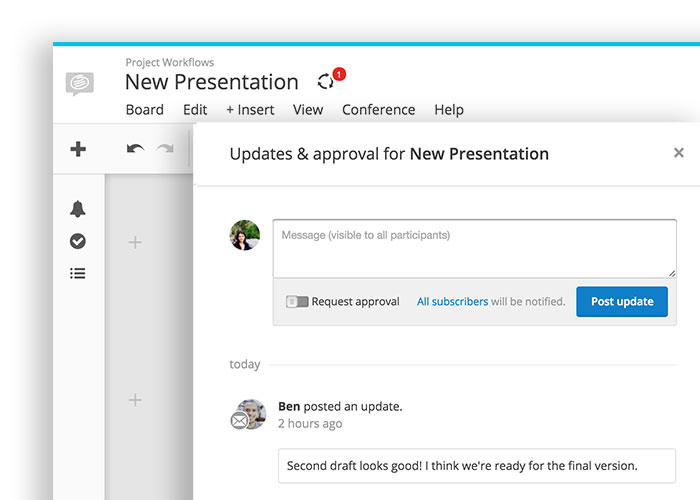 The new Board Updates is a centralized hub where you can post, see updates, and get alerts from participants on the board! See the history of the board, when someone was on the board, updates participants have posted, and any approval processes.
Posting an update sends an alert to all the board participants, both in the app and by email. If you don't want to receive alerts, you can unsubscribe from individual boards or projects, but you can still view all updates by opening the dialog.
Starting an Approval Process
After finalizing your last draft or version, you can start an approval process. Select specific board participants that need to approve your boards, and set a deadline. The participants can be either Reviewers or Editors on the board.
The chosen participant(s) will be notified that they need to approve the board, and the board will be locked until the process is finished. You can see the status of your board approvals directly from  your board overviews.
Approving a Board
The board approvers can review the board while locked and then choose from 3 different options:
Approve
Accept with edits
Not approved
Once they have chosen an approval option, a PDF of the board will be uploaded to the Board Updates Feed. If they choose "Accept with edits" they will be able to add a short text that is also added to the board updates feed along with the PDF.
More Info
Board Updates and Approval are available for all Conceptboard plans. If you'd like more in-depth details about the feature, please check out our Help Center articles on Board Updates and Board Approvals.