Google Drive, custom colors, and more updates!
Highlights
Getting ready for the holidays means some deep cleaning and sprucing up. That's why we're happy to introduce a 5 new updates in the app aimed at helping teams work together more visually and creatively.
New Google Drive import options
Now you can search and import files from your Google Drive into any existing board!
Click on the Import dialog and toggle on the Google Drive option.
Sign in and then the file picker will pop up in a new window.
To sort by type of file or to click through your folder structure, click on the dropdown arrow in the search field, and chooses Images, or Folders, etc.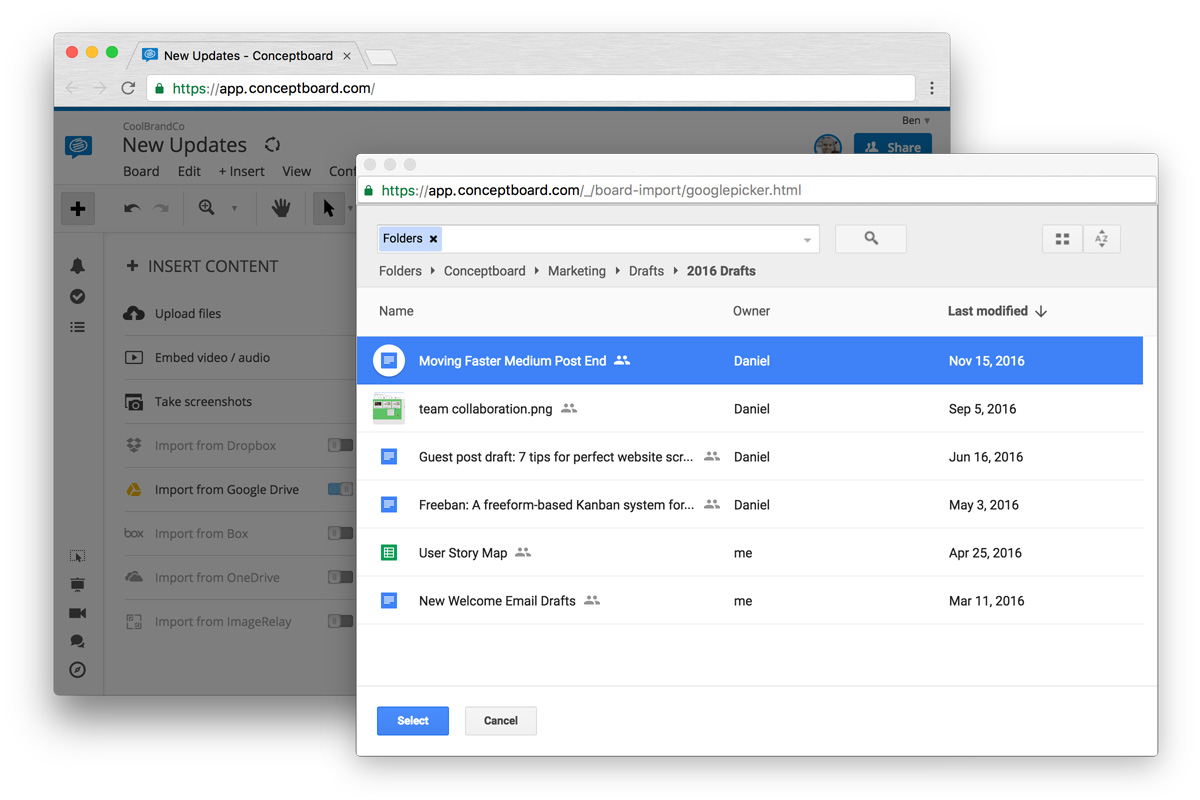 You can still link board to your Google Drive and open files directly from Drive into a new board.

Discover the power of visual collaboration
Centralize projects and communication on our collaborative online whiteboard
New custom colors for board tools
The new color picker in Conceptboard allows you to use custom colors across your boards, and even choose other users' custom colors to your own color palette. Add your brand's colors on presentation boards, or choose complimentary colors to make your mood boards pop!
How to add custom colors
Select any of the Pen, Comment, Shape, Text, or Sticky Notes tools and click on the color option in the toolbar.
Click on the new empty color slots in the bottom of the color picker.
Enter the Hex Color Code for a color or select it from the palette.
Click Pick Color to save it. To change a saved custom color click on the cog wheel icon.
Saving another user's custom colors
To save a color someone else has used on the board, select the item and copy the hex code from the bottom of the color palette. Paste into into one of your custom color slots to save it.
New custom board background colors
Along with the new custom color picker, Conceptboard users can now choose any color as their board background color. Click on the Board menu, and select Background, then choose a custom color.
New board access setting: make guests editors on boards
Conceptboard users have many different use cases. To make it easier to collaborate, we've added the option to make guests Editors on the board, allowing them to move and edit any content you need. The default settings for guests will be Reviewers, but you can change it from the Share dialog.
New uploaded file name overview
If you're working with lots of different images and file versions, it can be helpful to know which file or slide of your presentation you're looking at in the board. You can now simply hover over any uploaded file and you'll see the file name!
Missed these other updates?
Check out some of the other awesome updates we've introduced in 2016: