6 tips for working with digital sticky notes
Highlights
We've released a quick update to our Board Access Roles: Reviewers now have an expanded tool set! They can use the Scribble Pen, Comments, and Sticky Notes. With that in mind, here are some tips for working with sticky notes in an online whiteboard.
1. Go digital first
Get everyone on your team adding ideas in the same board from the beginning. It's a lot easier to sort through ideas and notes if half of them aren't left behind on a whiteboard in an office or someone's notebook.
If you do have some something you need added to your online boards from a wall in your office, access the board from your phone's browser and click the + icon, then Upload files. You can then take pictures from your camera phone to the board!
2. Use a color coding system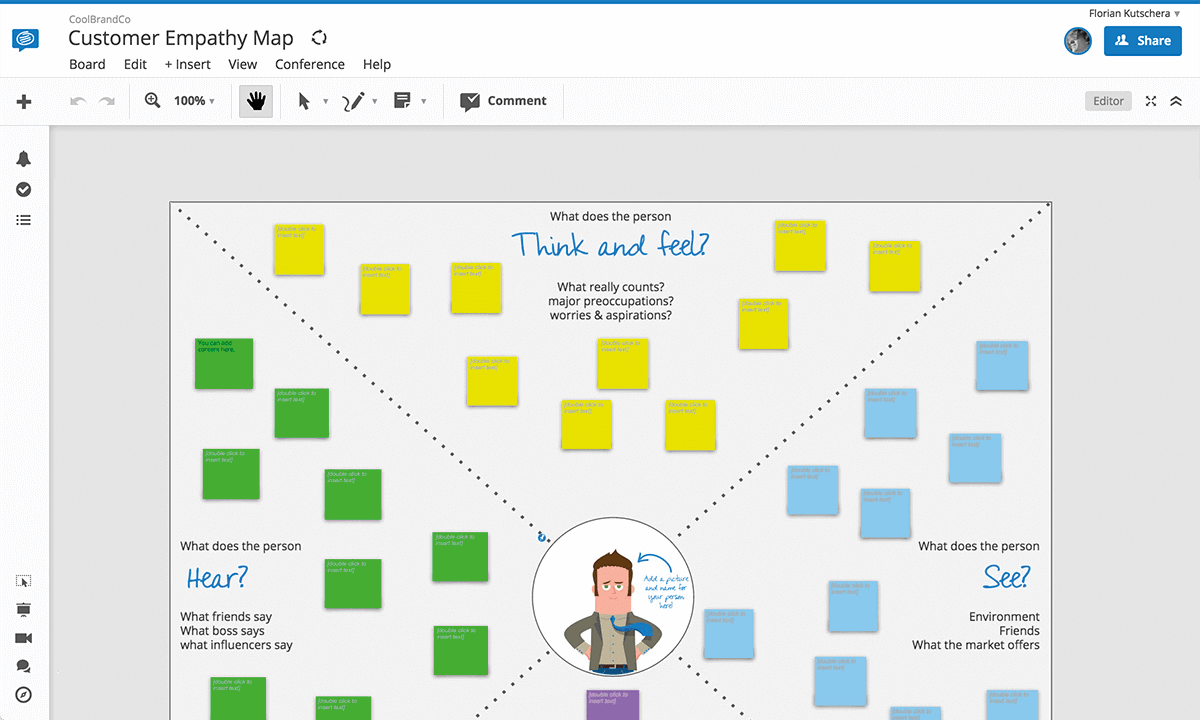 If you're holding a remote brainstorming session on the board, create a color code to visually separate ideas.  For example, you can use sticky note colors to:
mark sticky notes created in separate idea rounds
mark notes/ideas for different departments or sections
assign a sticky note color to each user on the board
Create a short legend marking colors near the top of your section in the board. This lets people entering the board for the first time know what color they should use.
If you work a lot with Reviewers, this also makes it easier for them to find and move their own sticky notes (remember, Reviewers can only move the content they have created in the board).
3.  Quickly add spreadsheet cells as sticky notes
You can copy and paste data from a spreadsheet into sticky notes, then color code and rearrange ideas as you need in the board:
Ctrl/Cmd + C to copy spreadsheet cells
 Click +Insert or the + icon in the board
Ctrl/Cmd + V to paste cells in the board
4. Use the grid layout to quickly organize sticky notes
Once everyone has gotten their thoughts out on the board, it can be easier to go through all of the ideas if you visually organize the sticky notes.
Use the Select tool to drag a selection rectangle around all the Sticky notes and use the Grid Layout tool to create an orderly list.
5. Use the board search to quickly find what you are looking for
Hit Ctrl/⌘ + F  to bring up the board search. Clicking on an item will take you to its location in the board. The board search allows you to search through text boxes, sticky notes, headlines and comments,but not inside uploaded files and documents.
6. Grab a board template to get started with sticky notes
Use sticky notes with our online board templates! You can grab them here:
To learn more about Board Access Roles in Conceptboard, check our our guide in the Conceptboard Help Center.
Jumpstart your collaboration today!
Discover how Conceptboard accelerates your virtual collaboration and achieve brilliant results.