How To Achieve Holistic Success Using The Balanced Scorecard
Highlights
Have you ever worked in an organization where everyone thinks their job is the most important? That without them, the company will fall apart. Well, it's actually true, as all departments do play a pivotal role in achieving success, and one area's poor performance can affect others. Which is why it's important to consider what success means from a range of different perspectives, not just the bottom line.
This is where the Balanced Scorecard comes in. It aims to link vision to strategic objectives, measures, targets, and initiatives. It balances financial targets with the other parts of the organization.
The Balanced Scorecard was only developed in 1990, but it's already become a highly popular performance management system used by over 50% of the largest companies in the world such as Volkswagen, the FBI and Philips.
What makes it different from other business management tools is that it takes a more holistic and comprehensive understanding of a business's performance, not just financial results.
It's all about balance
The secret to success is achieving balance across all organizational functions. Traditionally, businesses have focused on financial success as the key measurement of success. For example, revenue growth and profitability. But, by looking at an organization from four opposing perspectives, businesses are able to look deeper into what else contributes to success.
So let's find out what the four different perspectives are and why they are important.
How do I score?
Divided into four parts, the Balanced Scorecard will help you work out where to prioritize money, efforts and resources.
Although it's called a Balanced Scorecard, it's actually more about the process of identifying strategic priorities than giving yourself a score.
The Balanced Scorecard is focused on financial and non-financial objectives. These are divided into four perspectives. They are: Financial, Customer, Internal Processes and Learning and Growth. These four perspectives have been highlighted due to their causal relationship with each other.
Working from the bottom to the top: Changes in Learning and Growth will drive changes in Internal Processes that will impact Customers and thus improve Financial results.
Within these four areas, company managers must first define 2-3 strategic objectives. Then they need to decide on a measurement of success, or in other words, how will they know when they've reached their targets? And then finally, list the initiatives that will get them there. It's important that the strategy map shows how each objective relates to one another, so leaders can get a high-level view of their organization's strategy at a glance, and team members can easily understand the part they play.
Let's take a deeper look into the four perspectives and some example strategic objectives for each.
1. Financial Perspective
This area primarily looks after the organization's shareholders. While financial objectives are usually the easiest to define and measure, they are much more complex to actually fulfil. So, by linking financial objectives to objectives in the next three areas, we are able to define projects and make investments easier.
Example of strategic objectives:
Increase sales revenue
Sell 10,000 units this year
Reduce internal costs
2. Customer Perspective
Next, we focus on customer satisfaction by answering the question: How do our customers see us? You can only really answer this by asking your customers for their point of view. You may then be able to repackage or slightly shift your offering to align closer to your customers needs.
Example of strategic objectives:
Become a trusted business partner
Always provide quality, compassionate and friendly customer service
Build lasting relationships with clients
3. Internal Business Process Perspective
The third perspective to look at is your internal processes. Where can we streamline, or reduce costs internally to help deliver what our customers want?  This is also the best area to focus on new and creative ideas to streamline processes for greater efficiency and effectiveness.
Example of strategic objectives:
Attract more research funding
Provide a top class induction program
Make the payment system smoother
4. The Learning and Growth Perspective
The last area of focus is all about internal improvements. Also called Organizational Capacity, it measures how well employees perform, their skills and use of technology, training, company culture, and leadership. This area also includes infrastructure and technology. You must think about: What steps are you taking to remain competitive?
Example of strategic objectives:
Provide exceptional leadership
Create a positive performance driven culture
Ensure all staff receive regular training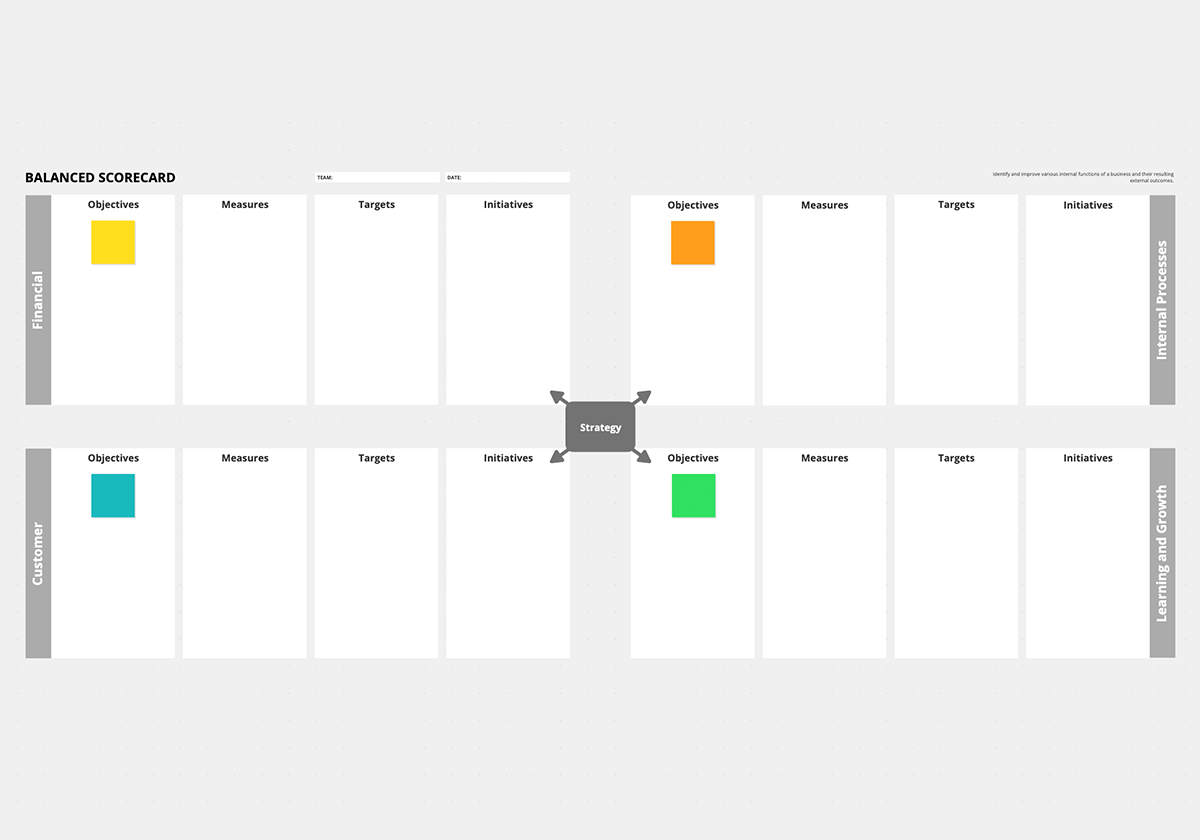 Reap The Rewards
By using the Balanced Scorecard, you will get a better gauge on how to achieve your goals and what success looks like, but it will also benefit the business in other ways.
When leaders define the strategic priorities at each level, it makes it easier for employees to align their personal and team goals with the overarching goals of the business. This contributes to a more productive, trusting and driven workforce.
So if you're ready to get started with your very own Balanced Scorecard, simply use our template as a way to track performance over time and ensure you have a holistic and balanced strategy.
If you would like to learn more about developing successful business strategies, you can take a look at our other business management templates such as the Team Canvas, OKR (Objectives, Key Results), and the Priority Matrix Template.